Swooning over Art with Guest Curator Athena Calderone
We're thrilled to have interior designer and blogger extraordinaire Athena Calderone guest curating an exclusive collection of art as part of our ongoing Guest Curator series. Read on to discover the role art plays in her life, first piece of art she bought, the artists he'd most like to meet, and the last great exhibition she attended.

Athena Calderone (Image: Jamie Beck)
Athena Calderone is the modern day influencer whose exquisite taste can be seen in her interiors, her personal style and on her blog, Eye-Swoon, where she pours her passion into beautifully produced articles on fashion, food, design and art. Discovering inspiration all around her, the busy interior designer, blogger, wife and mother gives us a moment to share her thoughts about the art in her home and her "must-have" pieces from Saatchi Online's art collection.
How would you describe your personal style?
I tend to like extremes and pairing the unexpected…In the interiors I design, in the food I create, and in the way I dress. I crave a strong juxtaposition… pairing light against dark, feminine with edge, some glamor with a touch of grit, old & new, sophistication with something rough… What's that slightly "off" moment that causes tension? I like polarizing elements in most everything i do.
How would you describe your taste in art?
I am continually drawn to bold & graphic art with color. I like abstract paintings…pen & ink intricate drawings. I like watercolor, mixed media, and manipulated photography. What resonates most for me is work that is thought-provoking, evokes emotion, feels dreamy, and work that simply stirs curiosity and impels you to question….diving into the work and finding new moments….hidden messages or ideas. I think art makes you feel more connected to yourself or at least to your artistic self.

"This was a cover shoot from the April issue of Living Etc magazine. Our 1960's Mid Century Modern Amagansett beach house which I designed and  share with Victor & Jivan. Architecture by Bates Masi Architecture. This home changed our lives…brought us closer to nature, the beach, and inspired Jivan's love of surfing." (Image: Athena Calderone)
What role does art play in your life?
For me art always inspires and incites my own journey….it's often a starting point for many creative ideas. Art makes a home…it's certainly where i add pops of color to a room and 100% it is always a conversation starter….i love to hear different peoples perspectives on any given piece. I also love learning the artists inspiration and how that intention gets translated into your world, your space. The introduction to the art world was also a new & exciting visual experience where my husband and i got to really inform our aesthetic, learn, explore, & collect together.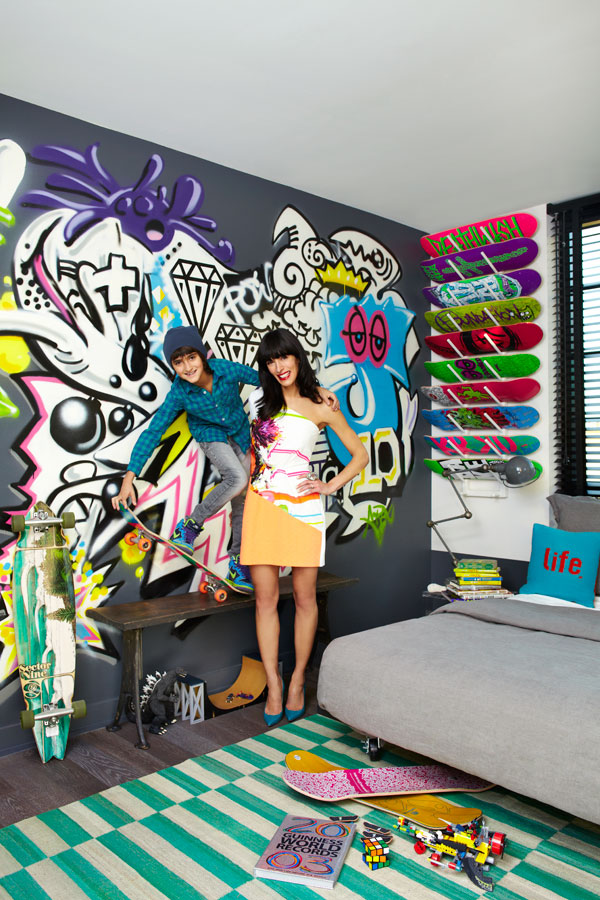 "In my 10 year old son Jivan's bold skate & graffiti inspired bedroom….also from the Harper's Bazaar shoot." (Image: Christopher Sturman)
What do you collect?
I have a large mixed media work by Huma Bhabha in Amagansett which is the focal point of the room, a large rain paining by Lucien Smith over my sofa in Dumbo, 3 mixed media works by William O'Brian that incorporate glitter which are quite amazing. A few Mariah Robertson photographs, A mixed media drawing by Wes Lang. A large skull & snake etching by Volker Hueller. A beautiful series of small watercolors be Isabell Fein from Germany, a work on photographic paper by Alex Perweiler which is the most most insane bold & saturated teal hue , and most recently an super intricate mathematical drawing by Sam Messenger that we were eyeing for years , I also love my dreamy horizon photograph by dear friend Eric Cahan that hangs over my bed.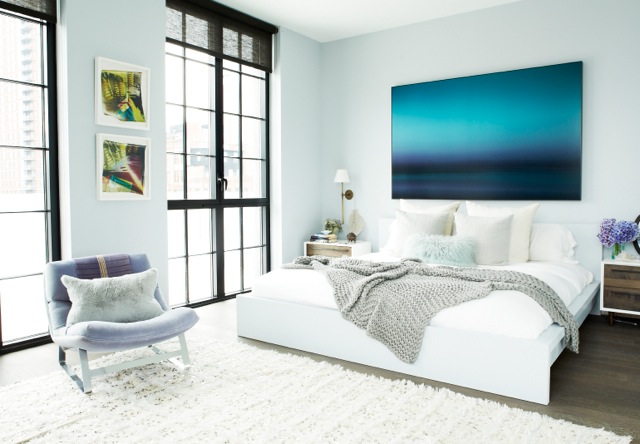 "The master bedroom in my Dumbo apartment. I love the serenity of this room. The walls are painted a greyish sky blue to invite the outside in.The artwork above my bed is by friend Eric Cahan. The pair of fragmented photographs are by Mariah Robertson." (Image: Athena Calderone)
What was the last museum or gallery you visited?
The Gagosian exhibition for Jean-Michel Basquiat.
If you could only have one piece of art in your life, what would it be?
A Basquiat or a Cy Twombly.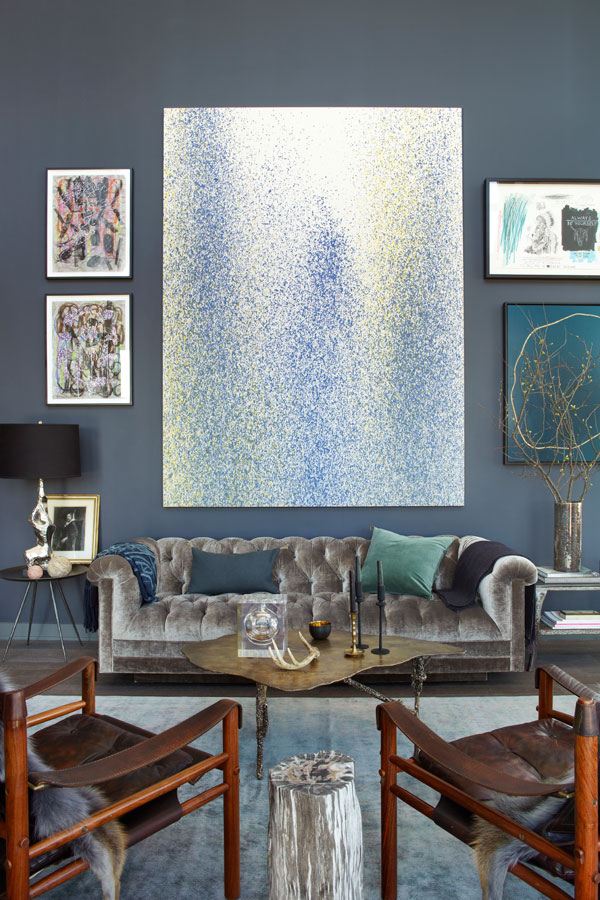 "I knew I wanted an art wall to be the dramatic focal point to the double height ceilings in my Dumbo apartment. The massive Lucien Smith, Alex Perweiler, and Wes Lang drawing were new purchases for this wall. I already had the 2 mixed media works on the left by William O'Brian." (Image: Athena Calderone)
Which artist would you most like to meet?
I would love to have spent an evening at the factory with Andy Warhol.
What was the first piece of art you purchased?
A manipulated photographic work by Mariah Robertson at Nada in Miami. I absolutely love the fragmented quality of her work and the impact of color it adds the the small media room in my beach house.

"A recent image from my lifestyle site, EyeSwoon. I LOVE to cook and Avocado toast is one of my absolute favorite quickie lunches." (Image: Athena Calderone)
Favorite city to explore or experience art?
I should say NYC as we have everything at our fingertips but I do tend to see the most art in Miami at Art Basel. It's a week that my husband and i travel together without our son to explore art, culture, and a touch of partying…hehe.
 Abstract or Figurative? Abstract
Color or Black + White? Color, usually.
Digital or Analog? Analog.
Bacon or Basquiat? Basquiat.
Rothko or Ruscha? Rothko.
The Beatles or The Rolling Stones? Hmmm…. Rolling Stones.
Love reading about all things art? You can have articles from Canvas, curated collections and stories about emerging artists delivered straight to your inbox. Sign up for the Saatchi Art Newsletter.
SaveSave
SaveSave
SaveSaveSaveSaveSaveSave
SaveSave
SaveSave
SaveSaveSaveSave
SaveSave