Erica Domesek, Founder of P.S. – I Made This
We're thrilled to introduce you to Erica Domesek, founder of the innovative do-it-yourself lifestyle brand P.S. – I Made This, as part of our ongoing Guest Curator Series. She is a distinguished expert in the areas of design and style as well as a leader in brand marketing. Check out a few of Erica's favorite artworks on Saatchi Art and learn more about the importance art plays in her life.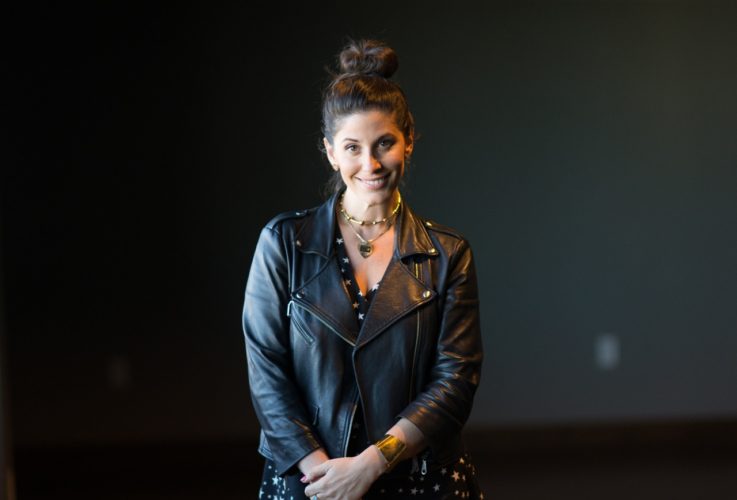 Domesek has appeared on The Today Show, Rachael Ray, The Martha Stewart Show, E! News, Fox Business News, and as a judge on TLC's Craft Wars. (Image: Erica Domesek)
Currently starring in the TLC Digital series Erica in the House, Domesek's work has been featured in issues of Vogue, Glamour, InStyle, The Wall Street Journal, Self, Elle, Teen Vogue, and more. Her first best-selling, globally published book "P.S. – I Made This…" was released in 2010, and her second book "P.S.– You're Invited…" was released in September 2013. If you haven't seen her colorful, inspirational and all-around phenomenal Instagram account, follow her immediately! Your inner creative will thank you.

Domesek's success in connecting with the American 'prosumer,' specifically the Millennial demographic, has allowed her to create strategic partnerships with Fortune 500 companies ranging from Microsoft, American Express, Gap, Coca-Cola and more, with whom she has developed and executed many successful digital and experiential programs.
Over the years, Erica has dedicated her voice to leading organizations such as Charity Water, Pencils of Promise, PS Arts, Art of Elysium and Indego Africa, and has been a longtime mentor to female entrepreneurs and college students seeking advice on careers in media and creative arenas. Erica's passion in lending her guidance and support to people who ultimately want to live their best life, celebrate major milestones and moments, all while inspiring the next generation of thought-leaders and change-makers is truly what she lives for.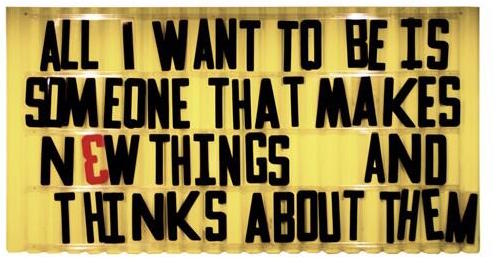 From a haiku by John Maeda. (Image: Twitter @johnmeada)
What was the first piece of art you bought?
Not sure if it was the first, but I remember in 2007, loving John Maeda's print – shown above, that I had to have.
How would you describe holiday home décor style?
My home is always cozy and inviting. Fresh flowers, and elements such as branches, berries, and bowls of seasonal apples or magnolia leaf garland can usually be found as décor elements.
Do you have a favorite holiday tradition?
My first date with Michael (my husband) was the day after Christmas. I gave him a cookie that was baked by my good friend's mother. Now, I like to think it's a sweet holiday tradition to bake tons of her toffee chocolate chip cookies to keep at our house and give to friends – it's festive and a little romantic.
What is the best holiday gift you have ever received?
Our childhood dog, Jake!
What is your go-to hostess gift for the holiday season?
When I'm in a rush, I usually grab a bottle of bubbly and wrap it in beautiful fabric with a larger than life bow. It's dramatic and festive!
Which books are on your bedside table?
Currently I have the "5 Love Languages" and Marie Condo's famous "The Life Changing Magic of Tidying Up."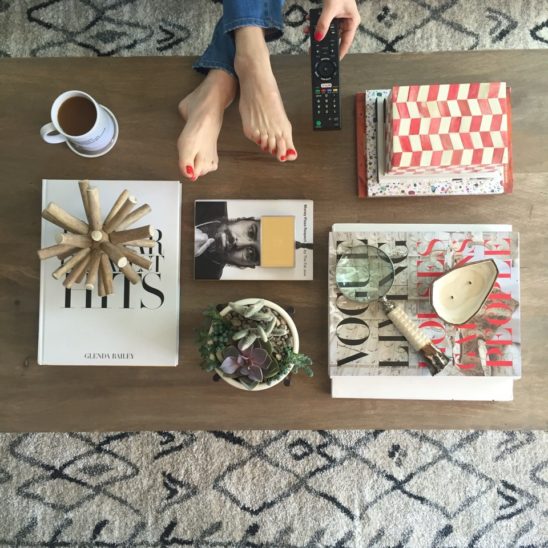 (Image: Erica Domesek)

"Choosing a piece of art for your home is exciting. You should be emotionally connected to it, or it should simply make you smile…"
What music are you currently listening to?
Otis Redding and Sam Cooke will never get old to me.
If you could give one piece of advice to readers selecting art for their home, what would it be?
Choosing a piece of art for your home is exciting. You should be emotionally connected to it, or it should simply make you smile or want to tell a story when you see it.
What would you like to do if you weren't pursuing your current line of work?
I would be a therapist for sure!
Love reading about all things art? You can have articles from Canvas, curated collections, and stories about emerging artists delivered straight to your inbox. Sign up for the Saatchi Art Newsletter.