Guest Curator: Feng Shui Expert Dana Claudat
We're thrilled to have feng shui expert Dana Claudat of The Tao of Dana guest curating an exclusive collection of art as part of our ongoing Guest Curator series. Read on to discover the role art plays in her life, first piece of art she bought, the artist she'd most like to meet, and the last great exhibition she attended.
Dana Claudat is a Pyramid School Feng Shui consultant, writer, and founder of the feng shui lifestyle blog The Tao Of Dana. As a Stanford-educated art historian based in Hollywood, she does consultations with a very visual design component for the Hollywood and New York creative set, and advises clients around the globe. Dana's work has been featured in Glamour magazine, as well as in several blogs internationally. Don't miss her exclusive Guest Curator collection, handpicked in the spirit of positive environmental engagement.
What was the first piece of art you bought?
The first piece of art I bought was a vintage Kodachrome of a girl sitting on a beach. It has such rich color and she was so genuinely happy and relaxed that I had to have it. I always have it up somewhere in my house, and she moves around. It was a thrill to learn that my vernacular purchase was actually super-rare and very valuable—more proof to the old art collecting adage that you should buy what you truly love.
How would you describe your taste in art? What are you most drawn to?
Clear rich color, sparkle, and interesting material texture are what really draw me in. When I can't look away; that's the secret ingredient, almost spiritual in nature, that really defines what I love.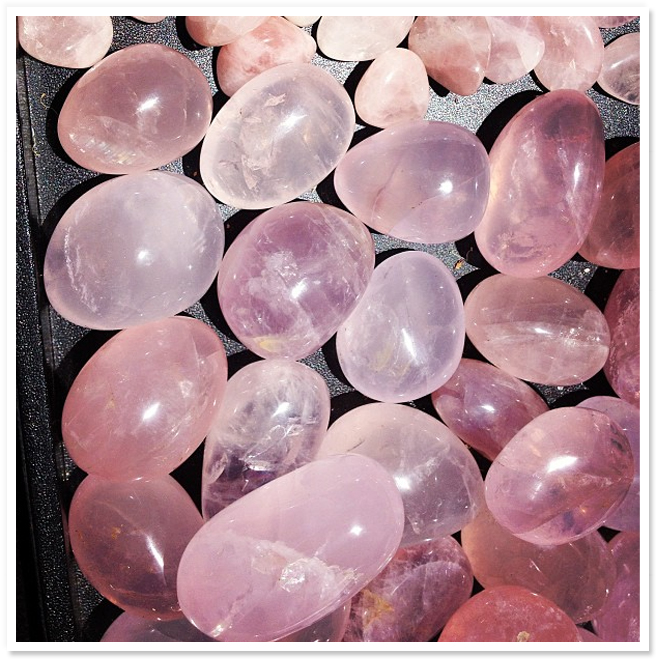 Dana's snapshot of polished rose quartz  – one of the many inspirations captured on her Instagram. (Image: Dana Claudat)
What role does art play in your life?
Art is everything. In my mind, life should be art. And everyone, in their own way, is an artist.
I'm taken by the ways that we can make life better by interacting with more art in every medium. Initially, art is why feng shui became such a part of my thought process—feng shui, in my way, is all about adding layers of sensory richness in a space to somewhat magically enhance life.
Art can say things that words cannot. Art also has this symbolic power that seems to help dreams manifest and problems to sort themselves out. Who could ever have enough of that?!
Which artist would you most like to meet?
I have a history of super-geeking out on artists I love. That said, I so want to meet John Currin.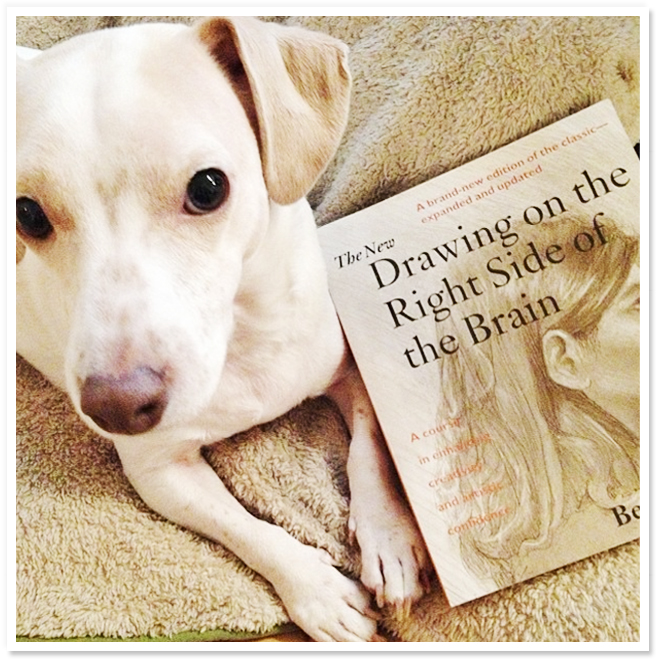 Bob the dog and a book Dana is reading. (Image: Dana Claudat)
What do you collect?
When I love something and have a feeling about it and a place for it in my life, I buy it.
Given my feng shui "awareness," if you will, I often won't actually think of buying certain things because I know they are not necessarily right for my home or my life, even though they move me deeply. For example, I am sometimes drawn to images of fire, but I won't want them on my walls. I want to live with all of my art.
I tend to buy things that look like my dreams come to life, or artworks that feel like something I love to feel.
How would you describe your personal style?
My overall style is that of a sophisticated hippie, a streamlined bohemian with a dose of dreamy mixed in.
What books are on your bedside table?
No books on my bedside table right now, but I do have The Artists Way by Julia Cameron, the memoir What's Left of Us by Richard Farrell, and a translation of the Buddhist writings of The Lotus Sutra on my desk in rotation. None of these books are feng shui magic for the bedroom, but they are all stirring in their own ways!
If you could only have one piece of art in your life, what would it be?
Doug Aitken's SEX wall sculpture, right now, hands down. It's alive – air plants that tumble from the test are so luscious, like an enchanted garden – but the whole piece is so defined and almost subversive. The mix of material and meaning is thrilling.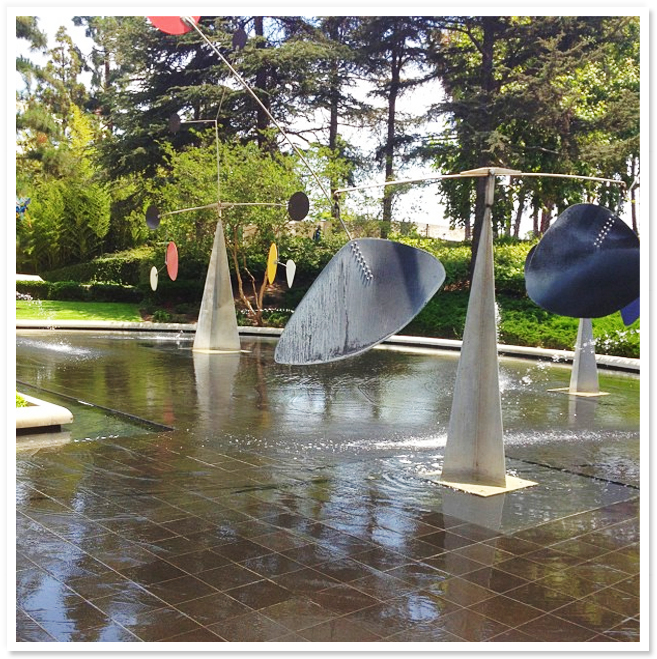 Dana's photo from a recent visit to LACMA. (Image: Dana Claudat)
Do you have a favorite museum or gallery?
Regen Projects in Los Angeles, the new space on Santa Monica Boulevard, is really special. The Musée Picasso is my forever-favorite museum, and I can't wait for it to re-open in 2014.
What was the last great exhibition you attended?
There was a small room with Matisse's Jazz strewn over the walls at LACMA. I'm not sure if it's still there, but there was a sofa in the middle of the room, and I could have moved into that paradise of collage.
If you could paint, sculpt, photograph, etc., which skill would you most like to possess?
If I could really develop a skill it would be drawing. I try and fail to break through. Being able to draw would crack open some hidden parts of my mind and it would be this awakening… but it's so hard to confront. I guess it's something I'll look forward to for later…!
Love reading about all things art? You can have articles from Canvas, curated collections and stories about emerging artists delivered straight to your inbox. Sign up for the Saatchi Art Newsletter.