Acclaimed Author Alain de Botton Guest Curates an Exclusive Art Collection
We're thrilled to have acclaimed writer Alain de Botton guest curating an exclusive collection of art as part of our ongoing Guest Curator series. Read on to discover the role art plays in his life, first piece of art he bought, the artist he'd most like to meet, and the last great exhibition he attended.
Born in Zurich and based in London, internationally-acclaimed writer Alain de Botton is known for his essayistic books, which have been described as a "philosophy of everyday life" and have become bestsellers in 30 countries. His musings focus on topics that inform the human experience, writing on sex, love, travel, architecture, literature, and most recently, art. Alain also started and helps to run a school in London called The School of Life, dedicated to a new vision of education. Alain's latest book, published in October 2013, is titled Art as Therapy. Don't miss Alain's exclusive handpicked collection of art by Saatchi Online artists.
What was the first piece of art you bought?
I bought a work by my friend Chris Kenny. He cuts out words and sentences from a diversity of books, and arranges them in incongruous intriguing symmetries in beautiful white boxes, each word stuck on a pin as if it were a rare butterfly. It brings out the strangeness and incongruous charm one can generate through language. For someone who manipulates words all day, it was a logical jump into the visual realm.

(Image: Alain de Botton)
How would you describe your taste in art?
What are you most drawn to?
Being a jumpy person, I am most drawn to serenity, grandeur and the sublime. Among my favourites are Richard Serra and David Caspar Friedrich, Kiefer and Bellini, Richard Long and Barbara Hepworth. What I find beautiful is a strong dose of what I long to be but too often am not. I recognise an ideal; that's why the beauty in art is often painful. It's my true home, from which I'm exiled, because I can't stop worrying about emails.
Which artists would you most like to meet?
I'd like to talk to Andreas Gursky, David Hockney, Richard Long and Vermeer. But really, I don't much want to meet any artists, being aware that what is most valuable is in their work: that's the very definition of a great artist. The encounter should and would have to be disappointing.
What role does art play in your life?

It provides me with pictures of a destination. The works I like best are like a roadmap: I want my life to be like they already are. I felt this looking at the British Museum's Korean moonjar. A few years ago, I was writing a book and I thought constantly about a particular Cy Twombly work: I wanted the book to have Twombly's looping dense intricacy. Sometimes I've looked to art to provide me with images of what I'd like a lover to be like. For a long time, I wanted to date Caspar Netscher's Lacemaker.
She's nice for so many reasons:
– because the scale of her own niceness has never really occurred to her.
– because she knows how to take her time and we know how much of life gets damaged by impatience.
– because the care she exhibits with the lace will at other times be given to a friend.
– because her ingrained straightforwardness can make her feel the strained artifice of life, rendering her at times awkward, and almost gawky in situations where less sensitive types might simply stride on.
– because her mind is detailed and precise, its tenor suggested by the neatness, complexity and harmony of her bonnet, as though the painter had been kind enough to give us a map of her psyche.
– because she's always harboured doubts about her slightly broad-boned forearms.
I use art in a very personal way, as a kind of therapy. So much so that I built a website about my favourite pictures and how I feel they might lend solace and inspiration: www.artastherapy.com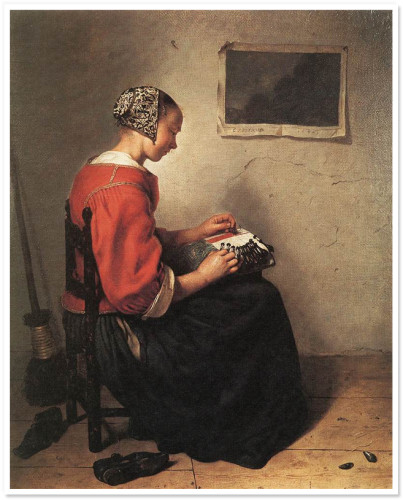 (Image: Alain de Botton)
What do you collect?
I buy a lot of postcards and pin them around my office. Occasionally I buy a piece, never for very much.  Recently I bought a little moonjar from a Welsh potter called Adam Buick.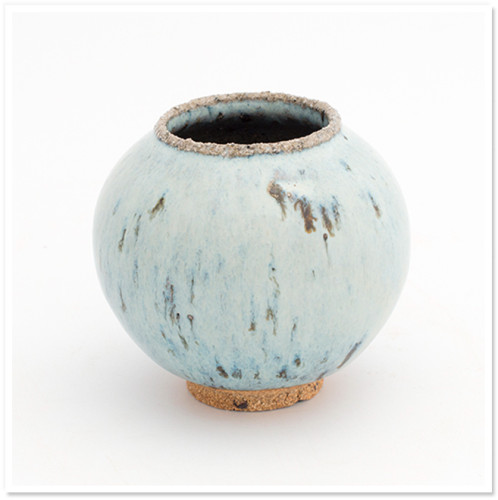 (Image: Alain de Botton)
What books are on your bedside table?
I've been re-reading Roland Barthes's Camera Lucida. It has an ingredient that very seldom gets discussed in literary criticism and yet tends to lie at the heart of whether we get on with an author or not: charm.
If you could only have one piece of art in your life, what would it be?
I'd want this image by the Danish artist Christian Kobke.

(Image: Alain de Botton)
Why?
Because it seems an emblem of a peace and harmony I crave but don't often have access to. It seems a promise of happiness of the kind I love.
Do you have a favorite museum or gallery?
I used to love Tate Modern in 1999 – it seemed to capture everything that was great about London then. That was before it got surrounded by flats and lost some of its lustre. Nowadays, I love to buy catalogues online and sit at home with them on my lap.
What was the last great exhibition you attended?
I went to a great DEATH exhibition at the Wellcome Trust in London. The Wellcome curates some wonderful shows; they're hugely inventive in how they commission and combine works. They want works of art to illuminate the central topics of existence, and this focus lends a coherence and direction too often otherwise lacking.
If you could paint, sculpt, photograph, etc., which skill would you most like to possess?
I'd love to be a great graphic designer – able to produce books that had the feel of a cabinet of curiosities circa 1750.
Love reading about all things art? You can have articles from Canvas, curated collections and stories about emerging artists delivered straight to your inbox. Sign up for the Saatchi Art Newsletter.