October Fresh Faces: Artists to Know Now
Stay in the know!
Introducing five e
merging artists to know and watch out for this month.
As the world's leading online gallery, Saatchi Art is dedicated to representing emerging artists from around the globe and helping people connect with art and artists they love. Below, meet five investment-worthy artists whose work should be on your radar.
Tony Daley
Meet Jamaican painter Tony Daley. Tony lives and works in London, producing large-scale abstract paintings around 2 meters tall (just like him!). See Tony's portfolio here.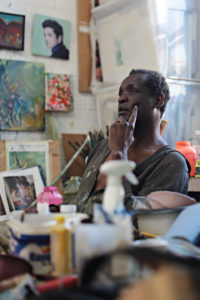 "As a painter/person living in the 'here and now' I am deeply welded intellectually and creatively to the nature of existence itself. Of genesis through to life, birth, death, and rebirth therefrom. Like the nature of life itself, I allow my paintings to emerge out of a kind of primordial super soup starting state, where the ingredients in my earthly soup pot are my attachments to the history of painting; the seemingly limitless potential of painting materials to mingle with the painter's instincts and painterly acts to create wonder and awe on the canvas."
Jessica Floyd
Meet Florida-based painter Jessica Floyd. Jessica's trademark pink devils playfully explore the hyper feminine. See Jessica's portfolio here.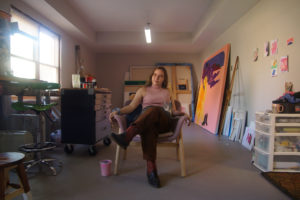 "I feel expressing my spectrum of queerness and femininity is my own political statement. I like to express my memories, thoughts and experiences through painted personas. Overtime I've built up a personal narrative. I have bursts of being cheeky, and then suddenly I invert and become more reserved."
Roland Santana
Meet abstract painter Roland Santana. Based in Chicago, he leads a multifaceted artistic career that includes painting, electronic music and creating a BI-POC database for visual artists. See Roland's portfolio here.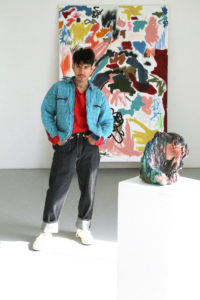 "The material I work with is closely related to my personal upbringing working industrial labor jobs with my father like silicone, mortar mix, and foam. Experimental mediums such as glow in the dark paint, and metallic paint conceptually hint back to nostalgic moments of nightlife culture, zaney gift shops in malls, and life in suburbia."
Violet Luczak
Meet painter and graphic designer Violet Luczak. Based in Detroit, Violet's work challenges our perception of graphic design within the fine art sphere. See Violet's portfolio here.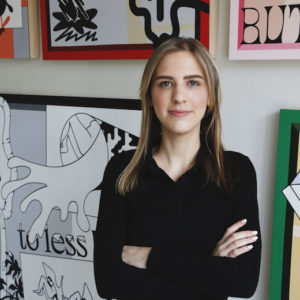 "I'm currently working on some large scale acrylic paintings for my upcoming solo show in Detroit. These paintings focus on critiquing capitalism through a feminist lens and incorporates graphics of nude or partially nude women with the intent of analyzing how femininity is portrayed in contemporary culture."
Andrea Coleman
Meet Chicago–based artist Andrea Coleman. Inspired by the global pandemic, Andrea's work embodies contemporary nostalgia. See Andrea's portfolio here.
"During the pandemic, it has been difficult to stay focused and consistent in my art practice, but I have gained inspiration from the nourishing time with my family, the various zoom sessions with my friends, and the mental development of my own self-care. The intimacy and love shown throughout this experience have fueled my inspiration to no end."
Love reading about all things art? You can have articles from Canvas, curated collections, and stories about emerging artists delivered straight to your inbox. Sign up for the Saatchi Art Newsletter.