Made in China: Claire Desjardins Recounts Tales from her Artist Residency
Saatchi Art artist Claire Desjardins recently returned from a month abroad in China at an artist residency near Shenzhen. We asked Claire to share stories from her trip. Read on to see her photos and learn about her experiences working as an artist in China.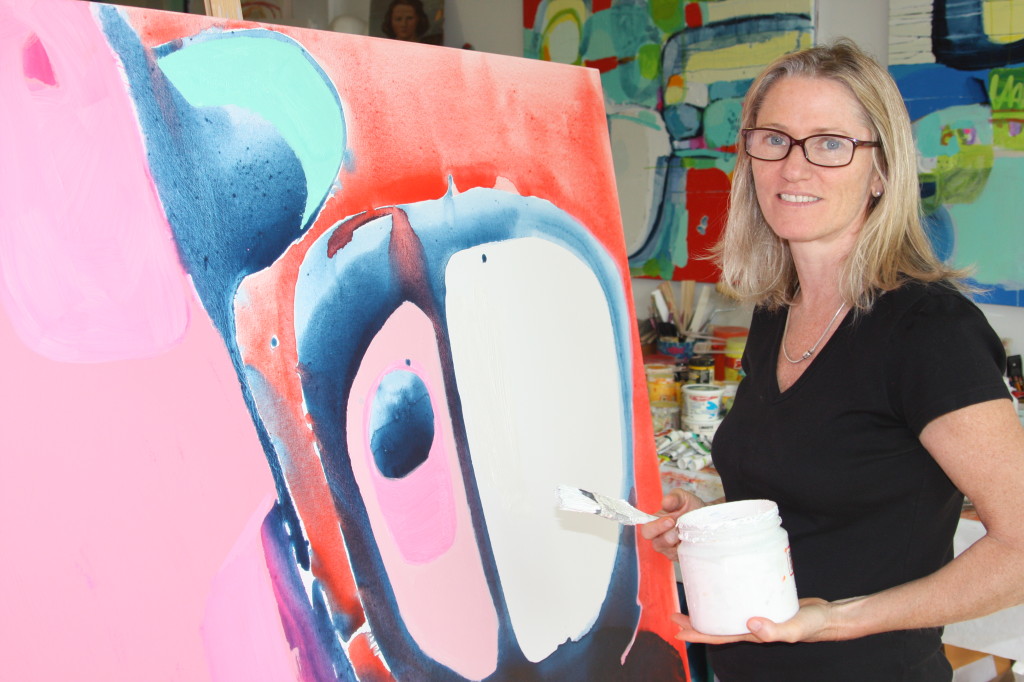 View Claire's Made in China collection which features works she painted while on residency in China.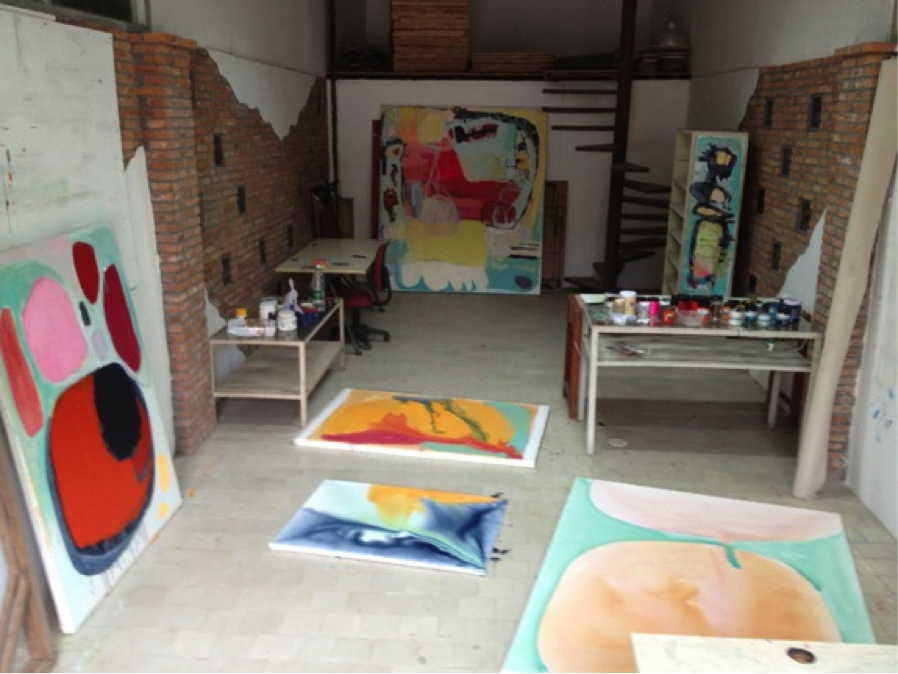 Claire's studio in China.
What led to your artist residency? Why China?
I have long been intrigued by Eastern culture, so had been reading up on China and places I would like to visit someday. I had hoped to go in 2012, but alas, those plans did not work out, and my Lonely Planet book gathered dust for the better part of the year.
"Just outside of the village of Da Wang, workers in the field. Notice that there are cellular towers everywhere!" writes Claire.
When, in early spring of 2013, I received an email from Tom Hayes, the Art Director at Da Wang Culture Highland artist residency (he had discovered my work on Saatchi Art!), inviting me to apply, the idea of going to China to make art sounded positively dreamy! I performed my due diligence, and before long, packed my bags, booked my flight, and headed for southeastern China. My long-awaited adventure was to finally begin!
Da Wang Culture Highland's main entrance.
How was the experience different from what you expected?
I travelled to China with a fairly open mind, as I've traveled enough to know/expect that cultures halfway around the world are very different from home. As a Western female, the food and lodgings were different from what I'm used to, as well as other things.
 Smiling Buddha in the market.
While there, I subsisted off of a diet that was seasoned with fresh ginger, cilantro, garlic and hot pepper. Our meals were cooked for us every day but Sundays, and were always fresh and delicious. Our cook, Ayi, managed to feed about 8 to 10 of us, twice a day, six days a week, using only a wok, a rice maker, a couple of basic kitchen instruments, and a counter next to a small sink.
"Lunchtime!" From left to right: Charlotte Evans, Sophie Gresswell, Roy Gill, Robyn Gill, Joop Haring. (Missing from photo: Tom Hayes, Claire Desjardins, Lesley Oldaker.) Claire writes, "Charlotte, Sophie, Tom, Lesley and I are all on Saatchi Art!"
"Lunch is ready!"
What was the location like?
Da Wang Culture Highland is a former water bottling plant, at the foot of the Wutong Mountain range, in the southeastern Chinese province of Guangdong. It is an oasis within the confines of the busy streets of Shenzhen, consisting of a series of green, lush hills and bodies of brown, silt-filled water. There was a bike path that ran through the maze of banyan tree trunks with their long, brown, hanging roots, and colorful, exotic flowering bushes.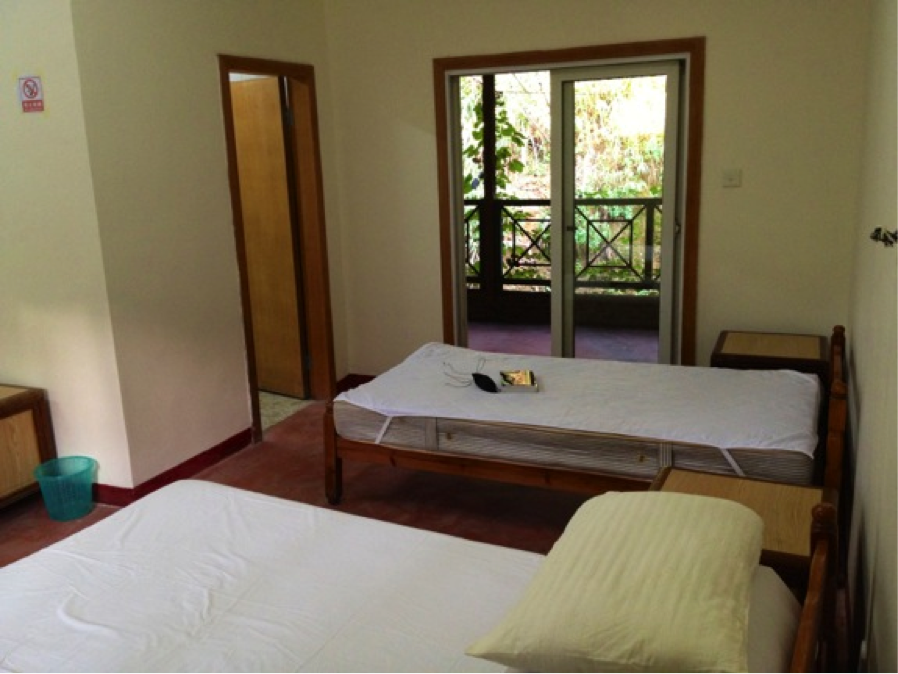 Claire's bedroom: "Clean but sparse."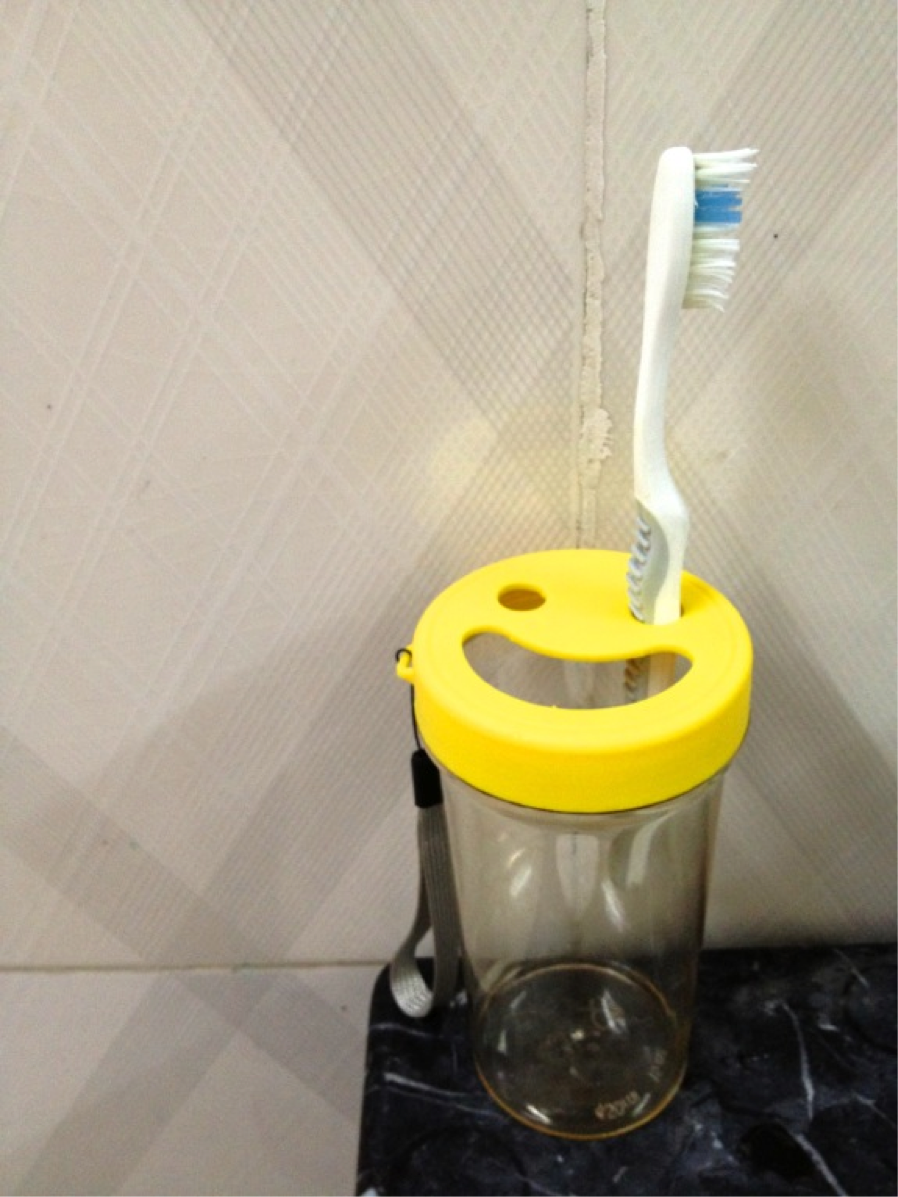 "My toothbrush! Living quarters were sparse, by Western standards. That said, I had my own bathroom and shower, so it was considered pretty good, by local standards," recounts Claire.
The lakes and ponds were home to turtles, fish, and even some frogs (whose remains we would frequently find flattened on the road in the mornings). There were pretty birds, snakes and serpents, big butterflies, and giant spiders, too.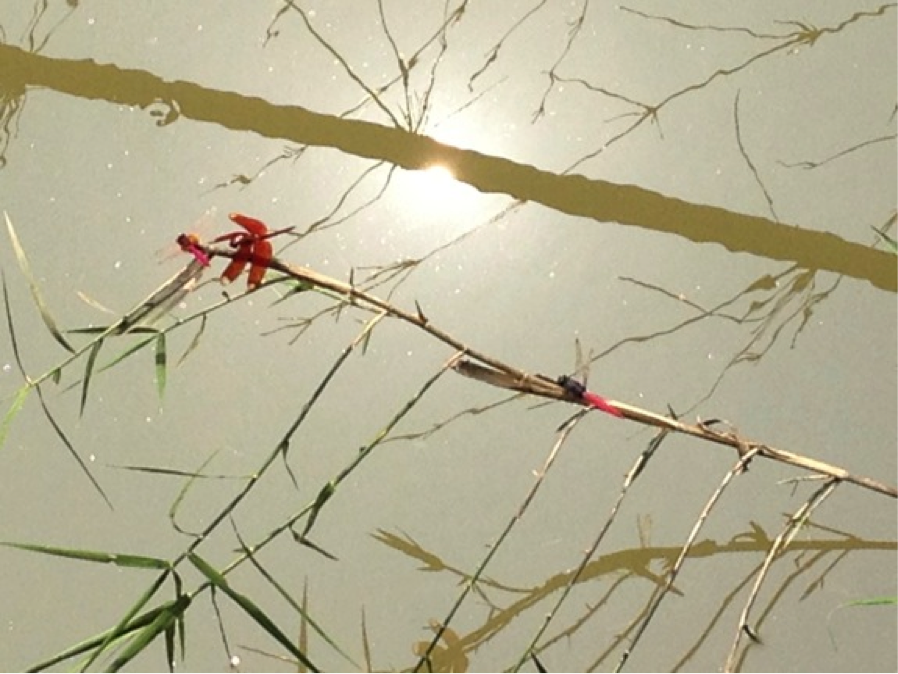 "The sky was often filled with dragonflies… Blue or red, like these ones."
Early mornings, in particular, covered in a hazy mist, were quite a feast of tropical sights and sounds. I felt like I was living inside the photos of a National Geographic magazine!
View from the residence.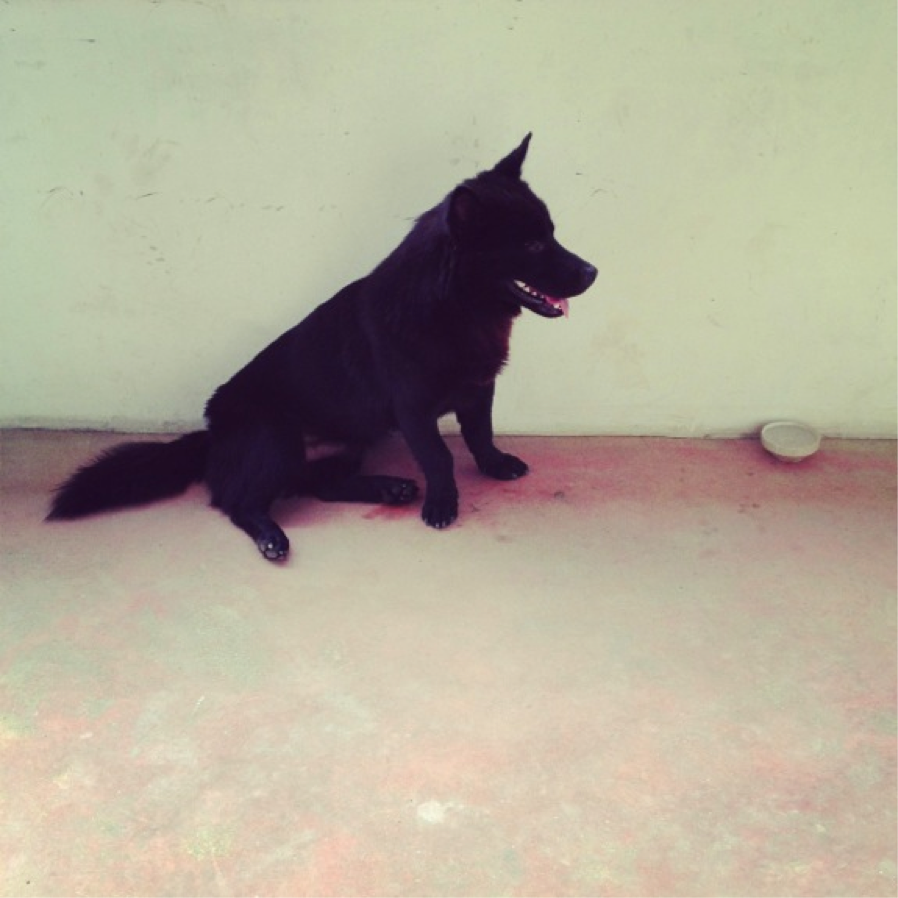 "Xiao Hei (pronounced 'Sha-o Hey', meaning 'Little Black') greeted me daily when I stepped out of my room," remembers Claire.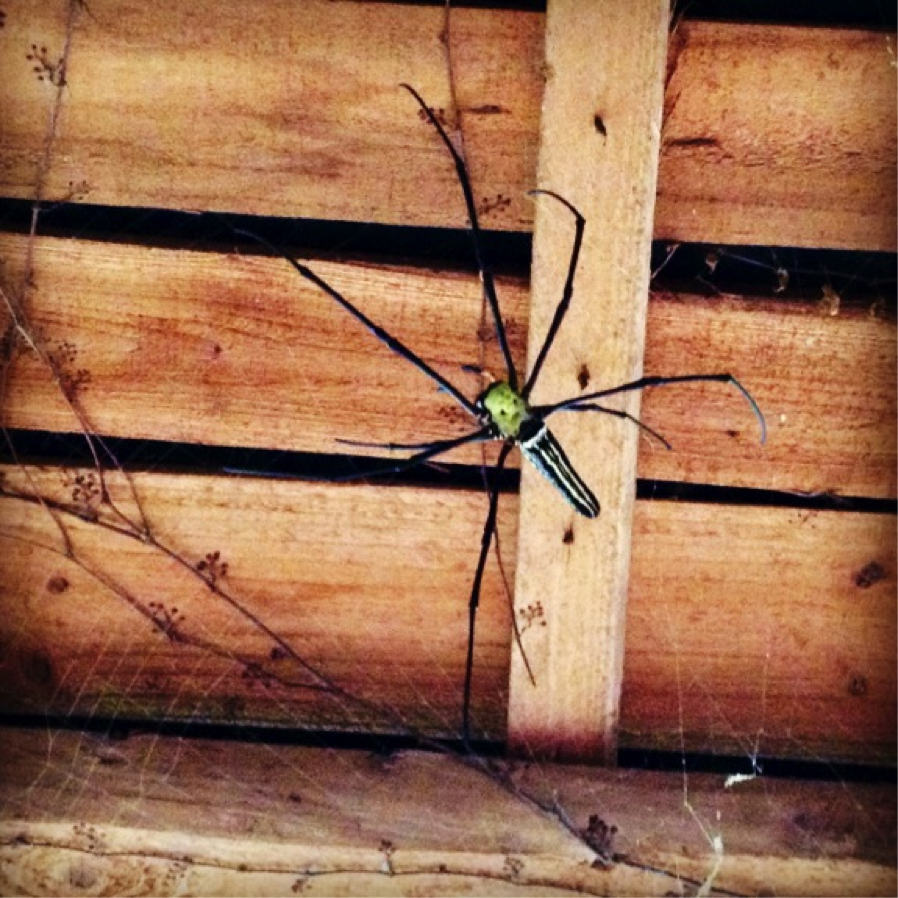 "No exotic venue would be complete without a large, leggy arachnoid living in the roof, over one's balcony. I named her 'Donna', as one might name a storm."
Where did you eat on the cook's day off?
When we had to find our own food, our little group (about 6 or so artists, plus a few other stragglers, usually) would often go out for supper together.
"This friendly chicken sought refuge at our feet, in the restaurant."
Tom kindly showed us around, taking us to out-of-the-way local spots, such as a mountain restaurant, where the chicken (that didn't get eaten for supper) decided to have a rest, near the safety of our feet, as we sat and ate our food, admiring the vista of the valley below. A large part of the joy of traveling is the adventure of discovering the way other people do things!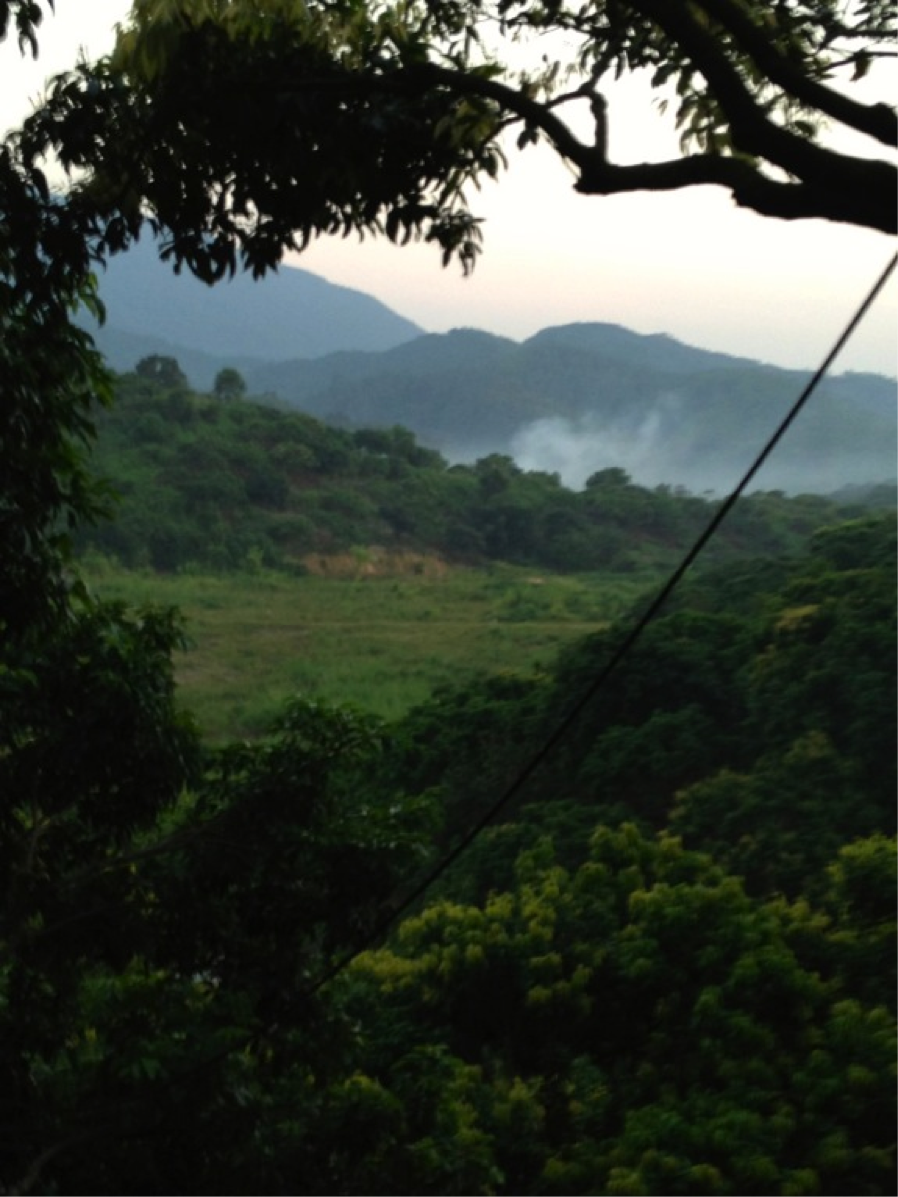 Breathtaking views from mountain restaurant.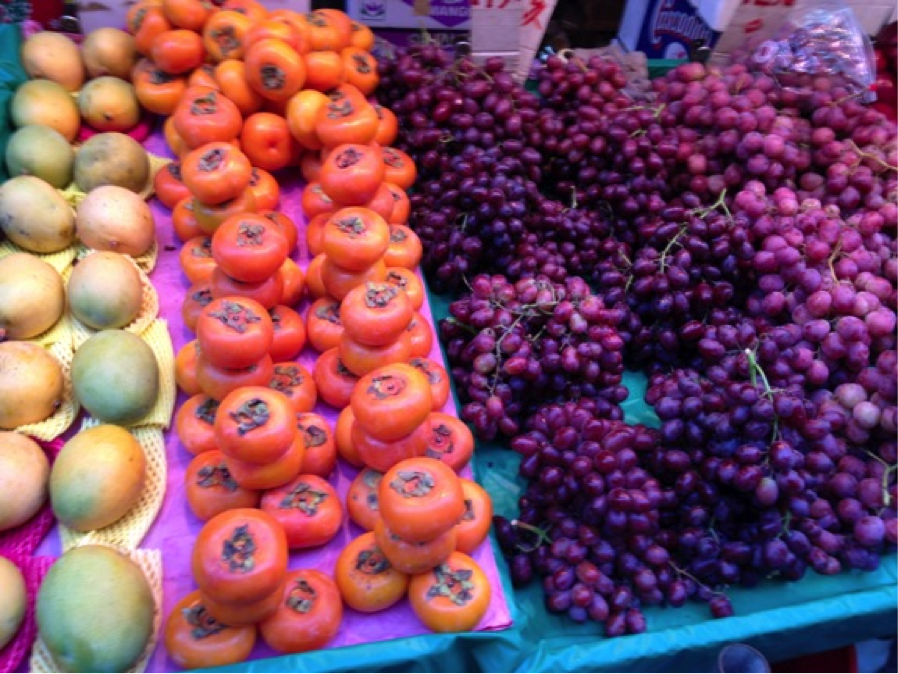 Mangoes, persimmons, and grapes. "Gorgeous colors, beautifully displayed!"
What about art supplies?
In China, copyright laws are frequently violated, and it's actually much more difficult to get genuine brand products, including art supplies. We bought our supplies in the village of Da Fen (known as the copycat oil painting village), where the art supply shop was.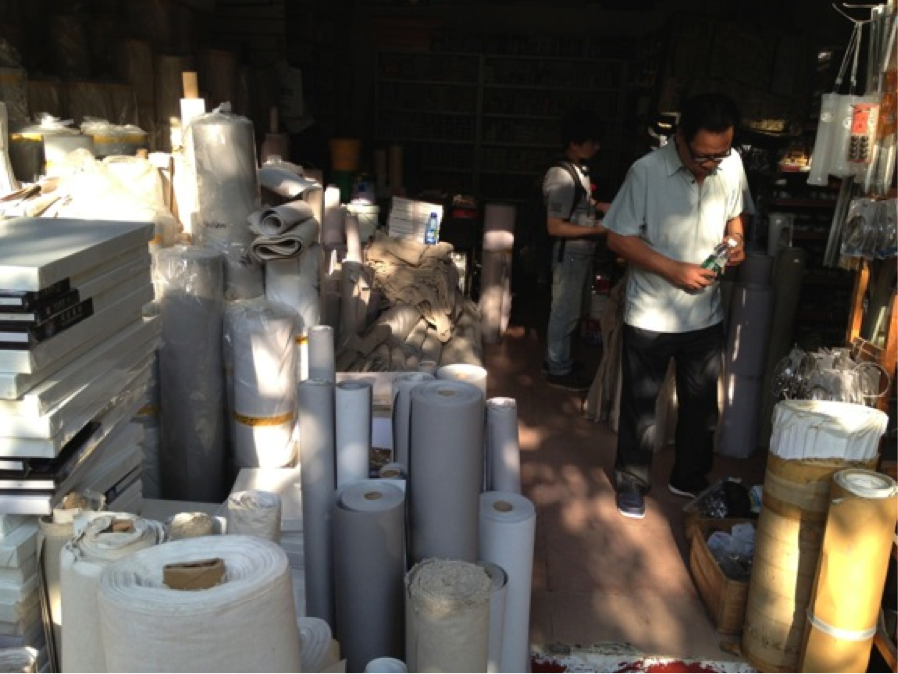 Canvas shop in the village of Da Fen.
We were given a stipend for our art supplies. They were inexpensive, but the selection of (fake) "brand name" material was a bit limited. The quality of the pigments in the paints available to us was not what I am used to, back home. As artists, we constantly have to make obstacles work for us, and so this was just another creative challenge!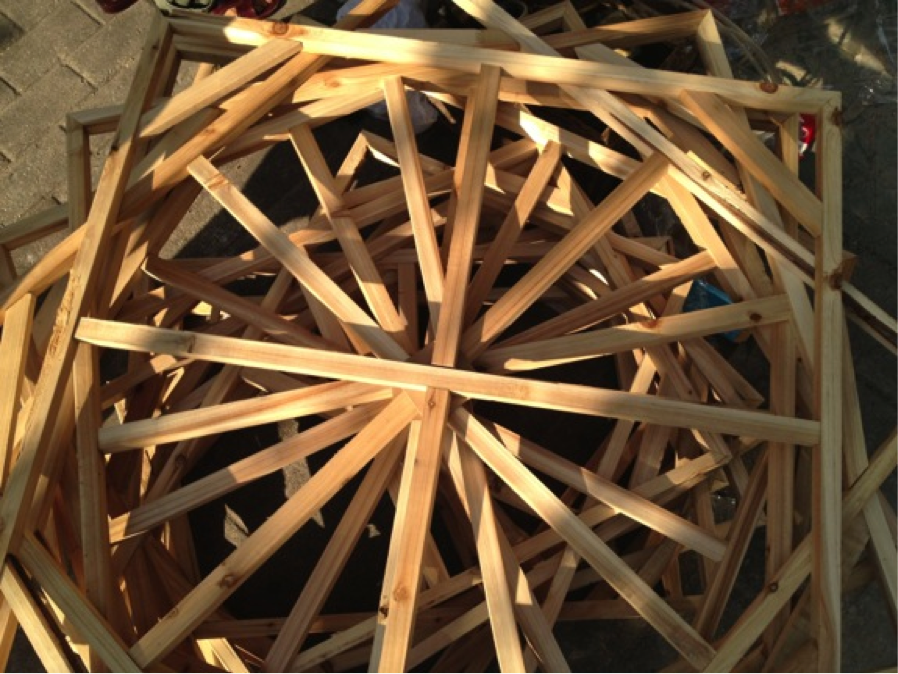 Frames, neatly stacked on the ground, ready for canvases to be stretched over them.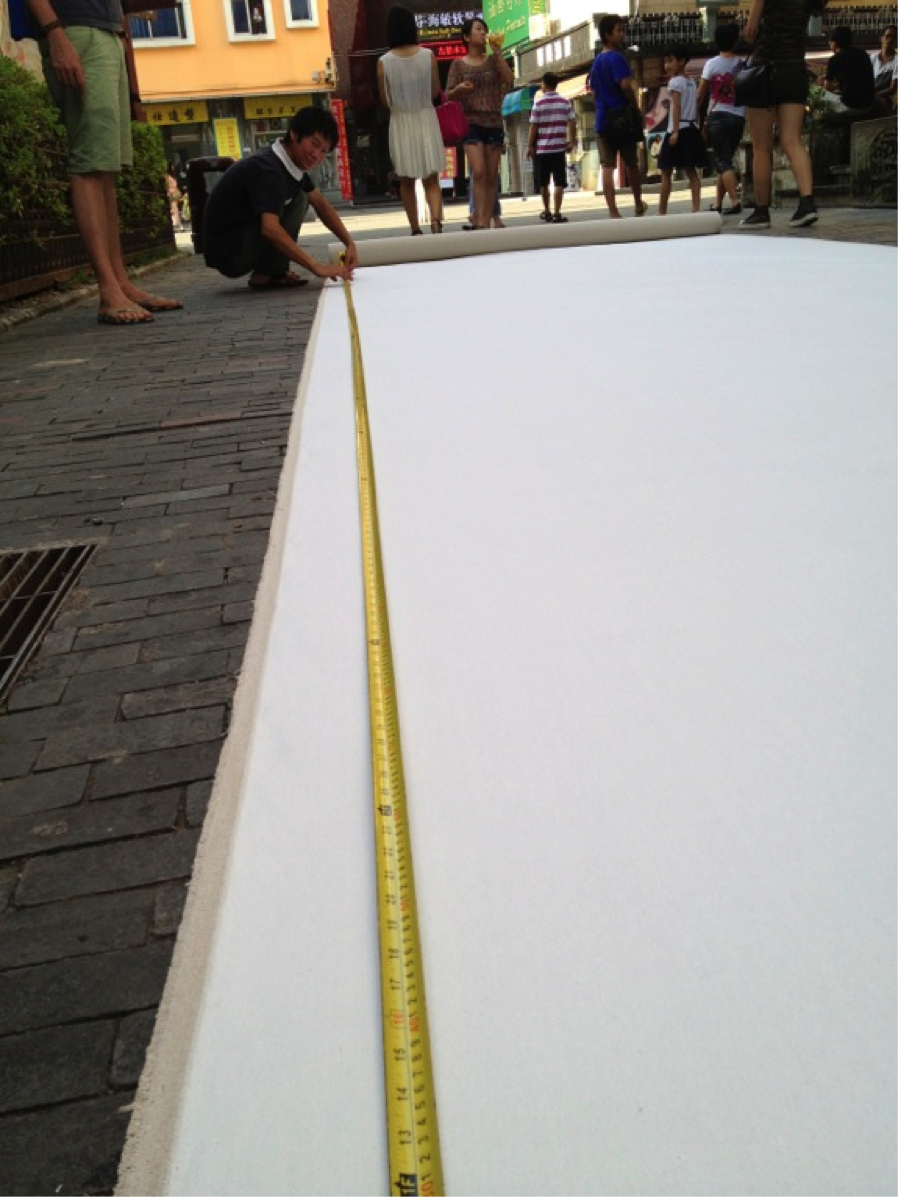 "Buying yards of canvas!"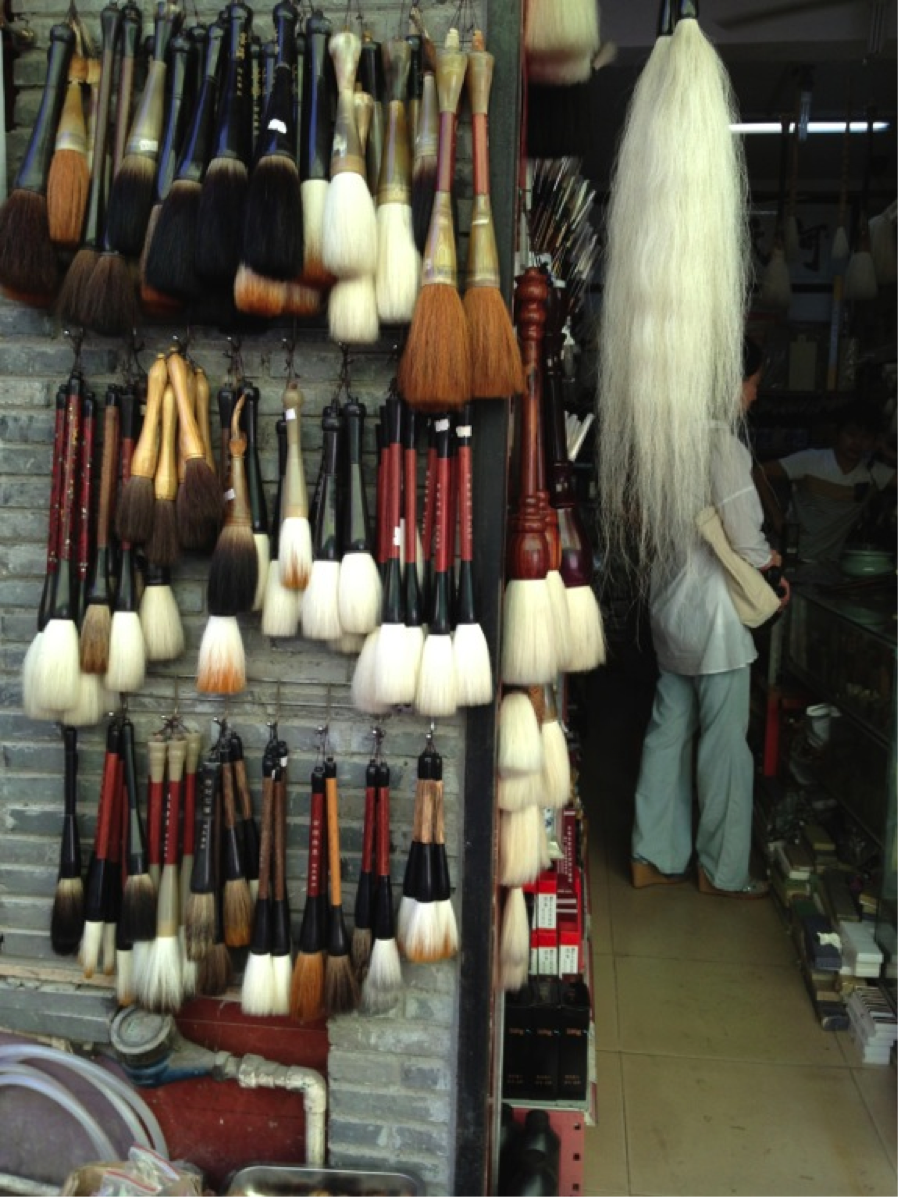 Paintbrush shop in Da Fen. "One of several," writes Claire.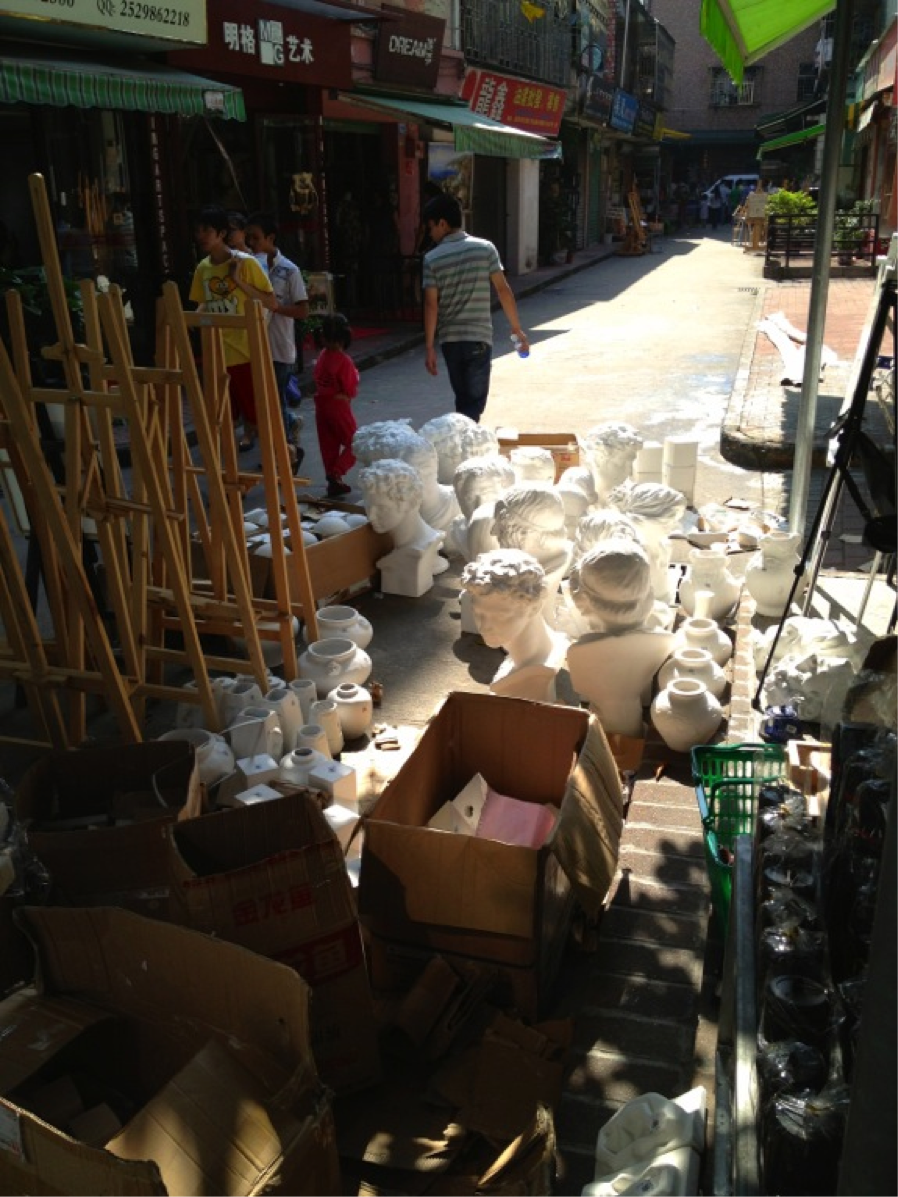 "Busts, easels spill out onto the street. Nobody pays attention."
What inspired you?
The contrasts of daily life preoccupy me, no matter where I am. My paintings are very personal, so much of what makes it onto my canvases are a reflection of what I see and experience, in my day-to-day. Living in southeastern China infused my senses with all sorts of new ideas. It's hard to pinpoint one thing that inspired me, as it was really the total experience of living, breathing, seeing, and tasting.
Another thing I found interesting were the Chinese characters. While I do not know what the marks signify, I'm told that each character is a drawing that represents an idea or concept, not just a single sound, as in our Western alphabet, whereby the letters are put together to make up sounds, and therefore, words.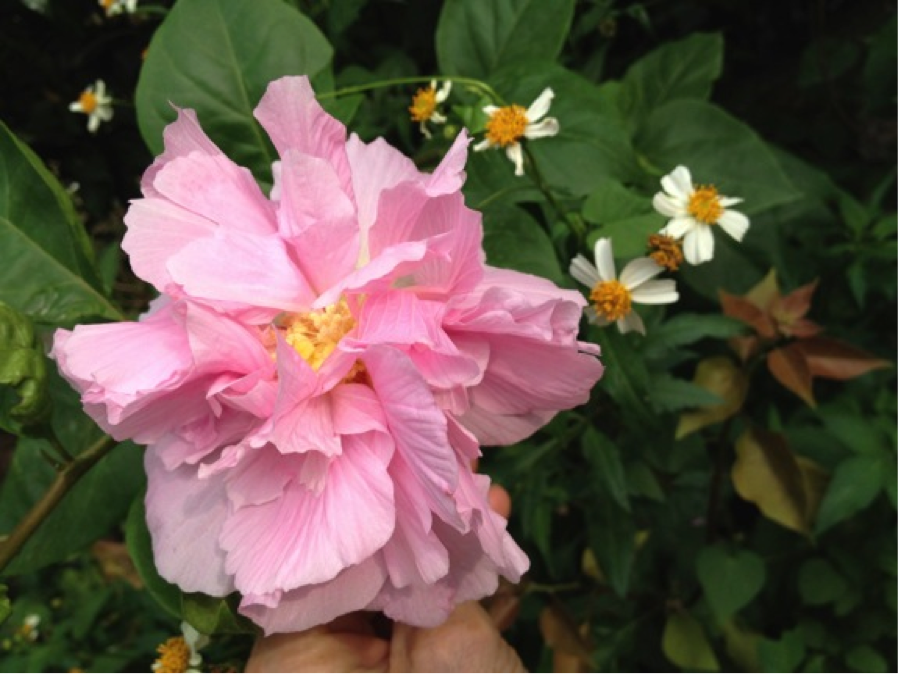 Flowers growing at the side of the road.
At the residency, there was no shortage of exotic wildflowers, tropical lush green jungle, birds, insects, and reptiles. Their markings and colors are quite extraordinary, and despite their often electrically bright colors, they are often difficult to spot in their natural habitats.
How has your approach to your artwork changed, or your perspective toward it?
Among the handful of artists staying at the residency at the same time as I was, were three potters. Being around them was inspiring, and I found myself wanting to add more texture to my work. There's something very real about working with clay, and it inspired me to try to use thicker paints, and to find objects to stick onto my work.
"Explosive Situation" (71 x 79 inches): The painting Claire left behind at the residency.
One such painting, "Explosive Situation", has Chinese firecrackers stuck to it. Due to shipping constraints on explosive materials, I had to leave that painting behind, at the residency!
"Chinese firecrackers, like the ones I glued onto my painting, 'Explosive Situation'."
I've been obsessed with color for some time. Red has long been one of my favorite colors to work with. In China, red is everywhere. For the most part, red is a color of passion, but in China, I associated the color with the communist regime and order, rather than feelings that come from my gut. Now returned, I find myself rethinking how I use colors together, and their implications.
Detail: "Explosive Situation" and the firecrackers glued to it.
"My last night in residency: I gave an artist talk, followed by a public studio visit."

View Claire's Made in China collection which features works she painted while on residency in China.

Other artists who were at Da Wang Culture Highland with Claire include: