Inside the Studio with Athena Anastasiou
At the core of New York based artist Athena Anastasiou's bold and expressive works lay questions about the human existence and identity. Her visual narrative derives from personal experiences, conversations, and books on the quantum field and the power of thought and intention. Athena's interest in Renaissance mythological paintings can be clearly seen throughout her art, in which she often reacts and reinterprets classical scenes.
How did you first get interested in your medium, and what draws you to it specifically?
I remember painting since I was 5, and then at high school I was lit up by paintings from Giorgio De Chirico, Dali and Lucian Freud – and felt "I want to do that!"I enjoy the freedom and movement of paint that you don't get with drawing. Paint gives me access to juxtaposing colours that sing together as well as being able to create scenes from imagined colours, provoking a sense of magic and lasting emotion.
Can you walk us through your process? Do you begin with a sketch, or do you just jump in? How long do you spend on one work? How do you know when it is finished?
As my work is currently exploring my own personal mythology, it is inspired by a constellation of my beliefs, feelings and images that construct my own explanation of the world. I then refer to my aesthetic framework of mythology; that in the work there is a sense of magic, morality, a life lesson or even mystical creatures appearing. I also aim to add a sense of lightheartedness to the work, almost childlike imagery, provoking a freedom from the left brain thinking.
The making process is very fluid, I will note down and sketch the idea quickly in my sketchbook, then jump straight into the painting, allowing myself to work instinctively. I do this as I find when I sketch out the work before in detail, it loses the freedom, looseness and surprise that the original piece had. I usually work on numerous paintings simultaneously, so I have space between each painting to evaluate it and so I don't get too tight or attached to one piece. On average I can spend a week to 4 weeks on a painting, it depends on the style. I know when the painting is finished when I am moved by it or there is nothing I can change or annoys me! It's an art in itself not to underwork or overwork a painting, that's why giving yourself the space really helps to evaluate it over time.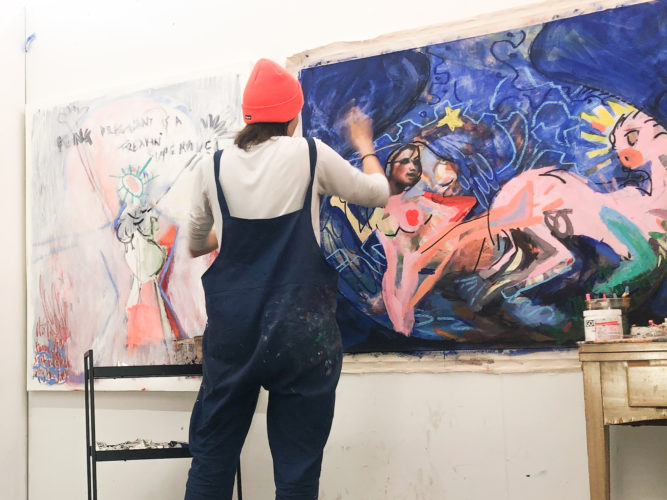 If you couldn't be an artist then what would you be?
A black soul singer in another life! 😉 I love singing and music! Or I would set up a conscious business to support the planet, promoting sustainability and wellbeing.
Any advice for younger artists at the start of their careers?
Get into a good practice and schedule for creating your work, put the hours in so you are in constant dialogue with your work and write a weekly statement keeping up to date with what you are trying to say. Build your website and instagram so it reflects your high quality brand and what you stand for. Go to as many shows and openings as possible, network, find out what space/gallery suits your type of art. Do group shows, a solo, and expose your work and self. Keep up to date with your business plan and numbers! Something that is key that all artists need to do, including myself! Keep calm and fall in love with the journey and all the lessons along the way as that's what really counts.
Tell us something about yourself that might surprise people to hear
I have a twin sister who lives in Cyprus!  And that one of my dreams is to see the earth from space – of course 😉
Follow The Other Art Fair's regular 'Inside the Studio' series on Instagram with Live talks between Fair Director's and Fair Artists, and shop all Fair artists via the Online Studios.