Hilary Baker's paintings reflect her immediate surroundings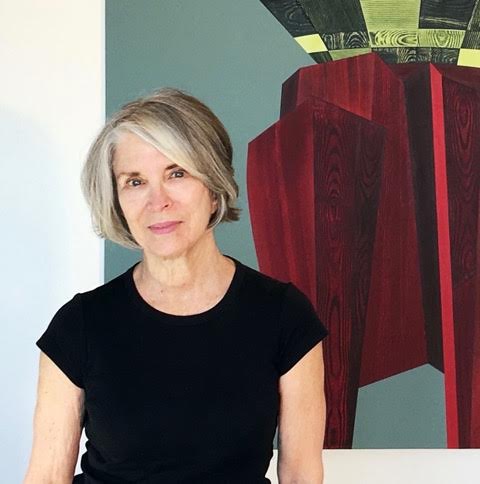 What are the major themes you pursue in your work?
I develop my work in series, each one evolving organically into the next. The paintings reflect my interest in my surroundings; whether the ocean I see every morning as I leave for the studio, or the trees, stones, and rubble seen in Sicily, to the older buildings around my studio, or the feral animals that inhabit my backyard.
How did you first get interested in your medium, and what draws you to it?
My first introduction to a flat, matte medium was through gouache, an opaque watercolor. As I became proficient technically, I searched for a way to translate that beautiful surface into a more permanent medium, such as matte acrylic paint.
How has your style and practice changed over the years?
Initially I was a figurative artist, but slowly moved towards abstraction years later. Now I find that I am most interested in walking a line between figuration and abstraction.
Can you walk us through your process? Do you begin with a sketch, or do you just jump in? How long do you spend on one work? How do you know when it is finished?
I often fall asleep mulling over the idea of a painting. I then sketch the composition, intuit the palette, make color studies and transfer the drawing to the canvas. Depending on the size of the canvas, a painting can take days or weeks to complete. When everything extraneous in the composition is eliminated, I know the painting is ready to begin, and when the last brushstroke has been placed, it is finished.
What was the best advice given to you as an artist?
The best advice ever given to me was from a fellow graduate student. She said, quite simply, "Just do the work".
If you could only have one piece of art in your life, what would it be?
Any Guston painting from his later series! He sits at the head of my Pantheon of remarkable, influential artists.