How to Price Your Artwork
When pricing your art, it is important to adopt a consistent fact-based price structure. As an artist, you should always be prepared to explain how and why you set your price. Prices need to be based on recent sales, the cost of labour and material, and comparisons with similar works. Compare your art to what sells, not what does not sell. It's a good idea to have artworks in a range of prices in your portfolio, as this will widen the net of people who may be interested in your work.
For more information about pricing your work, you can read our FAQ's here.
We suggest considering…
1. Pricing your art based on comparables.
Set your prices similar to those of other artists with similar experience and who work in similar mediums. When comparing your works to others, consider factors such as dimensions, medium, materials, and the artists' achievements such as prizes, exhibitions, press, etc., as these will have a bearing on pricing. Also, when looking at price figures for comparison, always consider art that has sold, not art that has not yet sold.
2. Pricing your art like a retailer – at two times the cost of materials. 

3. Factoring in your time and labor. 
New and emerging artists often establish prices based on time, labor, and the cost of materials. Set yourself a reasonable hourly wage, multiply that by the number of hours it took to make the work and add that figure to the cost of your materials.
4. The consistency in your pricing.
If you are selling one work in multiple channels, make sure its price is consistent everywhere. Similarly, be consistent about pricing works within your portfolio – for example, your larger works should be consistently priced higher than your smaller works.

Saatchi Art artist Anna Hymas at work in her studio in London. (Image: Saatchi Art)
5. Broadening your appeal by offering works at various price points.
If someone likes your work but can't afford a $3,000 painting, they will find a $500 painting more attainable. You can always increase your prices after you have made some sales and have factual evidence to justify a price increase. Keeping a record of all your past sales and the prices will make good reference material. Remember that it's much better to competitively price and sell your work now to gain exposure (increasing your prices in the future) than to have your work sit unsold.
6. Including the cost of packaging.
If your artwork sells, the cost of packaging the artwork for shipping is the responsibility of the artist. The cost of packaging materials should also be factored into the price of your artwork. Here are our packaging guidelines for when your artwork does sell.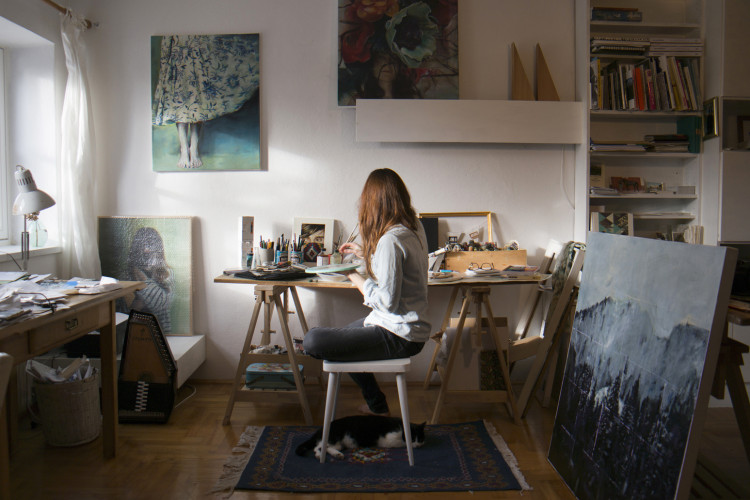 Saatchi Art artist Evalie Wagner at work in her studio in Austria. (Image: Saatchi Art)
7. Lastly, for other factors like…
For larger oversized artworks that require a wooden crate, you should add an additional 30 – 35 lbs (13 – 16 kg) to the physical weight of the artwork during your upload, to account for the crate's weight. Also, if professional crating service is required, note that these services may cost up to $500.00 USD. We highly suggest that you first research your total crating costs, and then factor these costs in when pricing your artworks. If your artwork sells, the collector pays the cost of shipping, but it is your responsibility to properly package your artwork and cover the cost of those packaging materials. Saatchi Art will handle all of the shipping logistics once your work is packaged.
Promotional Discounts that are offered on special occasions, act as an incentive for new and returning collectors to explore the constantly updating selection of artwork on our site. Here is more information for a better understanding on how you should consider this when pricing your artworks.
Want some additional inspiration? Check out recently sold artworks on Saatchi Art.