Courting the Colors of Love: Original Art for Valentine's Day
We picked a colorful bouquet of our favorite love-themed artworks in celebration of Valentine's Day this week. Share a new contemporary artwork with someone special you love or choose a new gem for yourself to summon more romance, humor, or beauty into your life… The choice is yours!
Here's a selection from our new Valentine's Day Art collection to get things going…
Say it With Blooms That Will Never Fade
Choose some flowery figurative art and infuse your rooms with a touch of spring and romance. A fetching floral portrait painting, like this one by Saatchi Art artist Hanna Ilczyszyn with hints of romantic red and sunny yellow is sure to be embraced by your favorite fashionista, gardener, or vintage lover, too.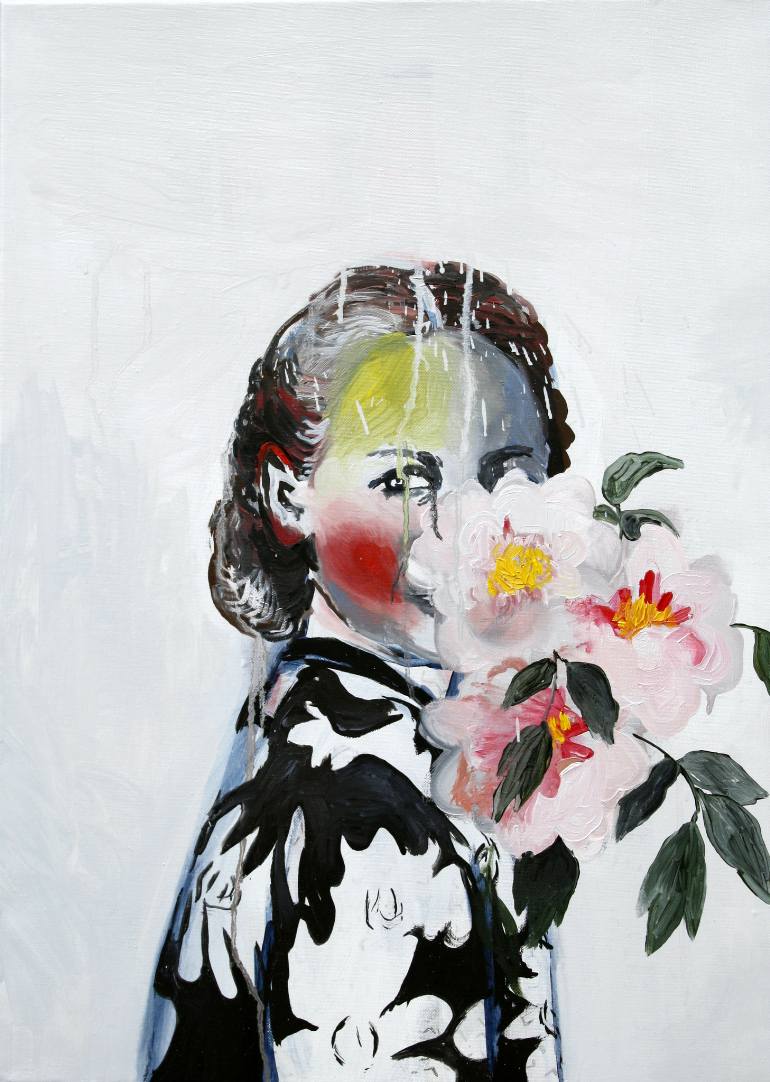 (Image: Flowers, an original artwork by Saatchi Art artist Hanna Ilczyszyn)
A Perfect Pair
Celebrate your time together with art featuring couples… When your honey is funny, why not treat them to some Valentine's Day humor, like this original painting by Saatchi Art artist Kelly Puissegur?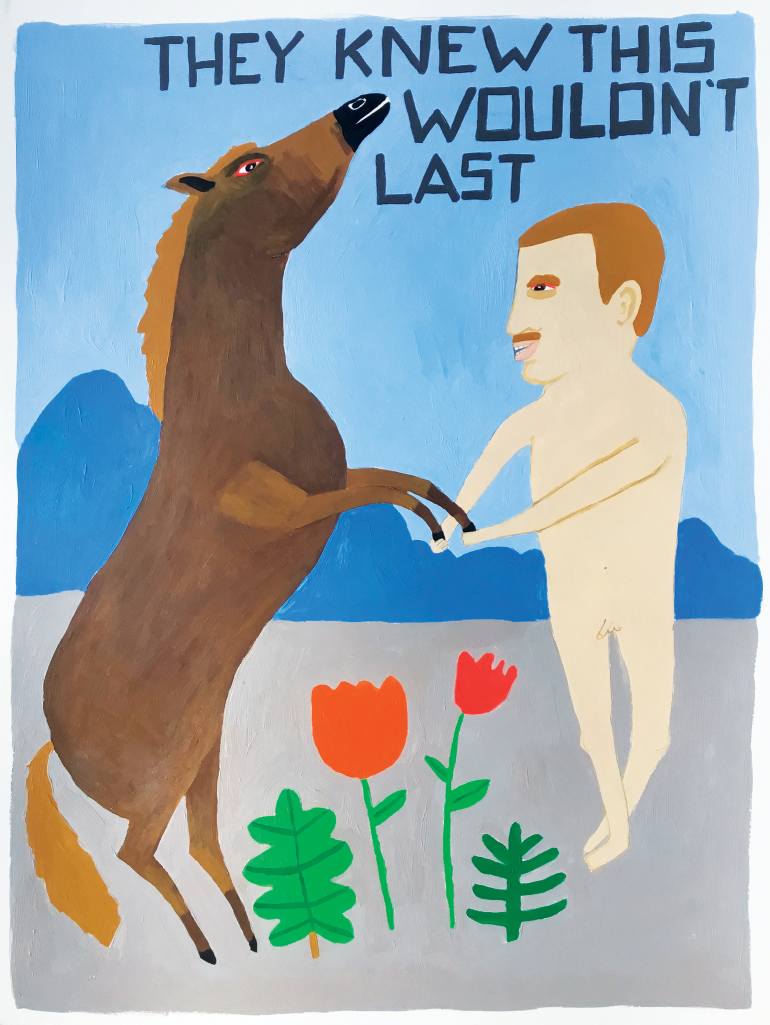 (Image: They Knew This Wouldn't Last, by Saatchi Art artist Kelly Puissegur. You can learn more about Kelly here on CANVAS…)
When you're looking for ways to proclaim your passion, consider an elegantly erotic art photo or minimal nude to set the mood.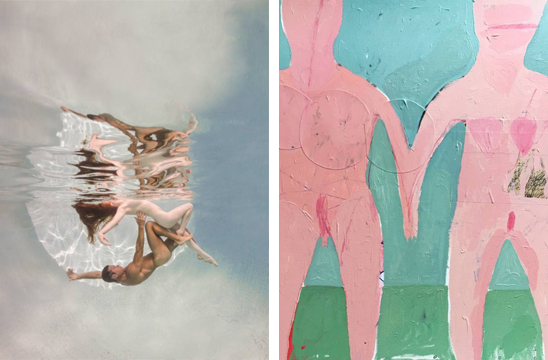 (Image: L: Support – Limited Edition 1 of 50, original underwater art photography by Saatchi Art artist Ed Freeman; R: A detail from Still loving you, an original painting by Saatchi Art artist Rusudan Khizanishvili)
Lost Love
Art about love doesn't always need to be rosy. This minimal modern painting by Gino Belassen speaks volumes about the ebb and flow of love in our lives.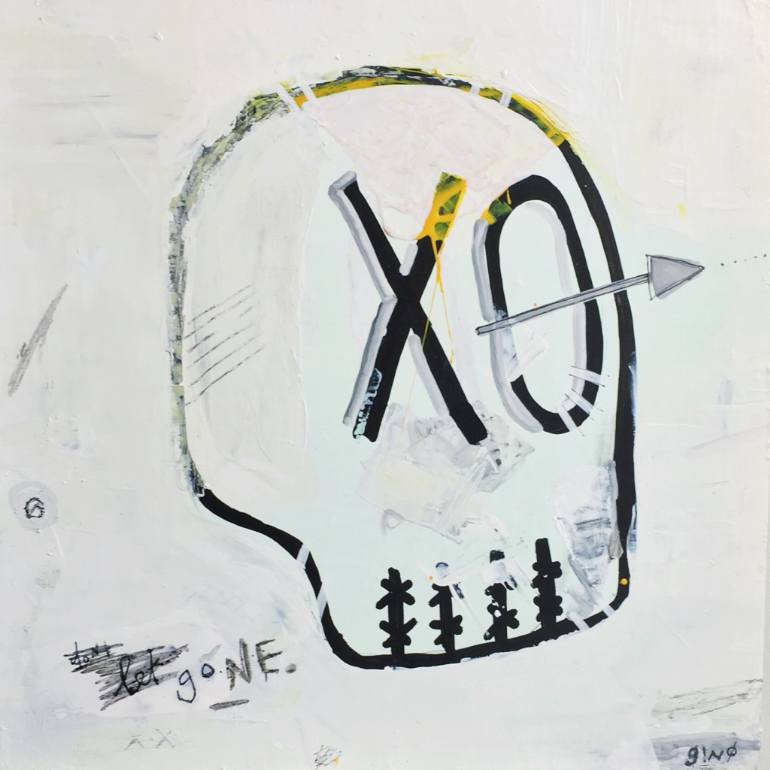 (Image: Gone, an original modern painting by Saatchi Art artist Gino Belassen)
Romantically Retro
If you or someone you love is a Mid-Century Modern fan, we have romantic art ready to fit the bill. For a more blissful bedroom, reach for a statement making pink and purple nude reminiscent of a vintage pin up… Or, remind your special someone just how much in love you are with a gilded text-based artwork in sign painted style.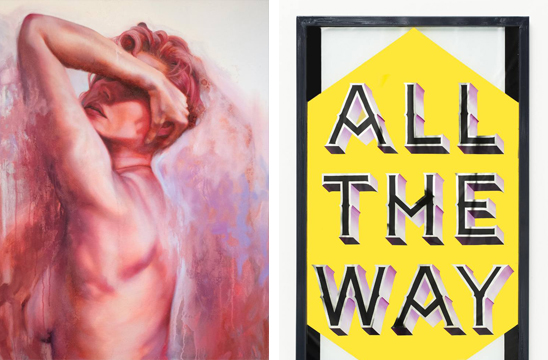 (Image: L: Shade, an original figurative painting on wood by Saatchi Art artist Shaina Craft; R: A detail from ALL THE WAY, an original typographic painting by Saatchi Art artist Archie Proudfoot. You can learn more about Archie in our Meet the Others feature.)
When you're on the search for something specific, Saatchi Art's free Art Advisory service is here to help find art you'll love! Reach out today and get started…