Meet The Others: Archie Proudfoot
The Game Changers. The Rule Breakers. The Innovators. Discover some of the fantastic emerging talent showcasing their work at The Other Art Fair.
Based in London, Archie Proudfoot is a traditional sign painter and artist. A rare but captivating form of art, Archie's signs stand out thanks to his mastery of reverse-glass gilding. His pieces mainly incorporate a single word surrounded by bright colours and flashes of gold, creating a minimal, bold piece of artwork.
__________________
___________________
How would you describe your artwork?
My work uses the techniques and aesthetics of traditional sign painting to explore our relationship with language, often by reifying a single word or phrase using the opulent process of reverse-glass gilding. I want to slow language down and isolate it from it's wider context to see what kind of emotional response it creates in the viewer, as well as explore the physical interplay and geometry of the letterform themselves. 
What does making art mean to you?
Fundamentally it's playing, working with different shapes and colours, arranging them in ways that are exciting or engaging.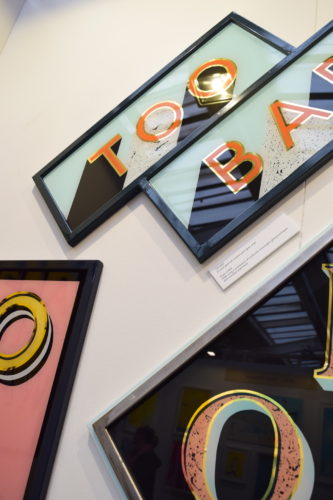 How did you get started making art?
I started of learning how to be a sign painter, and once I discovered the technique of reverse-glass gilding I saw that it could be used for more than simply functional signage purposes and that it had a power of its own. 
What is it like to be a part of The Other Art Fair?
It's always an exciting experience being a part of The Other Art Fair, getting to meet so many other artists and absorb so much inspiration and advice. I also really enjoy talking to people who've been following my work for some time and those who are discovering it for the first time at the fair. The atmosphere on a busy evening at the fair is like nothing else. 
What is your favourite piece for sale on your SA profile and why?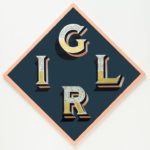 Probably my 'GIRL' piece, it just worked better than I'd hoped, felt very sharp and concise like I'd imagined it, and it always gets a great response. To be honest I'm very close to keeping that one for myself!