The Other Art Cities Detroit Spotlight: Marlo Broughton
The Other Art Fair is proud to present The Other Art Cities Detroit Spotlight. A new feature showcasing some of the best emerging talent from around the world. First stop Detroit!
Marlo Broughton is a Detroit based artist and designer. We asked him about his work, being an artist in Detroit and how his practice has evolved over the last six months.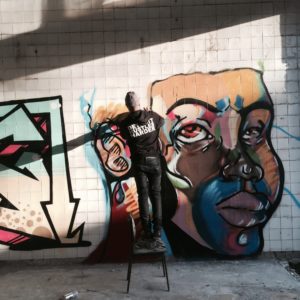 Tell us a bit about yourself and your practice?
I'm from Detroit born and raised here. I spent a few years living in Chicago in my early 20s along with having the opportunity to travel overseas due to artwork and having friends all over the place. I've been drawing since I could remember, as a child I spent a lot of time with my Mother who was a commercial artist before she took up nursing so she has always been a big factor within the spirit of my work.
From drawing I took up graffiti in middle school to high school I was in various crews throughout the states as I got older that transformed into industrial arts (which went to school for) and fine art or contemporary art which is what I pursue at the moment.
I was in a creative group called Finally Famous which included Sean Anderson aka Big Sean, Tommey Walker founder of Detroit Vs Everybody ( who I found out later was my cousin) and many others so being around Sean who got signed to Kanye West was a huge eye opener of possibilities for me. It really showed me that dreams come true so I'm apart of the era of Detroit. I use being apart of that time to keep some authentic-ness to Detroit due to it currently being taken over by transplant and gentrified. I feel like it's my duty to keep the true culture alive.
What are you inspired by at the moment?
Right now my art is driven by the state of the union and voices being unheard.
What are some of the best things about art in Detroit/ being an artist in Detroit?
For me it's probably a bit different due to when I started and who I started with so for me it's amazing to see how I went from drawing and designing mixtape covers for Big Sean to painting and getting recognition of my own. Being able to give my art to the city that raised me.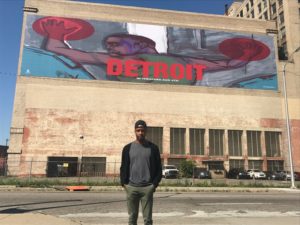 What are you working on at the moment?
Right now I am working on a series that captures my emotional state. I want people to understand what it is like to be a young male of colour in the times we are in. I'm dealing with racial injustice which is something that I'm born to deal with and the health system. If something happened to myself or loved ones due to Covid where does that leave me or anyone else I know.
I think it's highly important to say things with art. Too many artist are praised for making visually cool work but has no depth or spirit beyond that.
How has your practice shifted over the last 6 months?
My practice has always been the same. I'm just producing a lot more due to having more to say.
The Detroit Artist Spotlight is first in The Other Art Fair's Other Cities Series. The series aims to showcase some of the best emerging artists in undiscovered art hubs to our global platform, providing exposure to these up and coming stars and bringing collectors and buyers from around the world to new destinations.