November Fresh Faces: Artists To Know Now
Stay in the know.
Introducing five
emerging artists to know and watch out for this month.
As the world's leading online gallery, Saatchi Art is dedicated to representing emerging artists from around the globe and helping people connect with art and artists they love. Below, meet five investment-worthy artists whose work should be on your radar.
Kyle Yip
Meet Toronto-based Kyle Yip, whose work in both fine art and electronic music is making waves. His practice is inspired by dreams, and is simultaneously vibrant and calming. See Kyle's Portfolio here.
"I am a Canadian hypersurrealist artist recognized for my exact reproductions of visual art, music and film conceived and produced during my dreams, including my JUNO Award Nominated debut album The Midas Touch for best Electronic Album of the Year in 2016 (i.e., identical components, compositions, dimensions, samples, scales, mediums, techniques and applications). This includes several ongoing series of paintings, sculptures, installations, films, music videos, and electronic music. My work explores the Gestalt and spirit of art vicariously through my dreams and the collective unconscious. It is an existential examination of identity, vexillology, and Eastern versus Western aesthetic and cultural values."
Ming Ying
Meet Ming Ying, a recent RCA graduate born in Beijing, whose large paintings explore alienation and vulnerability, and are gaining attention with collectors. See Ming's portfolio here.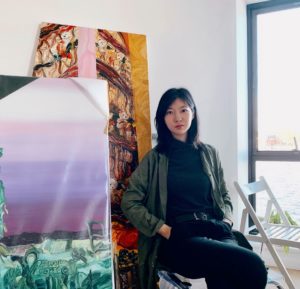 "As a painter, I feel pushed to expose a phenomenon and try to express it through image-making. In recent years, especially during the pandemic period, my sense of reality and unreality are stronger. I am trying to reflect this thinking by agitated, undulating brushstrokes which exude a dream-like, colorful, and surrealistic atmosphere in these painting works."
David Krovblit
Meet David Kroblit whose work is a reflection of his vivid imagination and delves into other-worldly consciousness through vibrant collage. See David's portfolio here.
"I borrow imagery, such as medical anatomy, vintage floral and fauna, from vintage books and magazines to build my contemporary collages rooted in pop and historical pop culture. The asymmetrical layers explore nature, life and death, science fiction, mythology, consumerism and consumption.  

I like to think of my process as

curating images lost in time, repackaging them to build an entirely new narrative, capitalizing on the beauty that already exists within our world."
Candace Hunter
Meet Candace Hunter a Chicago-based collage artist whose work looks to history and activism to create new beautiful visual tapestries. See Candace's portfolio here.
My practice is so many things—from water rights activism to installation work to international injustices, to providing safe emotional spaces for girls. But always presented with my understanding of beauty.

Known primarily as a collagist, that title extends to my gathering of all sorts of items that are transformed into something new. 1950's ironing boards, to unloved cellos, to my latest acquisition, a double basin wash tub stand from the late 1900's.

I imagine the hands of those who used these items and wonder of their lives and what their dreams had been. Envisioning those imagined lives, I allow myself to become a part of the tapestry of those dreams and create anew.
Aeran Jung
Meet Aeran Jung, a painter based in South Korea inspired by the transcendent energy of the earth and the energy of the universe. Interested in studying the physics of relationships. See Aeran's portfolio here.
I used to do a lot of portraits, then I saw a statue of Antony Gormley in the library and fell in love. He was asking and answering questions about human relationships with sculpture, saying that beyond simple human relations, our universe itself is affected by some transcendental behavior.
Love reading about all things art? You can have articles from Canvas, curated collections, and stories about emerging artists delivered straight to your inbox. Sign up for the Saatchi Art Newsletter.