Meet The Others: Nathan Paddison
The Game Changers. The Rule Breakers. The Innovators. Discover some of the fantastic emerging talent showcasing their work at The Other Art Fair.
Nathan Paddison has found his way, and has been reborn through paint. He paints his experiences looking through the eyes of someone he's become but still channeling the experiences of his troubled past harnessing colours and gestures to represent emotions and word play, which has been a big part of Nathan's journey.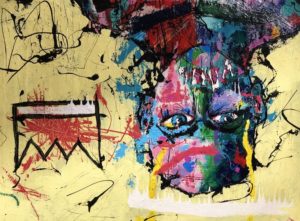 ---
Q&A with the Artist
Tell us about who you are and what you do.
 

What is your background?

I paint anything in my life from animals that I love to people around me and from my past always distorted to try and show their personality rather than outside appearance,Also still life fruit.I also paint sculptures in the same away.
How did you first get interested in your medium and what draws you to it specifically?
I fell into art by accident and my main interest is expressing myself and colour.
Can you walk us through your process? How long do you spend on one work? How do you know when it's finished?
I always start without knowing what's going to happen and let my subconscious take over. I usually have a few works going at once as I can't wait or paint to dry and jump from one to the next in my studio. Don't know how I know when a work is finished it just seems to let me know itself.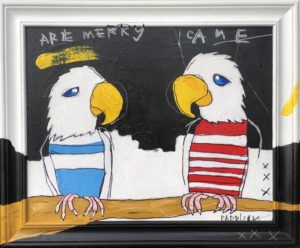 Where do you draw inspiration from and what does your work aim to say?
I draw inspiration from everything around me in my life I hope to show people particularly in my animal works that animals are as unique as we are. In my works surrounding my past and the people in it I look to show the struggle of addiction.
Who are your biggest influences and why?
Jean-Michel Basquiat and Willem De Kooning are easily my biggest influences I love the way they have no boundaries and express themselves freely.
What is the biggest challenge you've faced as an artist and how did you overcome it?
My biggest challenge has been trying to get my art out there as I'm self taught and didn't know a single person in the art world when I started.
Can you tell us something about yourself people might be surprised to hear?
I only started painting less than two years ago and actually never liked to paint at school.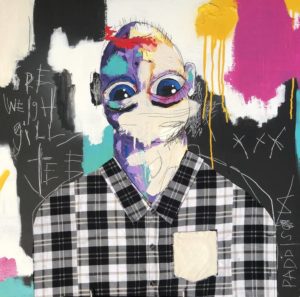 Shop artwork by Nathan and other trailblazing artists at The Other Art Fair's Online Studios.
Introducing The Other Art Fair Online Studios, a new online platform offering art lovers around the world access to over 800 Fair artists. The Online Studios will keep our community feeling inspired, engaged, and continue to spread joy through art.