Meet the Others: Chris Riley
The Game Changers. The Rule Breakers. The Innovators. Discover some of the fantastic emerging talent showcasing their work at The Other Art Fair.
Introducing Brisbane-based artist Chris Riley. Chris took the somewhat unorthodox route into a career as an artist following a background in the automotive industry. Following a failed search for the perfect artwork for their home, Chris' wife joked he should paint it himself and the rest was history. We're certainly grateful he's put his days of spray-painting cars behind him in favour of painting on canvas.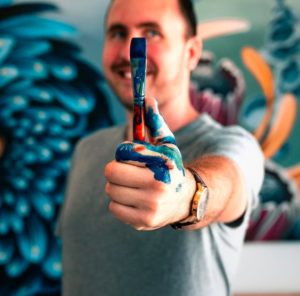 Tell us about who you are and what you do. What's your background?
My background is in the automotive industry. I was raised in a family obsessed with all things race-cars. I drove dragsters on the weekend as a child and went into the world of spray-painting and custom cars as a young adult.
Where do you draw inspiration from and what does your work aim to say?
I draw most of my inspiration from the interactions that I have with my customers. I like to inject personality into my artworks, hoping that my customers love their artwork like they would a pet.
Can you walk us through your process for creating a work?
I always start with colour. I will spend an entire day painting different colour backgrounds. At this point I have no idea what I am going to paint on each canvas, except that it is probably going to be a bird. I like for the colour to tell me what to put on it, I have a huge library of bird images. Once I know what it is that the background colour is asking for I sketch that out on the canvas using chalk and the rest is a bit of a blur. (You can see some Timelapse videos of me in action on Instagram (@chrisriley_art) or YouTube.
Who are your biggest influences and why?
My biggest influences are my customers, they are who i paint for and it is the response from them that drives and influences me. I am also influenced by my past – my love of colour I think comes from my time as a spray-painter.
What can people expect from you next? Do you have any exciting projects/opportunities coming up?
I am working on some exciting projects with a wholesale company, creating amazing giftware products.
Can you tell us something about yourself people might be surprised to hear?
Most people are surprised when they hear that I have only been pursuing an art career for 3 years. Before that I had never even come close to considering the idea.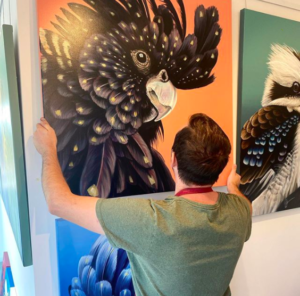 Shop artwork by Chris and other trailblazing artists at The Other Art Fair's Online Studios.
Introducing The Other Art Fair Online Studios, a new online platform offering art lovers around the world access to over 800 Fair artists. The Online Studios will keep our community feeling inspired, engaged, and continue to spread joy through art.