Infinite Patterns: Through the Eyes of Yayoi Kusama
Born in 1929 in Matsumoto, Japan, Yayoi Kusama is an art world star and pop culture icon. Kusama began drawing the plants and flowers around her family's seed farm at the age of 10, which was also when she first started to experience vivid hallucinations of light flashes and dense fields of dots. By channeling her visions into her drawings, Kusama used her art to cope with her difficult family life and escape her mind. Soon to be 94 years old and now the top-selling living female artist, Kusama has taken her plant and dot motifs from doodles to paintings, sculptures, fashion, and viral installations. 
Kusama's past few decades as a voluntary patient at a psychiatric hospital in Japan have been her most commercially successful. Since her admittance, she has developed her most iconic and complex works: in 1994, she made the first of her outdoor sculptures, Pumpkin. In 2002, she oversaw the first instantiation of Obliteration Room, an installation that begins as a white interior that visitors are encouraged to "obliterate" with sheets of round colorful stickers. Since 1963, she has continued her series of Infinity Rooms, vertiginous mirrored rooms that infinitely repeat her dot patterns across a dizzying space. Her popularity has skyrocketed due to platforms such as Instagram, with viewers from around the world willing to wait in line for hours at museums, stores, and parks to glimpse her installations for timed viewing slots as brief as 30 seconds. With its unprecedented scope and ambition, Kusama's work continues to draw us out of ourselves and toward the infinite. 
These five Saatchi Art artists create work in the same style and spirit as Kusama. Explore these artists' portfolios to discover how they utilize dots and patterns to create their artwork.
Simina Badea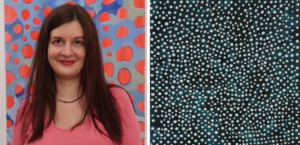 Born in Romania in 1984, Simina Badea spent her childhood summer holidays surrounded by animals and nature. Her artistic practice is inspired by the beauty and mystery she observes in the repetitive structures found all around us in the natural world. Simina invites viewers to discover the endless possibilities within her timeless, meditative, and dynamic patterns. Since moving to Vienna in 2003 and graduating from the Academy of Fine Arts of Vienna in 2008, Simina has exhibited throughout Austria, with shows also held in Macedonia, Turkey, and Japan. View her portfolio here.
Naomi Vona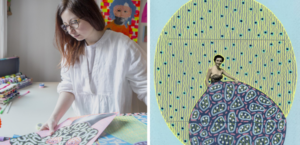 London-based artist Naomi Vona combines her interests in photography, collage, and illustration to alter vintage and contemporary found images and create her own new interpretations. Naomi's work reflects her life, background, inspirations, and subconscious. Fascinated by the past, Naomi uses her patterns and color combinations to keep time and space suspended. Originally from Italy, Naomi earned her degree in Design and Photography from Brera Academy of Fine Arts in Milan. She has exhibited extensively at art fairs and group and solo shows across Europe and the United States. View her portfolio here.
Jennifer Bell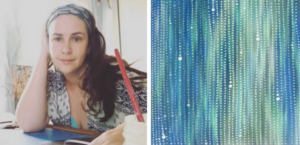 Australian artist Jennifer Bell is known for her intricate paintings that explore patterns and visual perception. She is influenced and inspired by a neuro-ophthalmological condition that causes her to see a veil of patterned color dots throughout her visual field. Jennifer's work often incorporates found and recycled objects and materials, demonstrating that patterns and beauty exist in seemingly imperfect things. Her work is held in private collections throughout Australia, New Zealand, North America, Europe, the Middle East, and Asia. View her portfolio here.
Rita Somogyi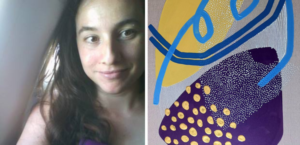 Rita Somogyi, born in Hungary, is a graphic designer and painter. Her current work focuses on the convergence of abstract patterns and the ever-changing ecology of the natural world. Inspired by ink painting, Abstract Expressionism, and prima materia techniques, Rita hopes her work adds a touch of organic spirituality to the tech-riddled lives of her viewers. View her portfolio here.
Amelia Coward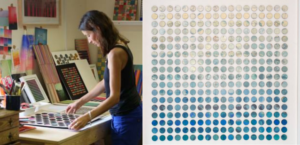 Kent-based artist Amelia Coward is renowned for her explorations into mixing and blending colors to create abstract shapes and patterns. She holds a Master of Arts from the Royal College of Art and is influenced by her woven textile training when cutting and reassembling geometric forms into patchwork compositions. Amelia has a growing international profile; her work can be found in private and corporate collections worldwide. View her portfolio here.
Love reading about all things art? You can have curated collections, stories about emerging artists, and more delivered straight to your inbox. Sign up for the Saatchi Art Newsletter.