Art in Fashion
Fashion designers such as Elsa Schiaparelli and Yves Saint Laurent have long collaborated and paid homage to some of the greatest artists of modern art. Schiaparelli worked with multiple artists involved in the Surrealist movement; she famously designed the "Lobster Dress" with Salvador Dali. For his 1965 collection, Saint Laurent designed a collection of shift dresses inspired by Piet Mondrian.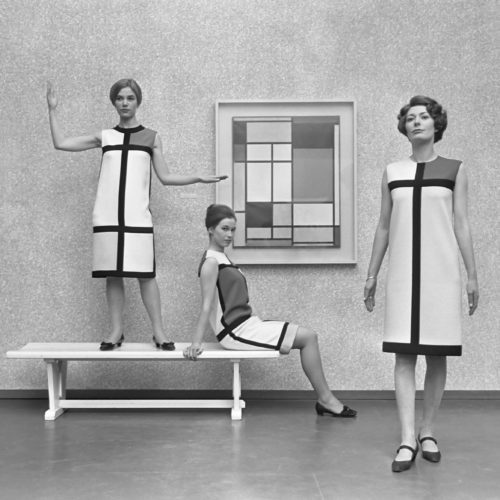 Designers paying homage to some of the greatest artists can still be clearly seen today in haute couture and even ready-to-wear runway shows. For the upcoming Haute Couture Fashion Week in Paris, read on to learn more about the avant-garde fashions inspired by artists.
Alexander McQueen 
British fashion designer Alexander McQueen always exhibited an interest in both technology and art in his runway shows. He was known as a showman, creating elaborate spectacles in order to display his designs. For his Spring 1999 collection, model Shalom Harlow entered the runway in a voluminous, white trapeze dress fastened with a belt. She stood on a spinning platform as two robots sprayed her dress with paint. The paint concept was inspired by installation artist Rebecca Horn's High Moon.
Rodarte
Kate Mulleavy, one of the sisters in the designer duo Rodarte, studied art history and has used her educational background as inspiration for many of Rodarte's collections. For Rodarte's Spring 2012 collection, the designers were inspired by Vincent van Gogh, using some of his most famous paintings as printed fabric for their garments. Vincent's sunflowers were constructed into both structural and flowing dresses, and his spirals from Starry Night accented dark blue flowing gowns.
Elsa Schiaparelli
Since the revival of the House of Schiaparelli in 2013, the current designer Marco Zanini has highlighted the House's founder, Elsa Schiaparelli, influence in the modern art movements. For the Fall 2016 Couture show, Marco created several designs with clear influences by famous artists such as Pablo Picasso and Marc Chagall.
Viktor & Rolf
Viktor&Rolf Haute Couture Autumn/Winter 2015 – Wearable Art from Viktor&Rolf on Vimeo.
The Fall 2015 Couture show of Dutch designers Viktor & Rolf was made entirely of wearable art. Models walked down the runway in deconstructed canvases, each design becoming more complex as the show progressed. The designers pulled the canvases off several models and hung the art on a wall, completing the stage of the runway show.
Browse our most recent Inspired by Fashion collection for more artworks with a fashion flare.
Love reading about all things art? You can have articles from Canvas, curated collections, and stories about emerging artists delivered straight to your inbox. Sign up for the Saatchi Art Newsletter.