Guest Curator: Kirstine Roepstorff

We're thrilled to have renowned artist Kirstine Roepstorff guest curating an exclusive collection of art as part of our ongoing Guest Curator series. Read on to discover where she finds inspiration, the first piece of art she bought, the artist she'd most like to meet, and her favorite museum and gallery.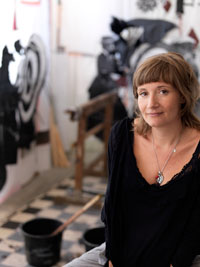 Photo courtesy of Kirstine Roepstorff
Kirstine Roepstorff studied at The Royal Academy of Fine Arts, Copenhagen, and Rutgers University, Mason School of Fine Art (MFA), US, and is now based in Berlin. Her work has been exhibited in Europe and America, including solo shows at Kunstmuseum Basel, Museum für Gegenwartskunst, Basel; National Museum of Art, Architecture and Design, Oslo, NO; The Drawing Center, New York. Her work is in the permanent collections of MoMA New York; Saatchi Gallery, London; National Museum of Art, Architecture and Design, Oslo; Royal Museum of Fine Art, Copenhagen.
[Getting to know…]
What was the first piece of art you bought?
"Left is Leaning" by Franco Mondini.
How would you describe your taste in art? What are you most drawn to?
I like different kind of expressions and for various reasons. It's hard to say why something get under your skin and something else doesn't. I guess for me it have to do with the intentions, the sensibility and the perception of the creator more than the style or the media.
What do you collect?
Stones from the beach.
Which artist would you most like to meet?
Herman Hesse.
What books are on your bedside table?
Planting on sunny Balconies, a new catalogue of a friend, a krishnamurti book and a selection of Rumis love poems.
What music are you currently listening to?
Arvo Pärt, Gurdjieff de hartman, Shakuhachi – Japanese Flute, Nils Frahm.
What was the last great exhibition you went to?
I have a catalogue from an exhibition in Fondation Beyler, called "visual Encounters". I feel like I have been there. This one I would really have love to have seen.
Do you have a favorite museum or gallery?
I like ethnographical museums and botanical gardens.
Do you have a favorite place you go to for inspiration?
My studio.
If you could give one piece of advice to young artists what would it be?
Trust your spontaneity, learn from your intuition, make friends with your failures. Be independent.
A preview of Kirstine's collection:
"Angler" ($1,800); "In Utero" ($8,500)
"Black Wings" ($1,500); "Landscapes and Small People" ($1,200); "Couple at the Museum" ($5,150); "Lepton" ($4,000)

Love reading about all things art? You can have articles from Canvas, curated collections and stories about emerging artists delivered straight to your inbox. Sign up for the Saatchi Art Newsletter.