Virtual Editions: New Futures Class of 2021
We're so excited to present our Class of 2o21: Global Virtual Edition New Futures!
Launched this year, New Futures aims to kickstart the careers of talented, underrepresented artists through exclusive prizes including free fair exhibition spaces and a mentorship program
New Futures at this years Global Virtual Edition stretches the globe, with 6 emerging artists from all over the world. We are rounding up the launch year for our New Futures by culminating some of the veery best for our Virtual Edition!
Carmen Mardonez
Carmen Mardonez is an emerging artist from LA whose work has recently morphed to include sculptural works. Carmens use of contrasting, bright textures morphs materials that have been donated by friends and neighbors to create intimate, recycled works focusing on harnessing personal memories in items and reinventing their uses and appearances.
Carmens comforting works suggest a new take on a classic sculptural style, by using tactile materials Carmen allows her audience a space to 'embrace' the art as well as to view the works in all their multifaceted structural styles. Click here to enter Carmens Booth!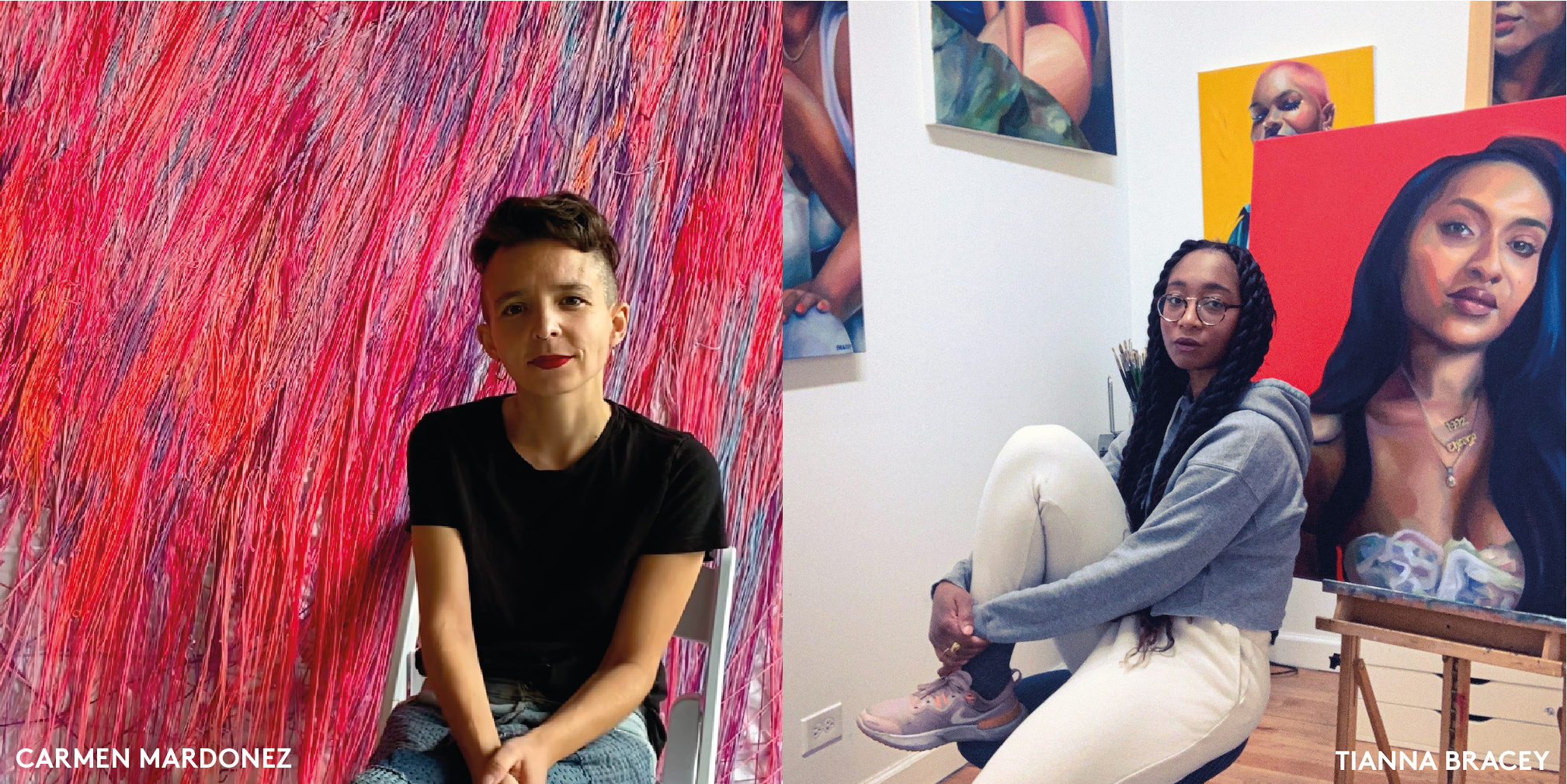 Tianna Bracey
Tianna is an emerging artist from Chicago who uses the medium of portraiture to explore subtleties of the figurative form. Her most recent series of work reimagines the canvas as a space to connect to ancestry. Tianna's use of bright eye-catching colours launch the viewer into a dream-like scape in which to view the works. 

Tianna uses a different stages of perspective in her works, the gaze of the subjects in Tianna's varied proletariats allow for a connection between viewer and subject, further emulating a sense of nostalgia and familiarity in her works. Click here to enter Tianna's Booth!
Chris Horner
Chris works with digital print making to create culturally significant artworks that speak to current societal challenges,  whilst simultaneously  maintaining a casual impression which creating an approachable environment around these artworks.
Chris uses striking, bold colours that contrast with thoughtful, considered typefaces to evoke meaning and thoughts from his audience. The focus on evocative imagery allows for individual considerations from each viewer. Click here to view Chris' work in his booth!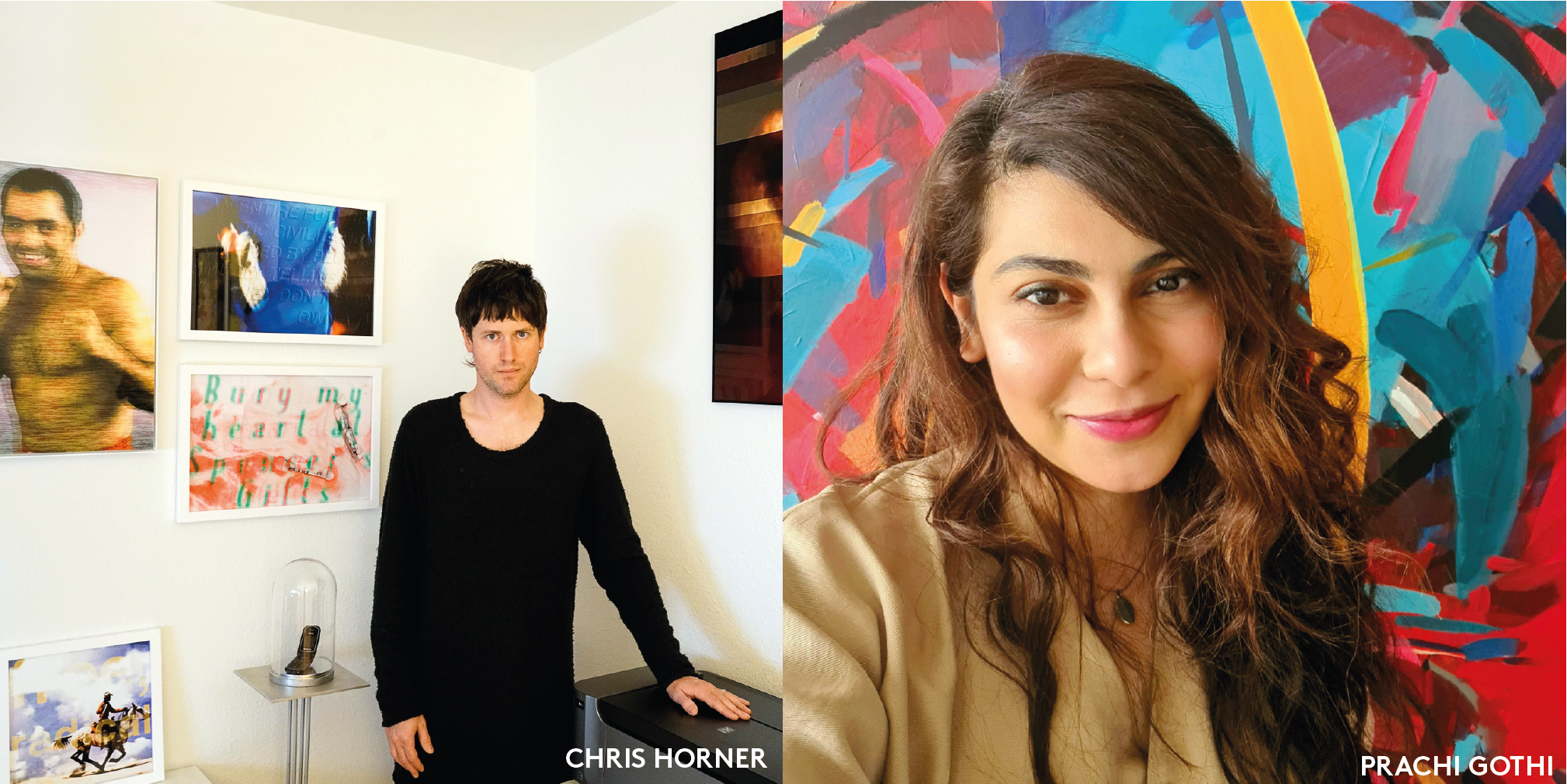 Prachi Gothi
Prachi an emerging artist from London, works with bold brushstrokes to create intriguing shapes on her canvas with a bright, diverse colour pallet. Prachi uses her style to evoke a sense of scale and space in her works.
Step into Prachi's booth to experience the layers of colour and shape that allow the viewer to experience the in-between of applying paint to canvas, posing a place for contemplation. Click here to enter Prachi's booth!
Ishmael Lartey
Ishmael is an merging artist from London, who creates an experience for the viewer which culminates in combining traditional Ghanaian shapes and forms, with modern day techniques. Ishmael uses connotations of cultural experience mixed with imagined and constructed figures that tell a story.
Ishmael's work focuses on telling a narrative reflected by these two techniques, to tell a story about his cultural identity, pushing forward conversations on the African dysphoria. Click here to enter Ishmael's booth!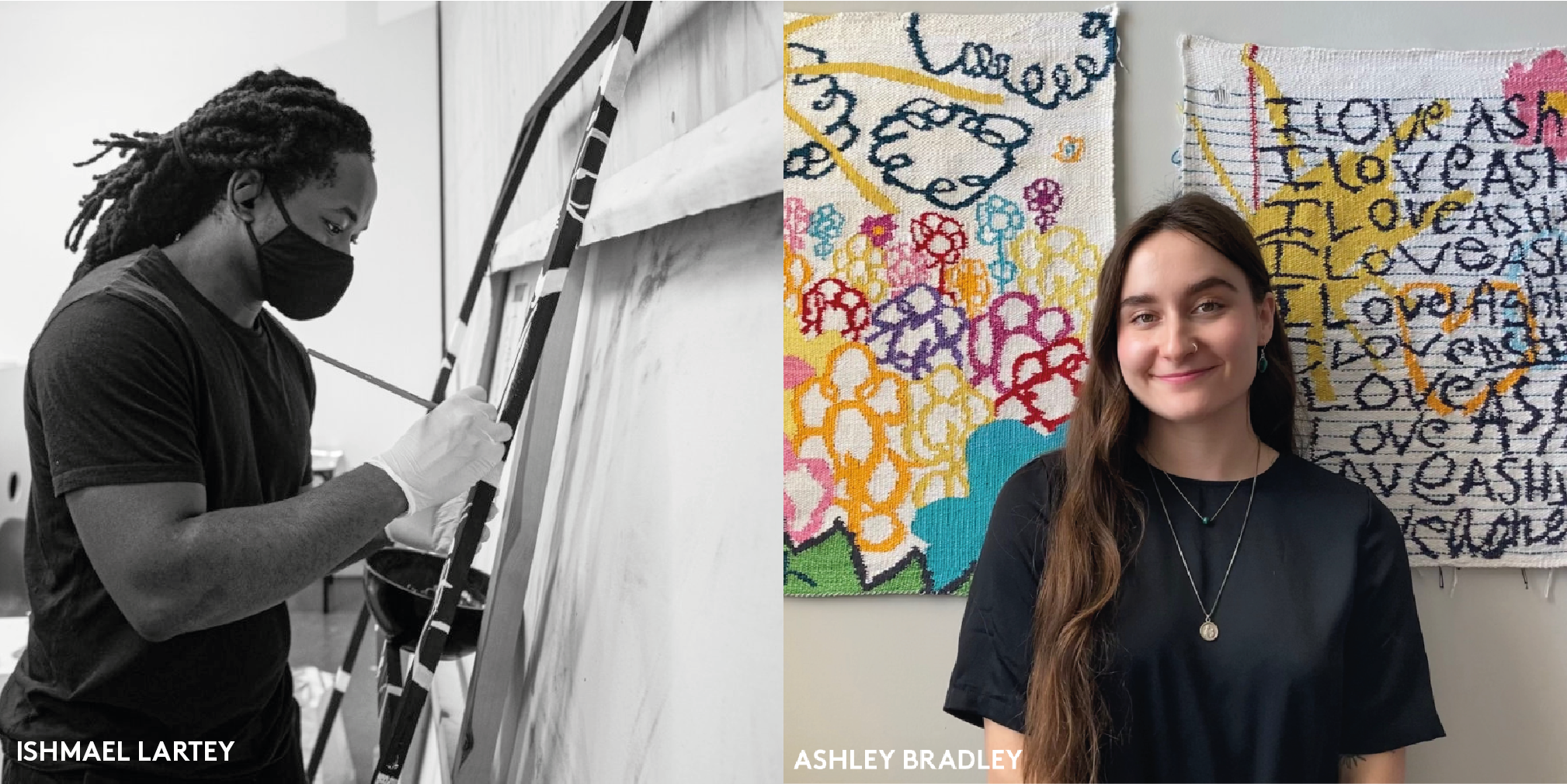 Ashley Bradley
Ashley is a Chicago local who is an interdisciplinary artist and weaver. She uses personal memorabilia to create pieces that tell a narrative around her own life experiences, the works can be read as collaborations with her younger self. Ashley translates her childhood drawings into woven paintings that dismantle hierarchies in the contemporary art world.
Ashley's work is bright and playful as well as tactile in its presentation, her designs create an easy and effortless connection with the viewer, evoking imagery of figures as well as relatable universal motifs such as flowers and suns. Click here to view Ashley's booth at the fair!
Click here to shop our New Futures collection where you can browse all of their work in one place!
Join us at our Global Virtual Edition, running from the 8th November until the 29th November 2021. It's free of charge to enter our virtual world, visit all of our New Futures and hundreds more! With 200 artists to shop and browse there is something for everyone.