Meet the Others: Kristin Moore
The Game Changers. The Rule Breakers. The Innovators. Discover some of the fantastic emerging talent showcasing their work at The Other Art Fair.
Kristin Moore is a native Texan who completed her MFA at Otis College of Art & Design in Los Angeles in 2016. Currently residing in Dallas, her work explores the landscapes of California, Texas, and the highways in between.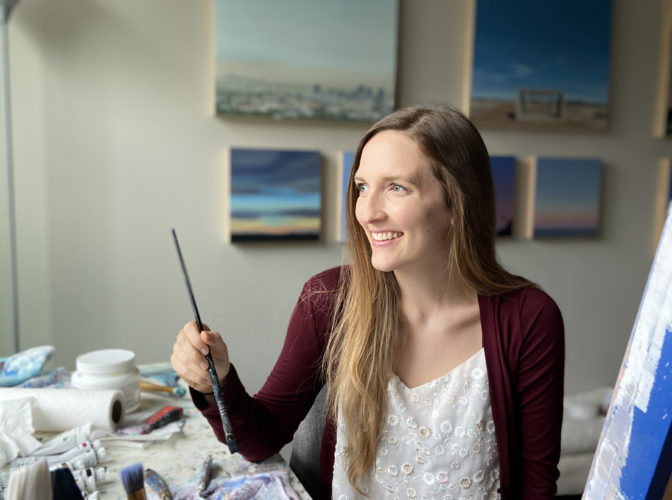 Recently named one of Saatchi Art's 20 Artists To Watch in 2020, Kristin has exhibited at The Other Art Fair in Dallas, with Jonathan Ferrara Gallery in New Orleans, the Bolsky Gallery in Los Angeles, and the Vignette Art Fair in Dallas, among others. She has had solo exhibitions in Los Angeles & Austin with an upcoming show in Lockhart, TX at Commerce Gallery. 
---
Q&A with the Artist
Tell us about who you are and what you do. What is your background?
I'm born and raised in Texas (Houston and then Austin) but spent some time out in Los Angeles working towards my MFA at Otis College of Art and Design. My work has become vary influenced by this time in my life. I've always explored architecture and atmosphere with my work, but my time spent out in California really amplified that. I've always been creative and took lots of art classes while in school, but I really became serious about being an artist about three years ago. After graduate school, I moved back to Austin and found myself working in a gallery and assisting other artists with building their careers. After about a year, this inspired me to shift my focus to grow my own career and I therefore left the gallery world to pursue my own art. After working to market myself, build a network, and refine my work, I've officially been a full time artist since January 2020.
What are the major themes you pursue in your work?
My work explores the landscapes of Texas, California, and the highways in between. I explore atmosphere and nostalgia prevalent to those specific locations. The nostalgia can come from natural landscapes, restaurants, roadside signs, etc… While living in LA and attending Otis, I became fascinated with Ed Ruscha's work and his ability to document the banal aspects of our world and create this aura of nostalgia with the image. I approach my work and my source imagery the same way.
How did you first get interested in your medium and what draws you to it specifically?
I have had a few art medium transitions over the past four years. When I started at Otis, I was only making black and white highly detailed graphite drawings. It took a semester or two of being around the LA sunsets to inspire color to come out in my work. I specifically transitioned to oil painting to help with illuminating the smog and sunsets of the landscape around me. Around early 2019, I made the switch to working entirely with acrylic paints. This is due to
environmental factors; not wanting to breathe in harsh chemicals and solvents. I'm also able to up my production level due to the quick drying times of acrylic paint. Golden Acrylic Paints are my absolute favorite.
How has your style and practice changed over the years?
The most prominent change in my style came from my time living in California. As a Texan who was used to driving 10 minutes down I-10 to see cows and farms, living in LA with it's sprawling cityscape was a big adjustment. Being present within the architecture of LA was a very ethereal experience for me. I would often go on hikes up to overlooks to take in the city from a distance. After my first visit to Kenneth Hahn Park, I decided to crate a small series of "smog" oil paintings. These works emphasized big open skies and steered away from the structured architectural drawings I was making before. They were a series of airy landscapes capturing the various shades and hues of the LA atmosphere. I've been painting with color and exploring atmosphere through paint ever since.
Can you walk us through your process? How long do you spend on one work? How do you know when it's finished?
My work is inspired by personal travel photos and found images. I create digital mockups of all of the paintings in Photoshop before the paint touches the wood panel. I like to experiment with sky colors, saturation, contrast, and editing digitally before I commit to painting. This process helps me to eliminate some of the experimental elements of painting, therefore saving me time in the studio. Although I do work from digital mockups, I often defer from this when in the experience of making the work; sky colors will change, lights become a bit brighter, and I'll omit or add a palm tree here or there. Smaller works usually take 1-3 weeks for me to complete. Larger works (18x18in+) can take anywhere from 3 weeks up to 8 weeks depending on the size and complexity of the details.
I know when a work is finished when every inch of the panel has been detailed, and when there isn't anything left for me to add. Theres almost a balance to the work that happens when it's finished – it's hard to describe. I usually let finished pieces sit in my studio for a couple of days until I decide they're ready for varnish.
What series or project are you working on next?
I just finished a large body of work for a solo exhibition at Commerce Gallery in Lockhart, TX, focusing heavily on Marfa, Texas. Marfa is one of my favorite places and has such an interesting history within Texas and the contemporary art world. This body of work explores that.
For the next LA fair, I'm going to be making work that will explore unique locations throughout the western U.S. I want to focus on locations that have had a presence in film & pop culture, and also simultaneously hold space as everyday places. Going into the fall I'm really amping up the scale on my pieces as well. Large work means more detail which I've come to really love.
What is the best advice given to you as an artist?
Set goals for your art career! Envision where you would like to be in a month, a year, or five years, and work towards that. Also, take risks! Exhibiting at The Other Art Fair for the first time was a financial commitment that was a bit daunting for me, but it became the most rewarding and life changing experience for my art career.
Shop artwork by Kristin and other trailblazing artists at The Other Art Fair's Online Studios.
Introducing The Other Art Fair Online Studios, a new online platform offering art lovers around the world access to over 800 Fair artists. The Online Studios will keep our community feeling inspired, engaged, and continue to spread joy through art.