Sydney: Chocolate Einstein Interactive Mural
When Nick Hernandez, aka Chocolate Einstein, was a child, he customised his sneakers by painting them with new colours and designs. A self described "big kid at heart", he now goes by the name "Chocolate Einstein", continuing to transform spaces with his vibrant, geometrical works.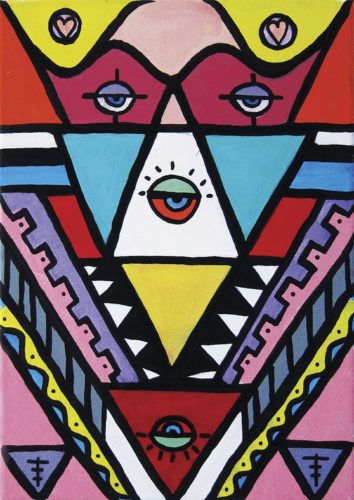 A former TV production assistant, Nick began his own children's clothing label with the intention of providing a fun, playful and practical product. Predominantly focusing on asymmetric shapes and a vivid colour palette, Nick's designs are something that takes very little planning – rather its something that comes completely organically and spontaneously. He has an innate ability to invigorate vacant spaces, as exemplified by his painting on the Dance Central Building in Surry Hills.
This year at The Other Art Fair Sydney, we are thrilled to announce that on the Opening Night, Chocolate Einstein will conduct a live, interactive artwork in collaboration with Winsor & Newton art supplies. He plans to paint the black framework for a large-scale mural. Guests will then be invited to randomly select a colour out of a hat and participate in creating the artwork itself by painting a section of the mural under Chocolate Einstein's own creative direction!