Reflections After 30
From 4 – 7 October, The Other Art Fair returns to London Bloomsbury's Victoria House for its 30th and biggest edition yet with the launch of a second site at The College, Old Central St Martins. Presenting 140 handpicked artists over four days, Fair Founder Ryan Stanier reflects on the past 29 editions and where he hopes to see the next 30…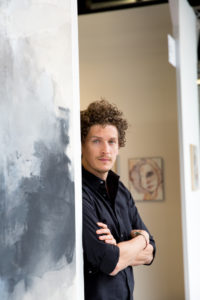 "I started The OtherArt Fair as I observed the disparity between a London audience eager to discover artists and talented artists struggling to gain recognition. Seven years on, the effects of the fair's growing reputation are not only demonstrated through the support of leading individuals in the art world but also the frequency of success stories from past exhibitors.
I'm delighted that so many of our artists have been successful within the traditional gallery system: as prestigious London galleries choose to represent our artists, these individuals emerge in the spotlight of the art world as the names of the future.
I remember at a fair back in 2016 we had an exhibiting artist called Joshua Raffell, a fantastic sculptor. On the last day I overheard a conversation between him and a young student visiting. Clearly very excited and interested in his work and after about 30 minutes of discussion, he asks Joshua if he could buy one of his works and what the price was… £12,000. Looking disappointed as he didn't have this amount of money available, Joshua asks how much he has in his pocket…£12.47.
Joshua says that he would love for him to own the work and would accept £12.47 in the hope that it would continue to inspire him. For me this demonstrates the unique spirit of the fair
In a recent study I discovered that over the last 30 editions we have sold over 20,000 artworks from non represented emerging artists through the fair. This has resulted in many being able to continue and grow their practice. My hope for the next 30 editions would be to increase this figure so that more people get to own art and also more artists can sell work which enables them to prosper and develop their practices.
I hope you enjoy the next edition of the London fair, our biggest and most ambitious yet. Our 140 featured artists list has just gone live and you can view it here.