Brooklyn: Harry Agress' Photography Takes his Audiences All Over the World
Harry Agress is a retired physician who has dedicated much of his newly found time to furthering his lifelong passion for photography. As a lifelong diagnostic radiologist, Harry Agress has much practice looking inside the human body. Photography has allowed him to look outside the human body into its surroundings and occasionally back again into its soul. Learn a bit more about Harry, whose work will be on display at The Other Art Fair, New York.
How would you describe your work?
I am most excited about capturing the feelings of people and sites that differ from my daily life. In its grandest sense, photography has opened up the world to me, spurring an appreciation of the nature and people of cultures far different from my own. In its finest sense, photography has allowed me to explore infinite combinations and details of light, color, and texture.
How did you get started in photography?
I was first introduced to photography when my father gave me a camera for my 10th  birthday. I loved the idea of capturing a moment in time on film. I couldn't wait to see what my film prints would look like when they came back from Kodak, and I felt wonderful if the images created the effect I was looking for. I have always been a very visual person, particularly with my way of learning and my profession. Photography was a natural extension.
What inspires you and your art?
I would have to say the key word is curiosity. I have always been inquisitive, often wondering, 'where is the dignity in that persons face or situation? What's going on over there? Is that person really burning money?' I have had the good fortune to travel fairly extensively and I love seeing new places and cultures. My camera slows me down—in a good way—as I am always looking for a satisfying shot all around me. I'm looking up, down, and behind to get different perspectives and frequently see things or people I missed the first time around. To capture a distinct meaningful moment and provide the timeless gift of experiencing that moment over and over again; that, to me, is the magic of photography. That is what makes me happy. I am also very much inspired by the work of many other photographers. Sometimes I am dazed by what they create, not just in the final image, but thinking about what it took to get that incredible shot.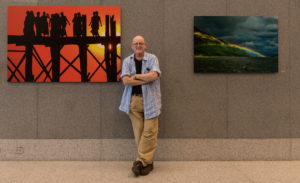 You have traveled all over the world to take your photographs. Is there any place in particular which you found especially beautiful?
That is a tough one, because there are so very many. If I had to pick two, they would be the Taj Mahal in Agra, India and the Moai of Easter Island. Whether it's seeing these man-made miracles at sunrise, or in the night, I'm totally in awe of what it must have taken to create such majesty in times when everything was forged by hand. With the Taj, it's about the overall splendor, built as an expression of one man's love for a woman, and the attention to exquisite detail. As for the Moai, it's more about symbolism, size and power. My long exposure photo represents probably the most spiritual moment of my life, as it was taken in the middle of a perfectly silent, star-filled night. For me the magic of photography is to capture a distinct meaningful moment and provide the timeless gift of experiencing that moment over and over again. That is what makes me happy.
What can we expect to see from you at The Other Art Fair?
I am looking forward to showing a variety of my works from different collections. In particular, I'm excited about the quality, vibrancy, and detail of the prints, which were created by Laumont Studio, using a complex process of UV curable inkjet printing on Dibond.
Meet Harry Agress at The Other Art Fair New York June 1st – 4th.