Melbourne: Hello Boys by Georgia Banks
Performance artist Georgia Banks premieres a unique and surprising work, Hello Boys, at The Other Art Fair Melbourne for Opening Night only!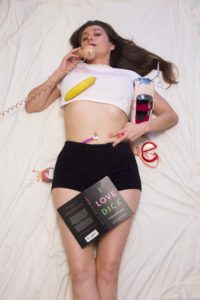 Hello Boys is a reenactment of Hannah Wilke's 1975 title of the same name. This contemporary reenactment takes place via webcam, with the camera and the screen becoming the fish bowl through which female sexuality is viewed and measured. Banks' work also introduces an interactive element; viewers of the performance are able to communicate with her anonymously through an AOL type chat, exploring how we engage intimately in a technological age.
Join Banks online for her new performance Hello Boys: inside the fishbowl of the webcam, where female sexuality is scanned and measured, she's on display from every angle. Visitors to The Other Art Fair can comment anonymously as the performance unfolds on the screen. But who's really being seen here? And are you buying it?
Hello Boys is happening live for Opening Night only, August 2nd between; 5 pm – 6 pm , 7 pm – 8 pm , and 9 pm – 10 pm . Video documentation of the performance will be displayed for the remainder of the fair.