Meet the Others: YiMiao Shih
The Game Changers. The Rule Breakers. The Innovators. Discover some of the fantastic emerging talent showcasing their work at The Other Art Fair.
The Other Art Fair London exhibitor YiMiao Shih works with an embroidery machine, innovatively creating contemporary 'embroidery-drawing'. She also makes art with acrylic paints, mixed media and pencils. Her work often satirises contemporary culture and politics, also captures the everyday mundane moments in life.
Tell us about who you are and what you do. What is your background? 
Hi, I am YiMiao Shih. I am a practitioner who works with drawing, illustration, video and most recently with embroidery as the main medium. I studied fine art in Taipei for my BFA. I came to study MA at the Royal College of Art in 2013, and have been staying in London since. I work in a fashion start-up as a visualiser (all the visual and illustration related side) to pay myself living in the capital, and that supports me to carry on working on my own art practice. It also inspired me for my embroidery-drawing practice. I just started to be a visiting tutor at RCA visual communication in 2020, which is delightful to be able to virtually meet some young talents in this isolating age. I am happy that my non-artist jobs keep filling me with inspiration both conceptually and technically after I left my MA study at RCA.
I see being an international living in London a great base for my artist life, I tend to be sharper and see clearer about my relation to the world when I am not in my home land. The foreign yet familiar environment excites me.
I am interested in commenting on topical/social subjects which I feel passionate about. I like to do a lighthearted or humorous take on the subject for my audience. I approach my subjects with my motif, rabbits. They have spoken for me in my artworks since 2008. 
If you could describe your work in 3 words, what would they be? 
Rabbit, satire, light-hearted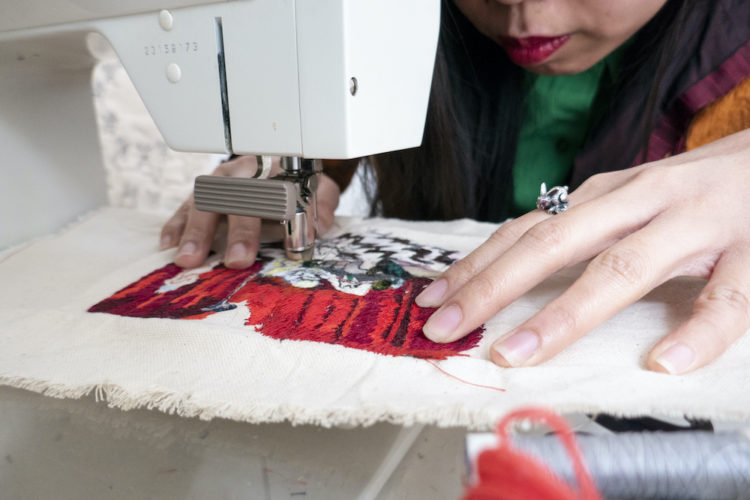 Can you walk us through your process? How do you know when an artwork is finished? 
I normally have a vision in my head before I start to do any plan or sketches. I do not like just doodling around aimlessly. When I feel there's a brief in my mind, I then consider my means to reach that goal. The past three years I have been thinking in more of an embroider's mind. But also I don't exclude other means if it serves the purpose better. In my last solo show at the House of Illustration, 'Rabbrexit Means Rabbrexit', I used a few different mediums: gold-plating drawing, heat-transferred painting, embroidery illustration, laser-engraving illustration, and some ready found objects. When I see a work and feel completely excited and humoured by itself, I then know an artwork is finished.
The best moment I had is when I looked at an artwork and felt amused enough to laugh to myself. 
Has being in isolation affected your artwork practice in any way?
Yes. Being in isolation somehow is not as gold as how the internet meme circulated, like 'artists love lockdown'. I realised I am a social animal and that being engaged with people is key for stimulating my creative soul. The positive side of it is that I used that period to reflect on my practice. Now we are in lockdown 3.0, I hope I can adjust myself to be a more motivated practitioner.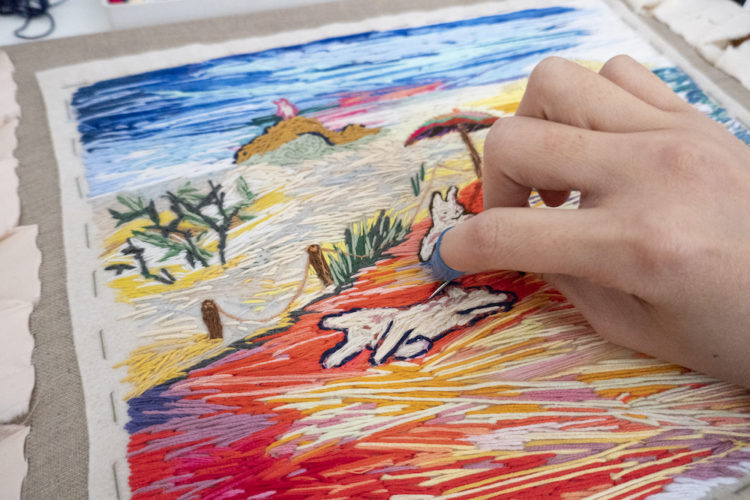 What is the best advice given to you as an artist?
I think once an artist fellow told me, I will need to be as practical and patient if I wish to run my artist life long. Think it as a life-long goal and do not lose your vision for a short-term gain. We wish we still have curious and fresh minds even in the late ages. Also, since I don't have a wealthy family behind me to support my art career, I need to be very smart to sustain myself if I want to run long as an artist. So basically, protecting the creative fire in my heart while surviving in the real world.
Can you tell us something about you that people would be surprised to hear?
When I was a kid, I used to play with a puppet that looked like a rabbit to me before falling asleep (many years after I realised it's actually a snoopy puppet). I will make it talk in my head and make it act. This had lasted two to three hours every night until my sleep. I did that even when I was a teen and I brought it with me to the student dorm in my secondary school. And I think that's why I am so passionate about drawing/embroidering rabbits and only using them as motifs in my artwork. Nothing else can excite me as much as they do. 
Shop artwork by YiMiao and other trailblazing artists at The Other Art Fair's Online Studios.
Introducing The Other Art Fair Online Studios, a new online platform offering art lovers around the world access to over 800 Fair artists. The Online Studios will keep our community feeling inspired, engaged, and continue to spread joy through art.