Meet the Others: Yelena Revis
The Game Changers. The Rule Breakers. The Innovators. Discover some of the fantastic emerging talent showcasing their work at The Other Art Fair.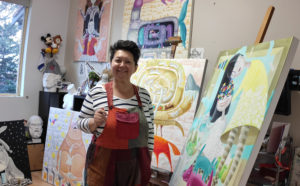 ---
Q&A with the Artist
Tell us about who you are and what you do. What's your background?
I'm qualified professional artist and art educator who has spent decades perfecting my craft and unique style with its whimsical humour, textural sensitivity and vibrant sense of colour.

Where do you draw inspiration from and what does your work aim to say?
At the heart of my art, and a constant source of inspiration, is my rich heritage. I paint vigorously and happily, always leaving my positive energy and an abundance of joy on the canvas. My paintings and style are influenced by the beauty of every moment in nature, in relationships, in thoughts, music, sense of harmony.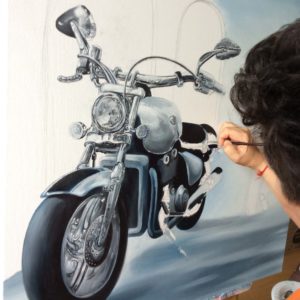 Can you walk us through your process for creating a work?
The process of creating an artwork begins with the formation of an idea, transferring this idea to the canvas, finding expressive means, composition, combining various elements that correspond with each other.
Who are your biggest influences and why?
Gustav Klimt, Rene Magritte, Salvador Dali, Joan Miró, Max Ernst are my favourite surrealistic artists. I adore their creativities, their masterpieces and of course their creativity have influenced my surreal style of painting.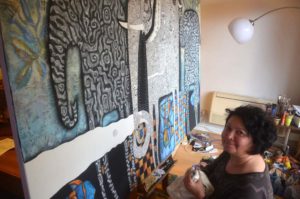 Do you have any exciting projects/opportunities coming up?
The idea for my next project is a series of surrealistic paintings, the main characters of which will be unusual animals placed in an unusual reality, as well as a series of graphic paintings on the same topic. Something new and original awaits my art lovers and collectors.
Can you tell us something about yourself people might be surprised to hear?
I like doing different techniques and styles on a variety of surfaces, so now I'm doing murals in my house.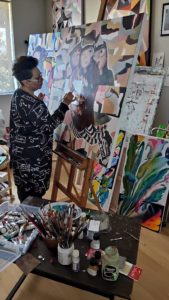 Shop artwork by Yelena and other trailblazing artists at The Other Art Fair's Online Studios.
Introducing The Other Art Fair Online Studios, a new online platform offering art lovers around the world access to over 800 Fair artists. The Online Studios will keep our community feeling inspired, engaged, and continue to spread joy through art.