Meet The Others: Steve McPherson
The Game Changers. The Rule Breakers. The Innovators. Discover some of the fantastic emerging talent showcasing their work at The Other Art Fair.
UK artist Steve McPherson took part in the most recent edition of The Other Art Fair London in October. Working in installation, sculpture, and collage amongst a number of other disciplines, Steve's collection at the Fair was created from plastic debris found on the UK coast. Sometimes arranged by colour and other times by taxonomy, Steve McPherson creates large artworks  from marine debris which he himself describes as '21st Century Archeology'.
How would you describe your artwork?
I describe my artwork as 21st Century archaeology. I use unaltered plastic objects that I find on the beaches of the North Kent Coast, as my primary material. These objects are and will be the evidence of the human activity of the 21century for years to come.  Using this material, I create framed colour fields, infographics, collection boxes and sculptures.
What does making art mean to you?
I am an artist – that's it – it is who I am. The whole process, from collecting the materials off beaches, to the documenting, washing, sorting and their placement in the artworks are all my own undertaking. I therefore have handled and have a direct relationship with each object I use. I dream about finding objects on the beach.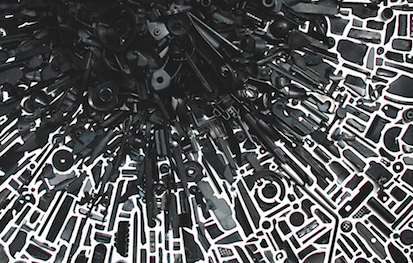 How did you get started making art?
Up until I was 7 or 8 years old I wanted to be a pilot, that was when I found out that I was colour blind, and being a pilot was not going to be a career I could follow. That's when I chose to be an artist. From then on that's all I have really pursued.
What is it like to be a part of The Other Art Fair?
Being part of The Other Art Fair is an exciting and enjoyable experience. It's a really important opportunity to meet and talk through my work with new and current clients. As I live on the North Kent Coast, it's great to be able to take a collection of my works to show in central London. The staff and attending artists are a friendly crowd and support each other in making the show a great event. It's hard work, interesting and fun to do.
What is your favourite piece for sale on your SA profile and why?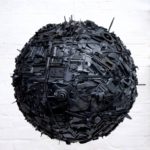 It's a hard question to answer as I like the works for different reasons. However, if I had to choose I think it would be my spherical hanging sculpture Amnesia. The work is an attempt to create a three dimensional representation of forgetting, using objects which no doubt have been lost in the memory of their former owners. To me Amnesia is representative of a dense cluster of lost memories in the depth and space of the mind.
Interested in taking part in The Other Art Fair? Applications are now open for The Other Art Fair Melbourne. Apply Now.