Meet The Others: Roy Tyson
The Game Changers. The Rule Breakers. The Innovators. Discover some of the fantastic emerging talent showcasing their work at The Other Art Fair.
Photographer Roy Tyson says himself that his life and artistic practice have been changed by the little people he uses in his photographs. Roy uses miniature models of people and various other objects to stage a scene which he then photographs to make his unique artworks.
_
_
How would you describe your artwork?
I would describe my work as an imaginary miniature world created to make people look and think twice about what they are seeing. Humour is the central element that I try to portray in each of my works.
What does making art mean to you?
Making art means a number of things. Firstly it's a life style. All artists spend years creating works to build up enough trade to go full time. It's not easy and not that many artists can do it, so to be in a position others would love to be in is a privilege. The lifestyle of an artist means many things, creativity, creative blocks, stress, fun, responsibility. 
How did you get started making art?
I started making art as a hobby. Just by creating a small installation and showing friends and family. They all thought I had lost the plot, maybe I had, 'what is that all about?' they would say, 5 years later I'm glad I started making.
What is it like to be a part of The Other Art Fair?
Being part of The Other Art Fair is fantastic. I have made many friends, found galleries, collectors and much more as a result of exhibiting. 
What is your favourite piece for sale on your SA profile and why?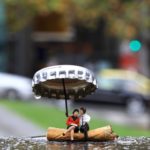 My favourite work on Saatchi is Fag Break. I was in Melbourne when I took this shot during my year of traveling, reminds me of what creating art has allowed me to do.