Meet The Others: Rod McIntosh
The Game Changers. The Rule Breakers. The Innovators. Discover some of the fantastic emerging talent showcasing their work at The Other Art Fair.
Describing himself as a mark-maker, Rod McIntosh's large ink paintings are guided by the meditative processes that Rod also incorporates into his daily life. His distinctive black, white and grey artworks were part of The Other Art Fair October 2016, where he also had a couple of minutes to chat to us about his work.
___
___
How would you describe your artwork?
My work is often quite large abstract ink paintings. Process is central within the studio. The paintings have fluidity; that through rehearsal, the mark making is an embodiment of a gestural flow that follows the breath. Much is privately performed with only occasional documentary shots of this unseen practice.The ink within the paper is the moment held in time.
I edit from a vast amount of accumulated work; mount, frame and exhibit the paintings, with a desire to share these 'moments' for them to be witnessed. I feel the work is able to be a catalyst for a deeper connection with self. I offer the viewer a chance to pause in front of it, and it can act as a mirror. Reflecting a desire to know a quieter, calmer, more actualised self. An honesty is revealed.
What does making art mean to you?
I returned to making art full-time in 2009. Leaving a successful career in academia and arts management. The past 8 years have been amazing. Developing a painting practice that is genuinely driven by my need to make sense of my experiences, the world and myself and connecting with others, an audience for this. Creative and well-being rituals such as running, yoga and meditation support my time in the studio. That as a 40 something year old, it feels I have manifested the life I want and need. And am creating the work I should be making. Living more authentically and contributing
How did you get started making art?
I went through the art school production line, entering after sitting 'A' levels and a foundation course, exiting with a degree in sculpture. My practice was always figurative and for many years within the socially engaged and public art realm. What I make now seems very different. But perhaps less if you observe a parallel of the corporeal figure as subject and now the whole integrated self as material and tool.
What is it like to be a part of The Other Art Fair?
I am thrilled to have been a part of The Other Art Fairs for 4 years. It has been pivotal in raising my game. In the production values and ambitions for the work and myself. It provides a context within which to operate and an established framework and reputation to build relationships with audiences and other artists. It has supported me with new opportunities such as designing the 10th edition invitation and being a silver haired poster boy was entertaining. I work well with deadlines and challenge myself for most fairs to bring a new collection of work, so folk get to see the progression within the painting and enjoy seeing the story progress.
What is your favourite piece for sale on your SA profile and why?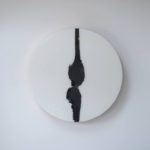 'A Tender Touch' is a recent tondo from a collection that I showed at the Truman Brewery last October. I really enjoy the brevity of the two brush strokes within the image that creep across the papers fibre towards each other. For me there is a dynamic captured in a static image. A moment caught in time, held behind a resin lens.