Meet the Others: Richard Hoffman
The Game Changers. The Rule Breakers. The Innovators. Discover some of the fantastic emerging talent showcasing their work at The Other Art Fair.
The Other Art Fair exhibitor Richard Hoffman is a post pop urban artist who works between London and Barcelona. Richard's artworks revolve around emotion in various mediums and are often provocative to challenge his viewers. Read on to learn more about Richard's background, his favourite body of work 'The Subversive Post Office' and something you'd be surprised to hear about him and his artistic relationship with the Queen.
Tell us about who you are and what you do. What is your background?
I am the Subversive Post Office creator, exploring the unthinkable, hand painting my way through mint genuine stamps, thus transforming them into tiny works of subversive art.
London born, Central Saint Martins trained, yet I decided to follow a temporary career in Property Finance, so I obtained a science master and a royal charter and set out to make my fortune. I was always fearful that without sufficient funding behind me, materials and the real time needed to explore ideas while worrying about paying for bills would limit my work. So I decided something big! – I would work day and night to pay off the mortgage and student debts, once done use that asset to support building my art career. I was ambitious and after 9 years of relentless hard work and cheap pasta! I achieved my goal. This was a secret I had kept, always knowing I would begin my dream of being an artist in the future.
After this I decided to move to Sitges within Barcelona province, and involve myself in the street art and urban scene, and focused on building bodies of work and finally exploring all those pent up ideas! I exhibited on a weekly basis at various galleries and events, and looked at how people would interact with my work. The 4 years spent exhibiting and exploring ideas have all led me to my favourite body of work and concept – The Subversive Post Office. Tiny original works of art on defaced stamps, where my graffiti can alter a single image to so many directions.
A stamp is the payment for journey, yet has so many references and history. I embrace popular culture to use as a medium to provoke questions in my work. I prefer to leave out the answers like ripping out the last page in a novel to aid longevity but simply hint and make suggestions. I also love the fact that few would consider the cost of a canvas and materials in the art world, yet I am open with the cost I pay for the paper I paint on which can be as little as a penny.
I love that this collection enables me to sit in so many homes and collections across the world.
If you could describe your work in 3 words, what would they be?
Provocative… Probing… Playful…
Can you walk us through your process? How do you know when an artwork finished?
With stamps I am very limited in the way I can adapt and deface them, with the majority being side profiles.  My sketch book is full of ideas, and I have a large batch of artists proofs and many many rejects that I feel never quite hit the mark. I leave pieces around the studio and keep returning to them and considering if everything is perfect in my eyes. Sometimes it can be by altering the colour shade. For example I think I went through 6 different shades of light browns on one piece in the DISCO hexaptych set. Or sometimes adding small extra details like the tiny green slime on 'Slimed', which also changed the working title I had when I set out to paint the piece.
Once I am satisfied and consider the pieces finished, I prefer where possible to paint the full edition of 100. Each remains unique and hand painted but I like to use the edition numbers to cap the number of any design that I will paint, for my own sanity and my collectors. This involves layering over a number of days, working up how opaque an element is. I don't use a magnifying glass but need absolute stillness and some very fine cut down brushes!
Once the pieces are all painted the final check and numbering each piece on the reverse of the stamps occurs. I randomise the way I number so that each number gets a different position on the stamp sheets. I have collectors who buy specific numbers, and I like leaving the borders on to provide history, variety and chance.
The final studio stage is to prepare for mounting, and final checks as I sign a COA for each piece and protective wrap. Only then are the pieces ready to travel the world to their new home.
Has being in isolation affected your artwork practice in any way?
Unusually I ended up moving during the pandemic, from the tranquillity and isolation of a mountain retreat to the heart of a fantastic town in Spain, where every night at 8pm everyone would open their windows or come onto their balcony to clap the health workers and to show those isolated are not alone. With the success of the last year, several commissions and my Subversive Post Office; something I thought could never happen- happened! I was able buy a Penthouse in one of the most expensive places to live in Europe, – Sitges, where I now paint.
The elephant in the room was of course The Other Art Fair London and American fairs postponement. But I prefer the glass half full, which has given me time to setup my new studio and home. The bright light and long hours or sunshine are perfect for my practice. I am so grateful to my collectors, commissions and online sales received through The Other Art Fair Online Studios, during this time which has also kept me busy alongside planning for next years events with the Fair.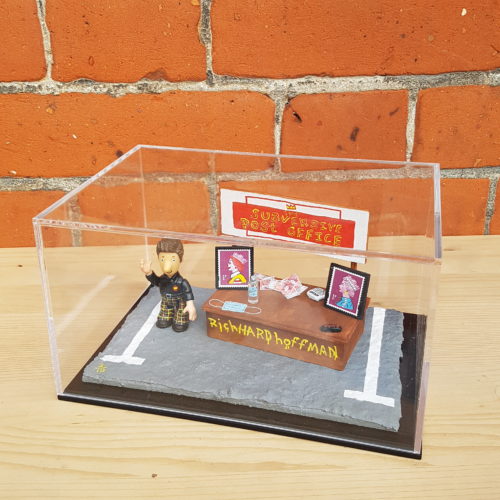 What is the best advice given to you as an artist?
In a bright May last year after exhibiting at The Other Art Fair Chicago 2019, I was following up leads and popped into see one of the leading galleries in my field – Vertical gallery who had seen an interactive piece called Peek-a-boo at the fair. Patrick and Shana offered some great advice by emphasising how special the first tiny stamp was and queried why I had not built up a collection. I had only taken 1 stamp to Chicago, the first stamp called 'United', that I could point to when asked about Brexit. The piece summed up my feelings and how long winded the process has been. After the event I focused on expanding the group to the first 15 pieces. This led to me being asked to show at the famous The Art Car Boot Fair (ACBF). This was a major break in my career and an amazing experience with Rankin to my right and Gavin Turk to my left. Queues began forming hours before the event, and to my shock people were running to my 'lemonade stand' I had built to get hold of my defaced stamps. I now work with ACBF and will be eternally grateful.
So to summarise, listen. Listen and LISTEN even more.
Can you tell us something about you that people would be surprised to hear?
I may graffiti and deface the Queen of England, but I actually do support what Queen Elizabeth has done for the UK. I believe the Royal Family has a place in the future of the UK, but I also relish provoking the establishment, after all if one is not amused by taking the mickey out of oneself, how can one not smile?
Shop artwork by Richard and other trailblazing artists at The Other Art Fair's Online Studios.
Introducing The Other Art Fair Online Studios, a new online platform offering art lovers around the world access to over 800 Fair artists. The Online Studios will keep our community feeling inspired, engaged, and continue to spread joy through art.