Meet The Others: Penelope Hunt
The Game Changers. The Rule Breakers. The Innovators. Discover some of the fantastic emerging talent showcasing their work at The Other Art Fair.
The Other Art Fair Melbourne artist Penelope Hunt's photographic and video works, whilst often of a personal nature poetically explore universal themes around time, mortality and the transitory nature of our existence.
_
_
How would you describe your artwork?
Whether exploring the beauty of the abandoned family swimming pool in The Pool, my Mother's final walk in the township of Avoca in The Departure or the studio remnants of a life long painting practice in Remains to be seen, my work taps in to a shared experience. There is an endless quality to the work, particularly within the video pieces such as Infinite Loop or Envelop, as they fail to reach a conclusion and meditatively mirror the ongoing nature of time and our existence within it.
What does making art mean to you?
Art making is integral to me and goes to the core of who I am. My work often focuses on the immediate world around me and this is where I get much of my insights and inspiration. My practice is very intuitive and I often realise the poetic insights of an image once back in the studio. It is in the studio where I decide whether an image is strong and open enough for the work to resonate as a more universal and shared experience.
How did you get started making art?
I first studied photography when I was 23 and had been travelling overseas for 2 years. I have continued ever since and graduated with a Masters of Contemporary Art (First Class Honours) in 2014 from the Victorian College of the Arts.
What is it like to be a part of The Other Art Fair?
It was pretty intense and exhausting! There was a lot of interest in my work and I had some great conversations over the four days.
What is your favourite piece for sale on your Saatchi Art profile and why
Burnt Sienna explores the luxury of velvet and it's representation in painting, as it reflects upon the emotional weight that places, objects and personal artifacts can retain. Over years materials begin to tear and fray, however feelings of comfort and home, whether actual or imagined, only continue to grow.
It is an image that welcomes you home in it's familiarity and comfort and received a lot of attention at The Other Art Fair where one of the edition was sold.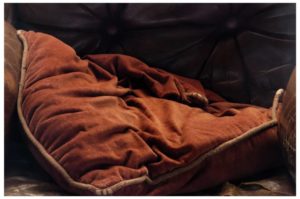 Find out more about The Other Art Fair and buy tickets to an upcoming edition near you!