Meet The Others: Paul West
The Game Changers. The Rule Breakers. The Innovators.
Discover some of the fantastic emerging talent showcasing their work at The Other Art Fair.
Fair Artist Paul West's artwork varies between etchings, landscape paintings, charcoal drawings, and nude sketches. An artist of many talents, Paul draws his inspiration from his love of the Dorset and Northumberland countryside. Now based in London, Paul has brought his love of the country scenery to the city through his art. Here, Paul talks about his time at The Other Art Fair and the processes behind creating his portfolio of work
"... I work very hard against my paintings, which I guess is a little bit like the way I view the landscape that I try and record"
How would you describe your artwork?
I'm striving to capture the emotion in a landscape.
What does making art mean to you?
Making art means warmth, solitude, reflection, and the process fills a very basic need we all share to connect with something far older, nobler, and universal.
How did you get started making art?
I can pinpoint 2010 as the year I started to draw with a purpose as opposed to sketch booking. It took a few years (of dissatisfaction in my progress it's fair to say!) till 2013 and I was painting en plain air in a barley field in Northumberland. The prospect of rain forced me into what I perceived as an early stop and I fully expected to 'finish' it in the dry – yet when I returned to it I realised I had created something I considered more 'raw' and expressive of the landscape. I felt excited with the potential of exploring and developing the ability to know 'when to stop' more. Fast forward to late 2015 / early 2016, I'm in a breakthrough moment or sorts, where I feel that what I see in my mind is translating onto the surface.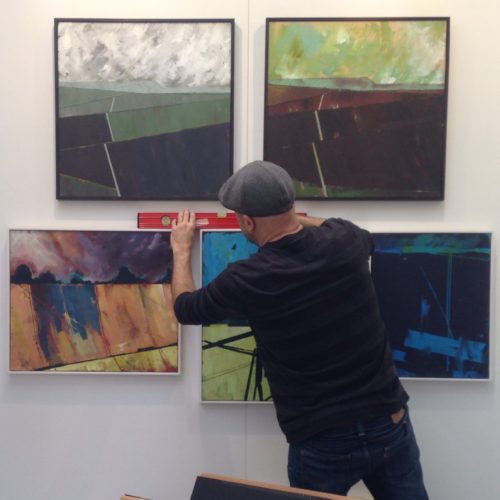 What is it like to be a part of The Other Art Fair?
I've taken part in a few of art fairs – but this was a different kind of experience in every sense. I've been to every TOAF show as a fan of the event and this was my first time as an exhibiting artist – the level of care and attention TOAF give their artists is second to none. The association makes you really step up to the challenge of being a TOAF artist. I changed my whole mindset with the fair, and the post-fair opportunities (like the #TOAFtakeover) made me feel pretty privileged to be a part of the show.
What is your favourite piece for sale on your SA profile and why?
My favourite piece of work at the moment would be "Red Oak". I painted it in November of this year while taking a 4 day painting trip in Wales. I'm just happy with the fluid interaction of the grey 'mist' background with the 'aubergine'/red tree – it's an impressionistic interpretation of an Oak avoiding any technical accuracies, going straight to the feeling of the moment it was painted.