Meet the Others: Patrick Morales-Lee
The Game Changers. The Rule Breakers. The Innovators. Discover some of the fantastic emerging talent showcasing their work at The Other Art Fair.
The idea of 'active belonging' runs deeply through London exhibitor Patrick Morales-Lee's detailed drawings. His work softly showcases the narratives to the given situations, processes and ceremonies that he depicts his figures in.
Tell us about who you are and what you do. What is your background? 
I'm an artist who lives by the coast in Kent. I consider my work to be contemporary drawing, the work itself deals with the idea of identity and belonging. This all comes from being fostered at the age of three, I was constantly and acutely aware of my surroundings and the need to fit in growing up. So the work looks to explore the 'human condition', specifically what makes people do what they do to have a sense of belonging. I graduated in Fine Art at Plymouth University, where I was taught by the painter John Virtue and graduated alongside friend and peer Antony Micallef. During the last few years, I have exhibited in a number of shows, selling work to a handful of well know collectors and exhibited alongside artists such as Antony Gormley, Antony Lister, Stanley Donwood, Vhils, Pure Evil and FAILE.
If you could describe your work in three words, what would they be? 
Figurative Contemporary Drawing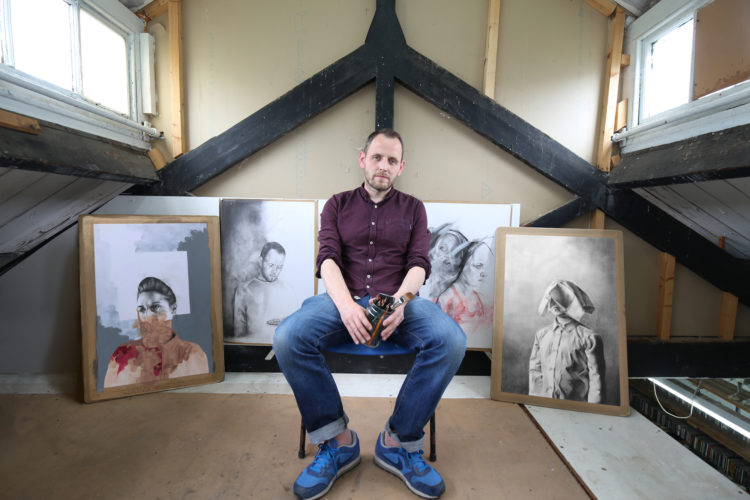 How did you first get interested in your mediums and what draws you to them specifically?
I've been drawing since I can remember, it was always the most comfortable way I made art. During my fine art degree, I really turned into a painter and painted into my mid 30s, but the art just wasn't going anyway, from a commercial sense and also from a personal one, I wasn't communicating anything important and aesthetically I was treading water with too many influences. It's only when I took a break and then came back around 5 years ago I decided to start drawing again, mainly as mentioned, it was a comfort for me, drawing always came naturally to me and as I worked through the first year, it just all seemed to click, from a visual style to the message I wanted to say.
I often use a chemical spray on the pencil and charcoal, which breaks the charcoal down and gives me a minute or so to play with it, its almost like painting with it. It a very instinctual process, which I like, not over thinking it, just letting the subconscious work away. Obviously it can have mixed results, but I always want the piece to go in a direction that surprises me. Using this technique I feel really pushes the idea of what drawing can be, almost has a sense of punk to it, destroying the delicate and detailed marks to create something new and unexpected. I feel I've only really just scratched the surface with this approach and plan to push it as far as I can.
Can you walk us through your process? How do you know when an artwork finished? 
My preferred mediums are mainly pencil, charcoal and currently I'm using charcoal powder a lot. With many of the pieces I also use a chemical spray, it basically a turps type thing. It's a technique I stumbled on very early when I started up drawing again. I basically spray the areas I want to play with, then using a sponge or even my fingers, I'm able to move the charcoal and pencil around a bit – its a very instinctive process, as I only really have a minute or so to play before it dries. I like the idea of the sub conscious leading my choices, rather than over thinking on it. Obviously it can be a risky way of working, as for every 2/3 successful plays, I also get one, which basically doesn't work and I have to abandon it. Also, I've recently brought colour and paint into the drawings, mixing the two different mediums can be a little jarring, but I certainly feel there is something interesting in the interplay between the mediums. Each piece like this is a little work in progress, but my gut is telling me its the way to go, I certainly feel its important to keep pushing your practise and not just resting on an existing style or technique.
Has being in isolation affected your artwork practice in any way?
Well, the main negative is just that a lot of things I had planned this first half of the year were cancelled or postponed, from numerous exhibitions and art fairs. So its certainly effected my income. But equally, being an artist, you are used to the hustle, to pivoting to make things work for you when challenges are presented.
A positive is that I've been producing smaller work than I normally do, 30x30cm as part of the artist support pledge, this has been really interesting for me, as it's freed up my thought process and I've been much more willing to experiment with these pieces.
What is the best advice given to you as an artist?
Treat it like a job, work harder than anyone around you and make yearly goals.
Shop artwork by Patrick and other trailblazing artists at The Other Art Fair's Online Studios.
Introducing The Other Art Fair Online Studios, a new online platform offering art lovers around the world access to over 800 Fair artists. The Online Studios will keep our community feeling inspired, engaged, and continue to spread joy through art.