Meet The Others: Paris Tremayne
The Game Changers. The Rule Breakers. The Innovators. Discover some of the fantastic emerging talent showcasing their work at The Other Art Fair.
Self taught Melbourne based artist Paris Tremayne offers a hybrid practice utilising digital drawing print work as well as traditional acrylic painting. Through this he explores feelings of love, joy and ecstasy, facilitating an avenue to explore his love and fascination for organic shapes and patterns and the truth these form silently and effortlessly allude to. The resulting pieces are abstract and at times ethereal and hallucinogenic in form.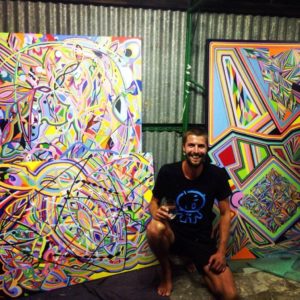 ---
Q&A with the Artist
Tell us about who you are and what you do.
 

What is your background?

I am a visual artist living and working in Melbourne (born and bred). Working both digitally (creating limited edition new media digital drawing archival pigment giclee prints on fine art paper) as well as acrylic on canvas paintings. I consider myself a self taught artist. I live with my partner Morgan in Melbourne's inner north (Fitzroy North), it's my favourite place to be. I typically love life and feel tremendously blessed. I am one of 6 kids of whom I'm very close to. When I'm not making art Im probably enjoying nature, eating and drinking with friends and family, at the gym or sauna (pre covid. Cant wait until I'm able to again!) or meditating on my balcony.
Can you walk us through your process? How long do you spend on one work? How do you know when it's finished?
Whether I am creating digitally or with paint, there is a lot of 'staring' and contemplating the next stroke. Awaiting the inspiration to direct me. The worst thing you can do is think too much or get in your own way. It's important to allow the work to come through of its own accord and say what it needs to say. It's a dance and you don't always get it right. I work for a very long time on each piece but it's hard to say exactly how long as I often work on a few pieces at once. Knowing when a work is finished is one of the hardest things to do, you just have to feel when the time is right and it's different for each piece be it a print of painting. It's important to know when to walk away. And a lot of walking and watching the world. I can see beauty in most things. I get especially excited by plants and trees and walking and observing the world is a big part of my creative process.
How has your style and practice changed over the years?
Stylistically my work is constantly evolving and that's incredibly important. I'd never want to be the kind of artist who pumps out pretty well the same image now to what they did 10 years ago. The evolution of my work can best be seen by looking at the works themselves. I have also included digital work in my practice over the last few years whereas I've painted for as long as I can remember. Increasingly my work is becoming directly influenced by flora and natural patterns.
Who are your biggest influences and why?
I don't know about the word 'influence', the word 'inspire' is more apt in my case. My partner Morgan. She inspires me in all aspects of my life and have created work directly inspired by her and will continue to do so. Love will do that to you, if love doesn't inspire you as an artist I'd suggest you look for something else to spend your life doing. My Dad, we could sit around talking about art, the universe, life, love eternity and spirituality together all day, and often do….Usually with a glass of vino in hand. My dad inspires me as an artist and as a person massively and is one himself. Nature; because it's the finest expression of creativity, from the allure of microscopic world, to a tree just throbbing with energy to the utterly enigmatic beauty of a the starry night. I could go on all day. I just don't have the words for natures beauty and harmony. What a gift. And as I have previously stated, my work is becoming increasingly influenced and inspired by fora.
What is the biggest challenge you've faced as an artist and how did you overcome it?
There is not one challenge that has stood out from the rest, there is just the doubt that pops up. It often happens after I've finished a work or if it isn't 'coming' out right. The doubt can be pretty strong, even scary in a way. Like an existential thing. 'What on earth am I doing?'. Because I find such meaning in my creativity, it can be scary to contemplate that not being there. As I mature though I am getting better at reminding myself to take a few deep breaths and walk away. Go for a walk, meditate or meet a friend for a beer . In some strange way I've have learnt that the doubt is part of it. Like the mud is part of the Orchid. And quite often after a period of doubt there comes a period of intense heightened creativity.
What was the best advice given to you as an artist?
I heard Howard Arkley say 'Avoid art school' when he was asked about advice for younger artists. I resonate with that, I didn't find art school much use, that's probably why I never finished. Not that I think it's necessarily useless for everyone, it just wasn't for me. Whilst I know quotes aren't advice as such, I just love quotes from inspiring ppl and I guess they are advice in a way. Two of my favourites come from extraordinary artists and are as follows;
"I paint quite simply because I have to, and I paint whatever passes through my mind without any further consideration"- Frida Kahlo
"I hear people discuss my art and pretend to understand, as if it were necessary to understand. When it's simply necessary to love"- Claude Monet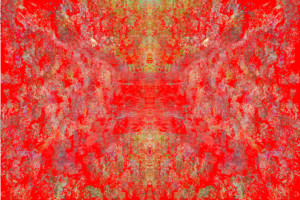 Shop artwork by Paris and other trailblazing artists at The Other Art Fair's Online Studios.
Introducing The Other Art Fair Online Studios, a new online platform offering art lovers around the world access to over 800 Fair artists. The Online Studios will keep our community feeling inspired, engaged, and continue to spread joy through art.