Meet the Others: Otha Davis III
The Game Changers. The Rule Breakers. The Innovators. Discover some of the fantastic emerging talent showcasing their work at The Other Art Fair.
Otha "Vakseen" Davis III is an American artist, based in Los Angeles, whose vibrant "Vanity Pop" painting series celebrates women in all their imperfections and "endless perfections."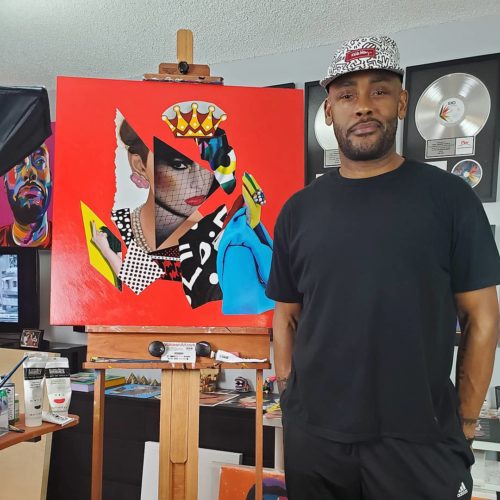 Drawing compositional cues from collage, he creates striking photorealistic paintings that combine visual motifs from Cubism and fashion design to present unique abstract portraits that capture "the allure inherent to all women."
---
Q&A with the Artist
Tell us about who you are and what you do.  What is your background?
My name is Otha Davis III but most know me as Vakseen. I'm a self-taught, LA-based, museum-exhibited artist. I'm also a multi-platinum A&R producer & manager. Creation is my bliss. It's what I'm here to do and as far back as I can remember, whether it was music or visual art, I've been creating.
My art is inspired by popular culture. My main style is coined "Vanity Pop" and features distinct, vibrant, photorealistic portraits that appear to be mixed-media collage (yet are 100% hand-painted). Through these portraits, I aim to celebrate diversity and the acute imperfections and endless perfections every woman possesses.
I'm also known for my "Pop Pop Collection" icon series, which includes portraits of Prince, Kobe Bryant, 2Pac, Bob Marley, and many other pop figures that I consider legends. With this foundation, I've created my own lifestyle brand that showcases my art in galleries and museums worldwide, as well as on everything from apparel to home decor items.
What are the major themes you pursue in your work?
My work is a celebration of beauty, fashion, personal identity, luxury, excess, insecurities, and vulnerability. With this foundation, my portraits become a visual dialogue on the male gaze, it's impact on pop culture and consumerism, and ultimately how they impact people as well as our beauty standards.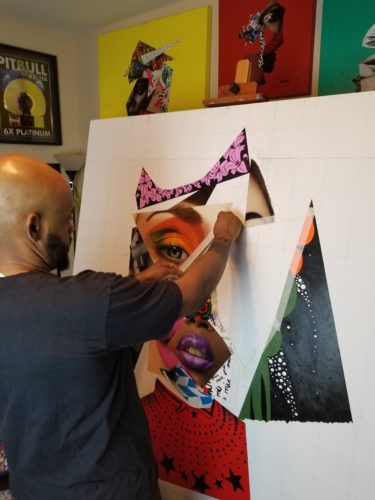 How did you first get interested in your medium and what draws you to it specifically?
I've been painting for as long as I can remember but Vanity Pop was birthed organically in 2012. I think I was drawn to the collage aesthetic because it's very similar to how I'd create music. As a music producer, you create by layering different sounds. That's exactly the same approach I take with my art. I really love how collage gives me the tools to create so much depth. Realistically, each painting consists of multiple paintings and that keeps me engaged through the birth of each creation. I never get bored of painting the same thing continuously, because I'm not. That is very important! My art challenges the way I think and see and I absolutely love that! It's imperative.
How has your style and practice changed over the years?
Growth & evolution are very important in my life. I'm always looking for ways to push the boundaries so everything from my photorealistic details and usage of color theory, to the way I juxtapose my portraits has changed. Collectors make a point of sharing how my artwork gets better and better and that's very intentional.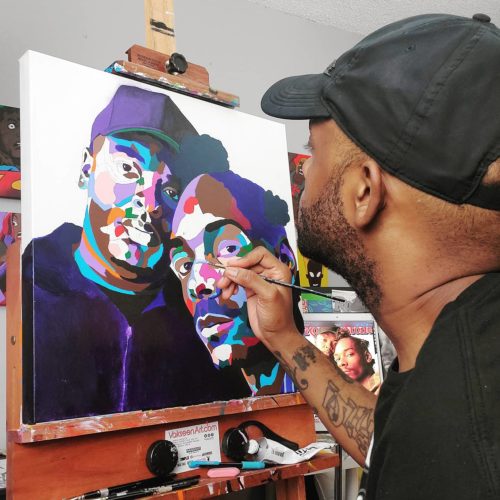 Can you walk us through your process? How long do you spend on one work? How do you know when it's finished?
I grab a lot of inspiration from foreign fashion mags. The more obscure, the better. From there I'll either do my own shoots or keep specific portions of shoots that really grab my attention. I usually spend a few hours just cutting up photos and categorizing pieces into folders. When it's time to create concepts I always want to create with the least amount of effort.
The actual process of creating each portrait is truly an organic, thoughtless process. I'm simply there in the moment, allowing God to use me. That's the best way I can explain it because I'm usually just as amazed by the outcome as my supporters are lol. Every person/portrait has a story to tell so I just start adding and subtracting pieces to my concept until it feels right. Once my ideas are in place and I have certain components in mind for how I want the final piece to look, I'll usually start painting and make adjustments along the way. 
As far as knowing when it's done, I'd say it's purely intuition. It's just something you know, feel, and cultivate over time. More specifically, when I feel there's nothing else that can be done or added to take my concept to the next level.
What series or project are you working on next?
I'm always creating but I'm heartbroken and heavily inspired by the tragic, racially-motivated murders happening in this country. I'm in early brainstorming stages but my next project will celebrate the lives of George Floyd, Amaud Arbery and countless others who have been murdered behind racism. I'm also preparing for a 2021 solo show with Abend Gallery (Denver).
What is the best advice given to you as an artist?
LOVE the process, believe in yourself 1000%, master the art of failure & never give up.
Shop artwork by Otha and other trailblazing artists at The Other Art Fair's Online Studios.
Introducing The Other Art Fair Online Studios, a new online platform offering art lovers around the world access to over 800 Fair artists. The Online Studios will keep our community feeling inspired, engaged, and continue to spread joy through art.