Meet The Others: Olly Fathers
The Game Changers. The Rule Breakers. The Innovators. Discover some of the fantastic emerging talent showcasing their work at The Other Art Fair.
Artist Olly Fathers drips vibrant paint around geometric 3D shapes on his canvases to create alternative, simplified city-scapes. Hear more from The Other Art Fair artists in our Meet The Others series. 
–
–
How would you describe your artwork?
For the work which is at the fair. It was initially inspired by our interaction with urban space. Using the blocks to represent obstacles and using gravity to allow the paint to come to life and move around the space I've created. At each stage of making I often see my involvement almost as a town planner. Thinking what is going to go where and the best way to allow the paint to make its way around the area.
What does making art mean to you?
Its just the best feeling when can allow my self to get engrossed into a making artwork. Particularly when I'm doing it for me reason other than to experiment and have fun.
How did you get started making art?
I've just always loved making things.
What is it like to be a part of The Other Art Fair?
It's a great opportunity to get my work seen by people that would otherwise not know about it. Also its great getting to meet other aspiring artist, discuss ideas and experiences. The fair its self is pretty draining! In a good way! Its great to be able to talk to people about your work and for things you've been working on for months to get seen and sometimes appreciated.
What is your favourite piece for sale on your SA profile and why?
Maybe 'Autumn in Copenhagen'. These are quite process based pieces that I find quite therapeutic to make. This is largest one like this I've done, even though its still small. It was really satisfying for me once I finished it.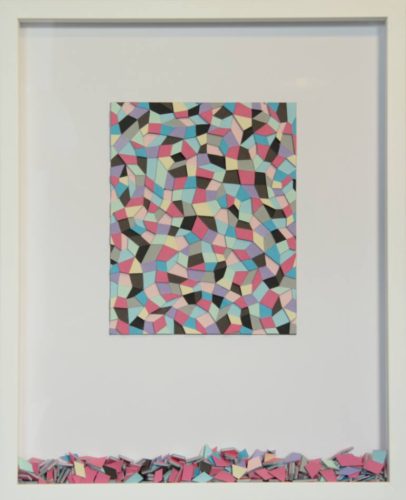 Find out more about The Other Art Fair and apply to take part in one of our upcoming fairs.