Meet The Others: Nicole Charles
The Game Changers. The Rule Breakers. The Innovators. Discover some of the fantastic emerging talent showcasing their work at The Other Art Fair.
Nicole Charles is a visual artist and graphic designer based in Toronto, Canada. She is most widely known for her layered acrylic artwork, in which she works with soluble pigments and acrylic panels to create light, elusive abstractions. Each piece is composed of multiple panels which are used to create transparency and depth, resulting in a sculptural painting.
_
_
How would you describe your artwork?
I would describe my artwork as painting that is abstract and sculptural. I paint on transparent acrylic panels and then stack them which gives dimensionality and a sculptural quality to the paintings. I still haven't quite figured out how to make this more concise.
What does making art mean to you?
Making art means a unique form of self expression and creativity.
How did you get started making art?
I started making art and crafting when I was a child and took art classes in school as I got older. It took me some time trying different occupations and creative outlets before coming to make art as I do now in a more professional capacity.
What is it like to be a part of The Other Art Fair?
Being a part of The Other Art Fair was an wonderful experience. It was a smaller fair, everyone involved including artists, staff, organising committee, and other vendors, were kind, welcoming and helpful. For the inaugural Brooklyn fair it was quite busy and the people that came were lovely and engaging. I learnt much from the process and am thankful to have participated.
What is your favourite piece for sale on your Saatchi Art profile and why?
My favourite piece currently for sale on my Saatchi Art profile is Head In The Clouds. It's based on a memory of mine when I climbed Mt Fuji. We began our descent after sunrise and it felt like we were walking through clouds, it was a surreal moment.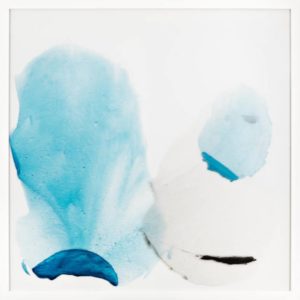 Apply online now for your chance to take part in the upcoming edition of The Other Art Fair Brooklyn 2018.