Meet the Others: Nana S.R.T.
The Game Changers. The Rule Breakers. The Innovators. Discover some of the fantastic emerging talent showcasing their work at The Other Art Fair.
The Other Art Fair London exhibitor Nana S.R.T's subjects are far and wide but more recently her work between 2018-2020 focused mostly on the 'undiluted emotions in dance'. Read on to discover more about Nana's dynamic practice.
Tell us about who you are and what you do. What is your background? 
I was born to an Austrian father and Japanese mother, and am now based between London and Vienna. I use photography to capture moments that move me, and to visually elaborate on what inspires me.
For my artistic persona, I have abbreviated my name into my initials, Nana S.R.T., which I thought fitting as it reads "Nana's art"
If you could describe your work in 3 words, what would they be? 
Visceral. Evocative. Energy.
Can you walk us through your process? How do you know when an artwork finished? 
Thinking primarily of my dance series "Move!", "Dance:On", and "Flow" (on-going) – I tend to have a color palette in mind along with an emotion I want to convey. Next, I think of a dancer who I feel can communicate this. Having worked in the dance industry for 20+ yrs it is usually a pleasure to check in with suitable dancers and work with them on my art projects.
If it is not a studio, I will have researched a location – I usually have one other person with me to assist with the practical – and off we go!
I will direct the movement to an extent but not beyond, so the dancer's intuition can still flow freely. I might ask them to repeat a certain move if I saw something I connected with, or if I have a particular physical shape in mind.
The sessions themselves tend to be quite quick, usually not much longer than an hour. (The very first one took a lot longer though!)
The next phase will be me looking back over my favourite shots on the computer and narrowing my selection down. I tend to not do much, if any, post work, so really, that is it!
Has being in isolation affected your artwork practice in any way?
A positive is that COVID has led me to take my artistic and conceptual intentions to a different realm and I have actually enjoyed this journey. A negative is that I miss seeing and hearing feedback and reactions to my work, seeing how it resonates. I miss people's energies.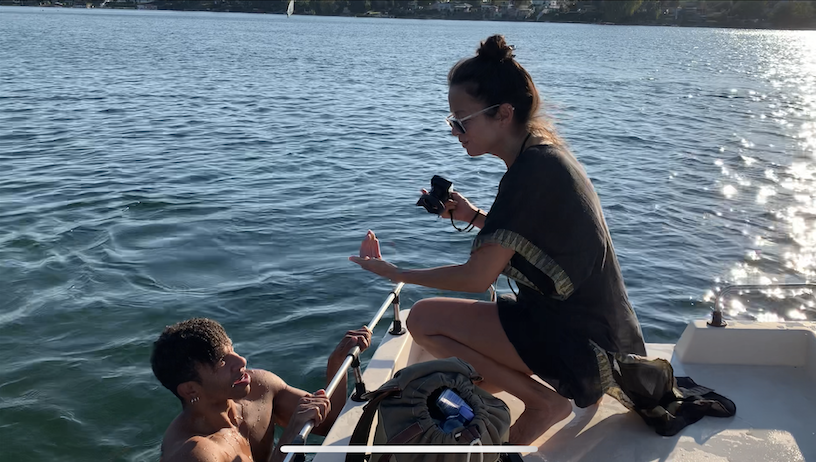 What is the best advice given to you as an artist?
Der Zeit ihre Kunst. Der Kunst ihre Freiheit. 
These words were not given to me personally but passed down from the early 1900s by a group of Art Nouveau artists who took residence at Vienna's Secession and were responsible for an incredibly innovative and stunning new art movement that transformed not only Vienna but spread to the world
("To every age its art, to every art its freedom")
Can you tell us something about you that people would be surprised to hear? 
One of the songs that always moves me to tears is A Wonderful World by Louis Armstrong. Simple beauties and pleasures that we often forget about.
Memories of a world that's always tried its best to be perfect. 
Shop artwork by Nana and other trailblazing artists at The Other Art Fair's Online Studios.
Introducing The Other Art Fair Online Studios, a new online platform offering art lovers around the world access to over 800 Fair artists. The Online Studios will keep our community feeling inspired, engaged, and continue to spread joy through art.