Meet The Others: Mona Hoel
The Game Changers. The Rule Breakers. The Innovators. Discover some of the fantastic emerging talent showcasing their work at The Other Art Fair.
Having only started painting later in life, Mona Hoel has successfully developed a trademark abstract style in her oil and mixed media paintings. At The Other Art Fair London in October, Mona sat down with us to tell about how her career started and how her passion has taken over her professional life.
_
_
How would you describe your artwork?
To me it is all about the process; about the paint, the colours, the textures, the surfaces, the flow, the decisions, the solutions, the regrets, the surprises, the joy.
What does making art mean to you?
Making art has become the driving force in my life, it is my profession, my passion and my vocation.
How did you get started making art?
One day on my way from work, on a sudden impulse, I bought a set of acrylic paints, some boards and brushes and started painting. For almost ten years I painted late evenings and nights after my family had gone to sleep and went to my day-job in the morning. Creating art became more and more important to me. I wanted to pain more and I wanted to learn more. Eventually I quit my day-job, took my first painting class ever, got into art school the following year and I haven't looked back.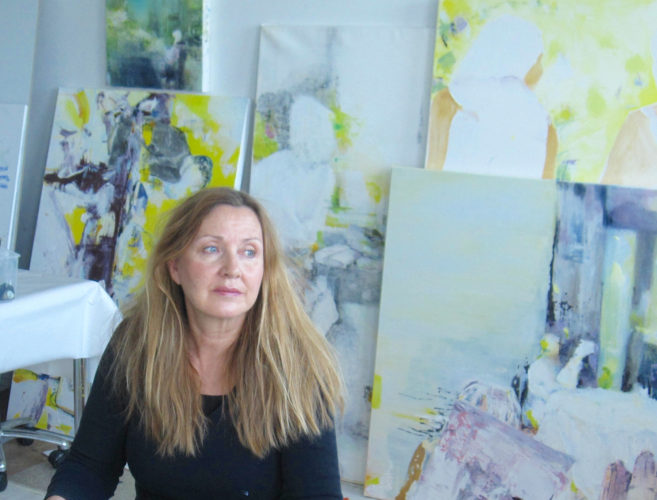 What is it like to be a part of The Other Art Fair?
TOAF is a great opportunity to meet fellow artists, collectors and people working in art.
What is your favourite piece for sale on your SA profile and why?
Again, to me it is all about the creative process, so when looking at my artworks I see a representation of that process: A stage where I experienced good flow, a stage where I decided to add a specific colour, where I made a decision that worked, the ensuing turn of the process etc. Also, I may recall the feeling, the mood atmosphere, my thoughts or the light. Even the weather at a certain stage of the process may be the first that comes to mind. As time passes the recollection of the process will weaken and may change what I see when I look at my artwork.
I often end up doing series with a particular theme, like the series "Being There" and "Alone Together" where each artwork can be seen as a representation of the process at a certain point in time. The following artwork in the series say something about what happened next, about how the process developed. This is never planned, it just happens.
All that said, my current works in progress, at any point in time, are the ones that I find most interesting, my favourites if you will, among my own artworks.