Meet The Others: Minty Sainsbury
The Game Changers. The Rule Breakers. The Innovators. Discover some of the fantastic emerging talent showcasing their work at The Other Art Fair.
Minty Sainsbury discovered, upon completion of her architectural degree at Cambridge, that the drawing board no longer has a place in the modern architectural office. She has now created a career for herself, leading with the intention of keeping the art of architectural drawing alive. Minty has travelled extensively in Europe sketching and photographing buildings and street views, which she later draws inspiration from when back in her studio in London.
How would you describe your artwork?
I create highly detailed pencil drawings of architecture I see in the UK and abroad. Sometimes I draw the building out of its context, putting it in isolation in the center of the page. Other times I choose to show the street view towards a building, keeping a simplistic abstract outline of the context.
What does making art mean to you?
When I make art, I am trying to make the viewer look differently at the urban landscape around them. I take one building at a time and focus on the detail with the hope of showing people the incredible beauty surrounding them in their cities.
How did you get started making art?
My dad is a wildlife artist, so I grew up in a very artistic house with artwork covering the walls. I studied architecture at the University of Cambridge and went on to work in an architectural practice. Here I found that hand drawing was no longer a part of the modern architectural office. I then decided to work full time on my drawing with the hope of keeping the art of architectural drawing alive.
What is it like to be a part of The Other Art Fair?
There was a great atmosphere at The Other Art Fair – it felt like there was a real buzz of excitement from the artists and the visitors at the show. It was great to meet lots of new people and get my work out to a wider audience. Plus, the venue is in an ideal location in Central London.
What is your favourite piece for sale on your Saatchi Art profile and why?
Definitely my drawing of Exeter Cathedral. This piece took the longest time to draw, so when I look at it I remember the dedication that went into creating it.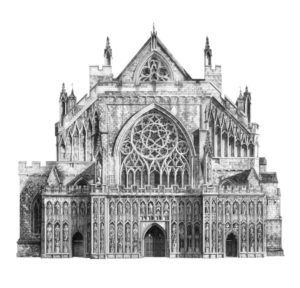 Find out more about The Other Art Fair online now and Join The Others to stay updated with the latest fair news and application deadlines.