Meet The Others: Michael Wallner
The Game Changers. The Rule Breakers. The Innovators. Discover some of the fantastic emerging talent showcasing their work at The Other Art Fair.
Michael Wallner's latest work highlights the shapes and outlines of a city that define it. His portfolio features a wide range of alternative mediums, including brushed aluminum, reclaimed wood, neon, magnetic, and L.E.D installations.
Before focusing on his art career, Michael spent more than twenty years in the media industry working on entertainment programs, talk shows, documentaries, animations and a children's novel.
He currently works out of Wimbledon Art Studios in South London as a full time artist and is represented by Degree Art, Will's Art Warehouse and Box Galleries. Michael has exhibited at The Other Art Fair in London, Brooklyn, and Los Angeles. 
---
Q&A with the Artist
How would you describe your artwork?
I would describe my art as a celebration of the city through the lines, colors, and shapes that create its character and personality. I create my work by digitally manipulating and coloring my own photographs, often taken while hanging out of a helicopter. They are then printed on a variety of surfaces, usually brushed aluminum, a process that makes them look like etchings. Sometimes I use brass, wood, neon, and even 1930s windows.
What does making art mean to you?
Making art enriches my life: it makes me see the world around in a different light, to see my immediate surroundings in more detail. Making art allows me to share my passion for the landscape. I want everyone to love London's make-up—the lines, the colors, and the shapes—as much as I do. Making my art allows me to have a connection with people whom share my passions.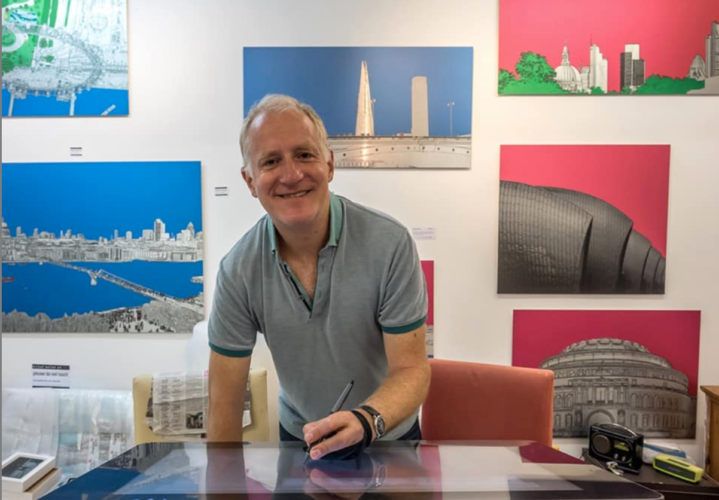 How did you get started making art?
I started making art when I got my first camera when I was about 11 or 12. Since then, I've carried a camera with me everywhere I go. I got distracted for a few years by a career in television. Then, a few years ago, I visited a show at Wimbledon Art Studios in South London – a community of 200 artists. The following month I gave up my TV career and moved into my own studio, and the rest is history…
What is it like to be a part of The Other Art Fair?
Being a part of The Other Art Fair is invigorating, inspiring, stressful, exciting, exhausting…but at the end of three jammed packed days, I always want to do it again. It's one of the first dates I put in my diary every year. It's like a family – exhausting and fun at the same time!
What is your favorite piece for sale on your Saatchi Art profile and why?
Although most of my art is printed on brushed aluminum, my favorite piece on my Saatchi Art profile is River of Light. It features one of my favorite things about London: the river Thames, the lifeblood of the city. Lines and shapes are a big feature of my art. I love the curves and shape of the river – a shape that is instantly recognizable. In this piece, the beautiful cobalt blue neon glass stands out against the reclaimed wooden planks, with a rusted steel edging, contributing to its urban feel and a tribute to the landscape it represents. The blue neon even has dark edges mimicking the river's shoreline. The neon has a mesmerizing effect, as the river does for me.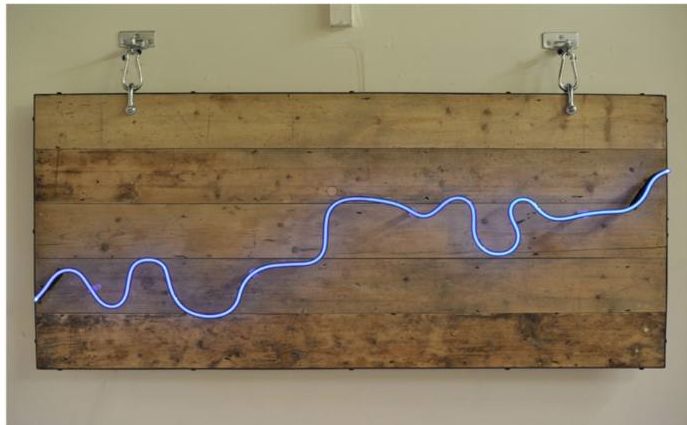 Shop artwork by Michael and other trailblazing artists at The Other Art Fair's Online Studios.
Introducing The Other Art Fair Online Studios, a new online platform offering art lovers around the world access to over 800 Fair artists. The Online Studios will keep our community feeling inspired, engaged, and continue to spread joy through art.