Meet The Others: Melissa McGill
The Game Changers. The Rule Breakers. The Innovators. Discover some of the fantastic emerging talent showcasing their work at The Other Art Fair.
 After 15 years of interpreting other peoples ideas as a commercial illustrator, Melissa McGill's painting are now deeply personal. Reflecting on the joy of movement, her process involves the entire body, with large strokes of colour poured or scraped across the canvas punctuated with graphic lines of pastel, graphite and chalk to guide the eye and balance the composition. Finding inspiration in the natural world, her paintings on canvas have a very organic feel.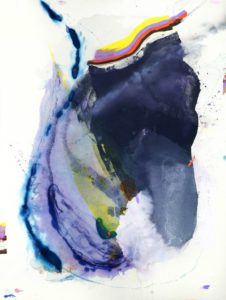 Water Flows, Melissa McGill
Can you tell us a bit more about your process? How your work developed into your signature style and how your paintings come from an idea into fruition.
My work is very process driven, I enjoy mixing colors and the variations in tones of transparency so I'm searching for that in my paintings. I use a combination of poured paint and monotype on canvas to create depth and texture. I usually "sketch" with color, working out the values and textures of a composition but once I start that idea can disappear depending on the way a pour works out or the monotype process ends up so I pivot from there and follow where the work wants to go.
Free Falling, The Connected Series, Melissa McGill
What art and artists are you inspired by?
Robert Rauschenberg, Julian Schnabel, Helen Frankenthaler, Per Kirkeby, Christopher Wool
What are you working on at the moment?
I'm working on a series exploring the connections between people bridged digitally and in person. I started the series before the pandemic expecting it to be a smaller series of paintings but each day in this new world brings new awareness of the importance and complexity of connection.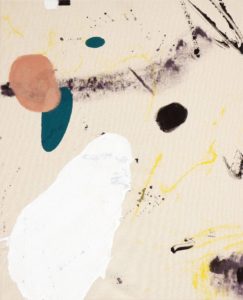 Singularity, The Connected Series, Melissa McGill
How are you staying inspired at the moment?
I'm finding inspiration in my garden and taking this down time to experiment with new materials and processes. I'm really looking forward to getting back out to shows and traveling again.
Shop artwork by Melissa and other trailblazing artists at The Other Art Fair's Online Studios.
Introducing The Other Art Fair Online Studios, a new online platform offering art lovers around the world access to over 800 Fair artists. The Online Studios will keep our community feeling inspired, engaged, and continue to spread joy through art.