Meet The Others: Matthieu Leger
The Game Changers. The Rule Breakers. The Innovators. Discover some of the fantastic emerging talent showcasing their work at The Other Art Fair.
The Other Art Fair artist Matthieu Leger constructs his paintings through deconstructing other images. After digitally manipulating pictures, Matthieu then goes back to the classic forms of oil paintings and drawing.
How would you describe your artwork?
In a nutshell, my work would be if I were to describe it: Post-internet painting that responds to my personal exploration on image making in our Digital World.
What does making art mean to you?
…This is a big question!.. I find that Art making for me is a way to visually question, construct, deconstruct and respond to the world. I approach painting similarly to how I hear, deconstruct and understand layers within music.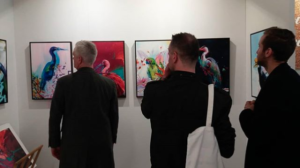 How did you get started making art?
I was playing with a paintbrush ever since my mum put one in my hands, but at around 6 or 7 years old I drew a character copied from a favourite comic book and I knew that Art making was what I wanted to do. I guess even at that young age I found my purpose.
What is it like to be a part of The Other Art Fair?
Very enjoyable! It is a great platform to sell work, meet new people and interact with other artists. It has been invaluable for me in reaching new audiences, showing and selling my work in such a great environment. The whole team at The Other Art Fair do a wonderful job.
Find out more and apply online for your chance to take part in a global edition of The Other Art Fair.