Meet the Others: Maritsa Micos
The Game Changers. The Rule Breakers. The Innovators. Discover some of the fantastic emerging talent showcasing their work at The Other Art Fair.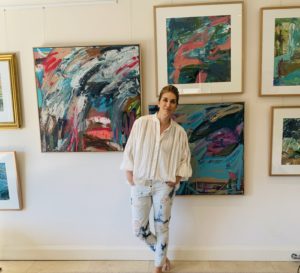 ---
Q&A with the Artist
Tell us about who you are and what you do. What's your background?
I lived and studied in Lismore before coming back to Sydney to COFA [College of Fine Arts]. I am predominately a mixed media abstract expressionist artist living in Sydney, I am fascinated with a modern palette, aerosol, enamel, collage and have been inspired by the Australian Landscape at large.
Where do you draw inspiration from and what does your work aim to say?
Inspiration can come from many places, for me the experience of studying in Lismore was profound it led to a very personal experience with the land which I still draw on today. Travelling to Italy often for work allows me to look at beautiful textiles and Italian craftsmanship which inspires me daily. I hope that my work explores the act of deconstruction and conversion.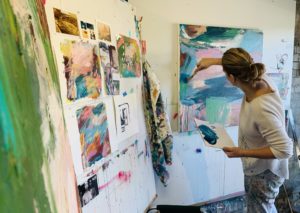 Can you walk us through your process for creating a work?
For me the process always ends with the act of deconstructing my subject whatever it may be, it may begin with a literal experience but the process almost always is about breaking down what I see in order to reveal its soul , it then takes on a completely new form, most times it is abstract.
Who are your biggest influences and why?
I adore Willian De Kooning, the power of his marks and his process of deconstructing an image is something I think about a lot, Aida Tomescu's intuitive approach and unapologetic marks are rebellious and free. I suppose I am drawn to processes I would love to personally improve on. Also The New York Drawing Marathon in Soho inspired me to focus on the importance of the mark in the process of art-making.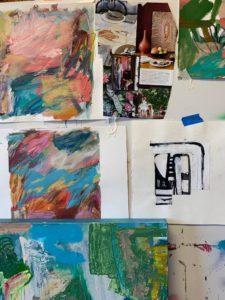 What can people expect from you next?
At the moment I am playing with the idea of leaving information out, I have always filled my canvasses with information ( marks) I am looking at composition very differently at the moment, its quite challenging.
What is the best advice given to you as an artist?
"Don't be precious", this is a hard one and a good one – as a mum and someone who works in luxury goods sometimes my time is limited – I am working hard on the value of 'time'.
Can you tell us something about yourself people might be surprised to hear?
I have made my lounge area into a mini gallery for me personally and change it around for my guests when they come over it brings art into my everyday world when I cant get to it daily.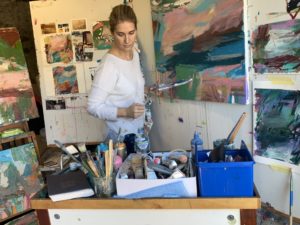 Shop artwork by Maritsa and other trailblazing artists at The Other Art Fair's Online Studios.
Introducing The Other Art Fair Online Studios, a new online platform offering art lovers around the world access to over 800 Fair artists. The Online Studios will keep our community feeling inspired, engaged, and continue to spread joy through art.