Meet the Others: Margaret Ann Withers
The Game Changers. The Rule Breakers. The Innovators. Discover some of the fantastic emerging talent showcasing their work at The Other Art Fair.
Introducing Margaret Ann Withers, a New York based artist whose abstract works are full of joy and whimsy. Withers motifs translate through the many mediums she uses. We asked Margaret a few questions about her process and work.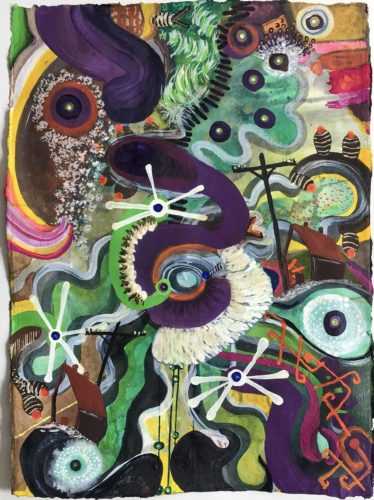 Q&A with the Artist

1. Tell us about who you are and what you do. 
I've lived in New York City for about 14 years but I grew up in Texas.  I'm a self-taught artist (although I've taken some classes) and I've been painting for about 25 years. I started out as a photographer with my own little black and white darkroom in a closet in married student housing at the University of Colorado in Boulder, primarily developing infrared film and shooting kodachrome night shots.  From there I moved into porcelain, cone 10 sculptures, and then into biomorphic oil paintings and mixed media. From that into new surrealism on paper, then into using flashe paint instead of oil on canvas,  and then after a 15 year hiatus, back to clay sculptures. I currently bounce between working on sculptures on the weekends and painting during the week.  I have a day job deploying web applications for the City of New York and before that I worked as a programmer.
2. What are the major themes you pursue in your work? 
The mixture of conflicting emotions, motivations and desires that people feel in life, and how that relates to our personal space and our concept of 'home'.  I like to mix-up and explore melancholy and humor.
3. How did you first get interested in your mediums and what draws you to them specifically?
I use many different mediums. I love working in clay because it is supremely tactile and grounding.  And the final outcome is a mystery – you just don't know how something will end up after that final firing, so it always feels like Christmas to see the final piece.  I work on paper because it creates its own set of problems-what and how different water mediums flow and settle on the different types of paper.  Solving those problems is inspiring. I work on canvas because it's the opposite of working on paper so it's a good go-to when I need to bounce out of paper for new artistic stimulation and inspiration.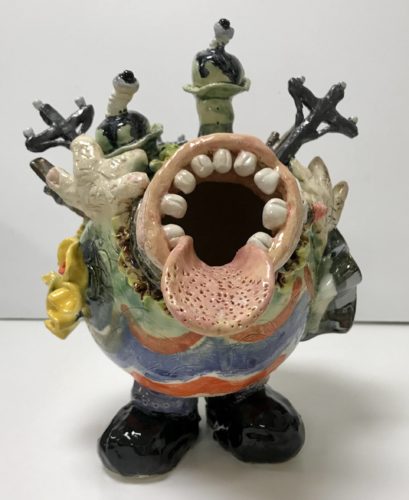 4. How has your style and practice changed over the years?
My style and practice have changed and  I nurture that change because I feel that change is the life blood of creativity.  For example, every summer I do a series using a medium or artistic style that I'm not familiar with doing.  I started working on paper after one summer series where I did 135 pen and ink drawings.  My latest series, Can we talk? started as a summer series where I decided to explore pop art. I find that by working on different series I increase my artistic language, which in turn informs change in my style, and seeing that is exciting to me – it's inspiring.
5. Can you walk us through your process? How long do you spend on one work? How do you know when it's finished? 
My ceramic sculptures take up to 10  hours to make for a large piece.  My  paintings are about 1-2 weeks.  I know they're done when they feel done, you just have to trust your instincts.
6. What series or project are you working on next?
I  really want to get back to the pottery lab that has been closed since COVID, but for now I'm playing around with air dry stone clay, sticks and piano keys.  I'm also mulling over what my summer series will be this time.
7. What is the best advice given to you as an artist? 
Don't ignore the edge.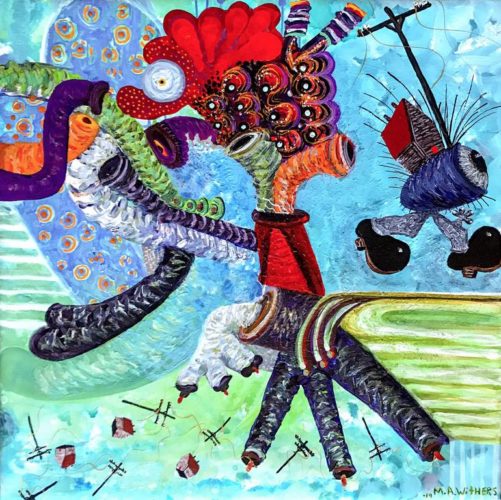 Introducing The Other Art Fair Online Studios, a new online platform offering art lovers around the world access to over 800 Fair artists. The Online Studios will keep our community feeling inspired, engaged, and continue to spread joy through art.