Meet The Others: Lo Harris
The Game Changers. The Rule Breakers. The Innovators. Discover some of the fantastic emerging talent showcasing their work at The Other Art Fair's Virtual Edition.
What better way to be greeted than by a swirling landscape of colors that culminates in the perfect G&T serve? Find out what inspires the bold, Technicolor world of the mastermind behind our welcome video, animator and illustrator Lo Harris.
We are so excited to have you feature on our inaugural Virtual Edition Fair. To start with, tell us a little bit about yourself and your early creative career…
I'm an illustrator/animator based in Brooklyn, NY but my background is in journalism. I studied journalism and integrated marketing communications at Northwestern University, and I got to work in newsrooms such as NBC News, The New York Times and The Chicago Reporter creating motion graphics for their digital platforms. Now I'm a full time artist and I utilize bright palettes, strong figures and relational compositions to create work that champions vibrance, confidence, humanity, and joy. And through my work I hope to illustrate a more just and kind world.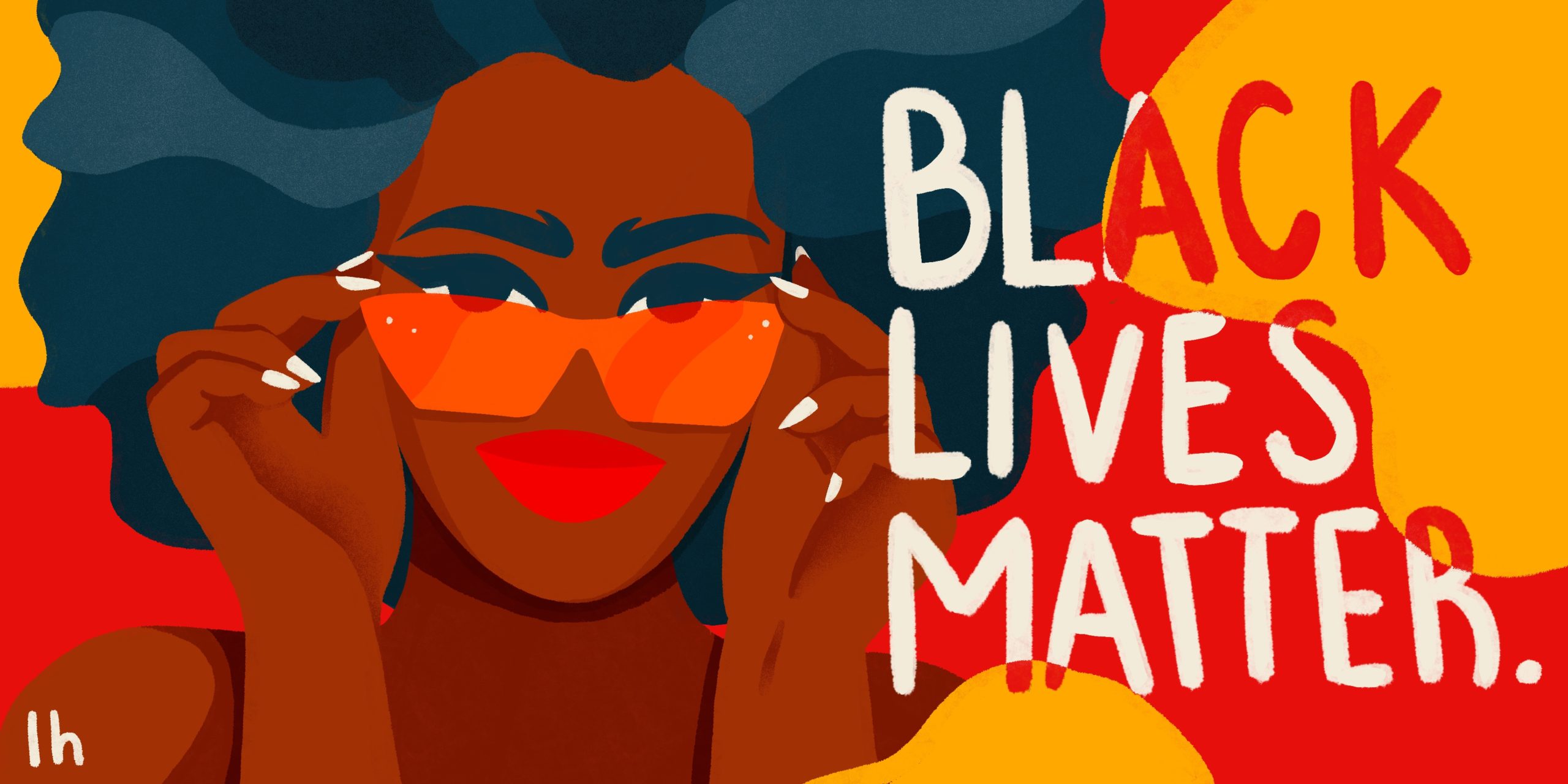 How have the events of 2020, such as the pandemic and BLM protests, influenced your practice?
The events of 2020 have really clarified the necessity of my voice and voices like mine in art and media spaces. The pandemic and the BLM protests in particular have helped put into perspective the things that matter most to me. I want to make a difference through my work, and I want to use my voice so that other black women can also feel empowered to contribute to important conversations through art. The events of 2020 have ultimately empowered me to leave my job in journalism, and focus on sharing my voice with authenticity and joy.
The colour palette used across your illustrations is vibrant, bold and forms part of your distinctive identity as an artist. How do you decide the palette for each project you work on?
When I'm bored with my old reliable palettes and I want to try something different, I defer to palettes in images I've saved on pinterest and work from there. Most of the times the palettes I draw inspiration from do not come from other illustrators, but from fashion photography, adventurous makeup looks and quilts of all things! Sometimes I stumble upon colors I like in life and I make special note to try it out in my work. For example, when I watched Beyonce's Black is King, I vowed to find a way to use the "hot purple" color used in the outfits of the garden party scene.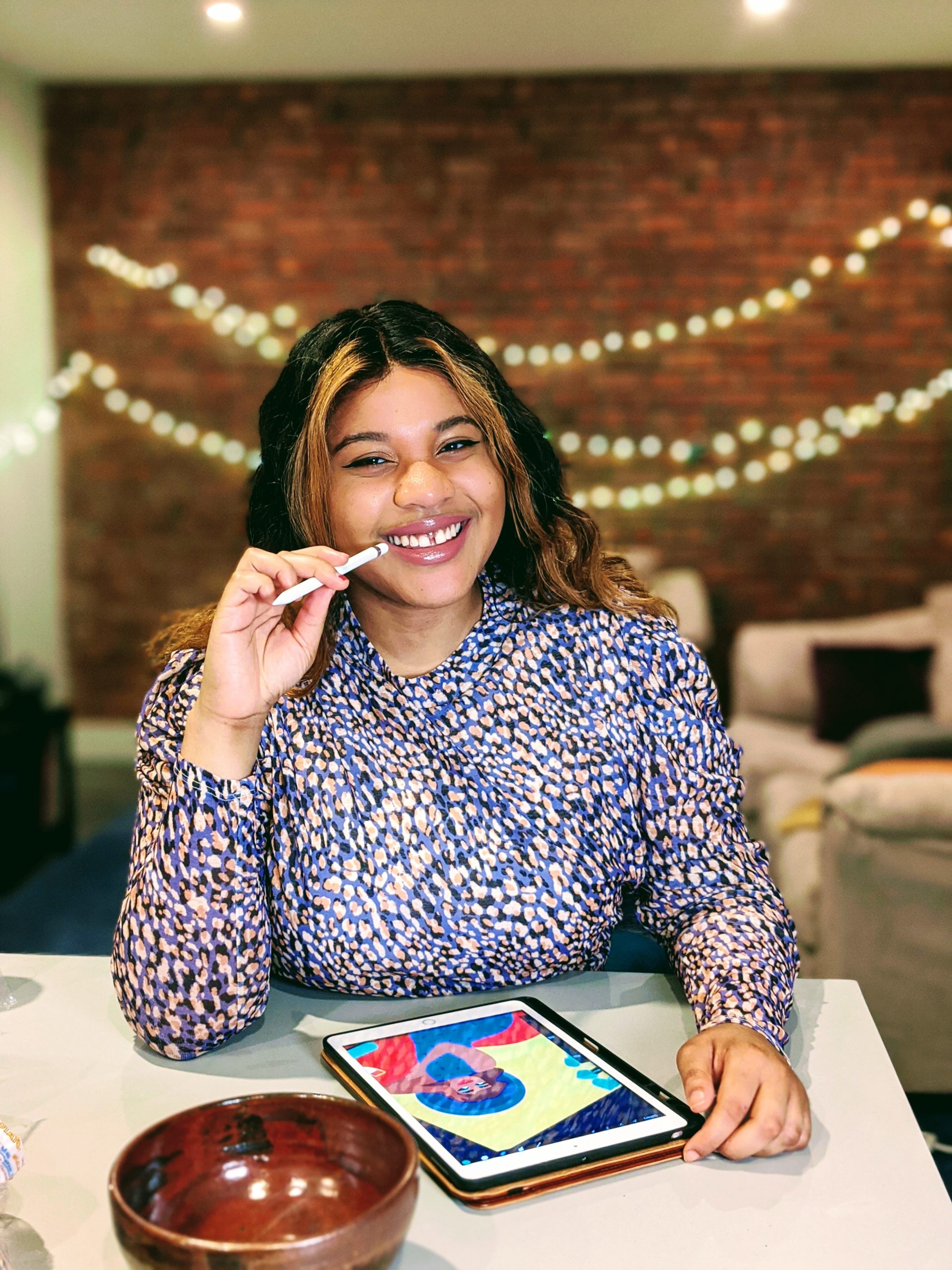 Who do you base your illustrated characters on? Are they self portraits, family/friends, or stem from the imagination?
My characters are not always supposed to be specific people, or even myself. But I do like to add relational elements to everything I create. I like my characters to be specific yet universal enough that anyone can find themselves, or a familiar face within them. I achieve this through my use of culturally specific hairstyles, beauty marks, or body shapes. When I draw different characters from various backgrounds and identities, it helps me recognize the endless differences in people that make them beautiful. It's a body positive approach that has actually helped me grow more comfortable with myself.
Your work offers viewers hope, confidence, strength, independence and much more. What messages, such as these, do you aim to convey through your artwork? 
I'm creating this work through my own self-actualization process, so many of the messages I convey are ones that I am actively trying to learn myself. My personal goal is to become more comfortable, confident and bold in both my decisions and in the way I walk this earth. I want to advocate for myself, be more reflective, show more gratitude and be more forgiving. These are the underlying intentions of my work – what I create for the public is what I aspire toward myself! 
Finally, please explain the process behind your collaborative illustration with Bombay Sapphire for our VR edition! 
Though I am also an animator, I was very excited to focus on the style framing and art direction of this project and to pass the animation on to someone else. I'm always open to collaboration because by allowing space for the interpretation of my vision by others, I'm creating an opportunity to be enlightened and surprised by approaches I may have never imagined. As for the contents of this animation, I really wanted to lean on my love of the relational by including a scene that alludes to the "Virtual Happy Hour," a phenomenon that is hyper-specific to our time in quarantine but also exudes a sense of optimism and hope. I am so excited to see the final video roll out during the event, and I hope it helps prime art fair attendees to feel a sense of community and camaraderie during such an isolating and complicated time.