Meet The Others: Lisa Krannichfeld
The Game Changers. The Rule Breakers. The Innovators. Discover some of the fantastic emerging talent showcasing their work at The Other Art Fair.
Born in Little Rock, Arkansas, Lisa Krannichfeld was raised in an interesting mix of Southern American and Chinese cultures. Her experiences growing up in these two intermixing cultures and their traditions have greatly influenced her work, which primarily focuses on the woman as its subject. Lisa was interviewed about her artistic practice when taking part in her first edition of The Other Art Fair in New York in June 2017. 
How would you describe your artwork?
My work focuses on mostly women as my subject matter with the motivation to depict them as powerful, emotionally expressive beings, unlike how women have been depicted historically. My paintings are very expressive and play with ideas dealing with the blending of cultures and fluid gender identities. I embrace a loose method of painting using ink and watercolor mixed with unconventional materials including collage, cyanotypes, and resin.
What does making art mean to you?
Making art is mainly two things for me: a craving that I constantly have to satiate and a language that I'm most comfortable conversing with.
How did you get started making art?
I honestly don't remember when I began making art. I know it sounds cliche because I imagine most artists have the same answer. Making and creating have brought me joy since a very young age. I think all children feel this, but for some reason it only sticks with some of us all the way into adulthood. Making art is something I never stopped and hopefully will never have to.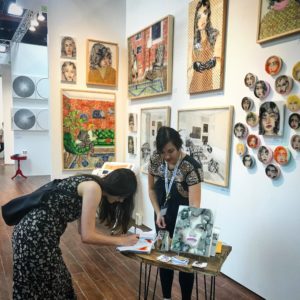 What is it like to be a part of The Other Art Fair?
Being a part of The Other Art Fair is an incredible experience. I live and work in a relatively small city that is not recognized nor sought out for its art scene. So getting to meet so many new collectors and artists from all over the world was amazing. My work is in so many new collections because of it, and I had the opportunity to personally connect with those who connect with my work.
What is your favourite piece for sale on your Saatchi Art profile and why?
My favorite piece often changes with it generally being the most recent piece I have completed. Right now, it's a hard tie between my latest portrait Pearl Buttons and another recent piece titled Thick Skin. I love the layered emotional qualities about the woman's face in Pearl Buttons as well as the combination of colors, textures, and patterns. Even though I know the piece intimately well, having created it, I still can get lost in her face imagining all the different emotions she feels. I love Thick Skin because it was the first piece in which I used repeated cyanotype images to create a pattern. It was a fun journey making it and will be the catalyst for some other pieces I have in mind for the future.

The Other Art Fair Brooklyn is returning to Greenpoint's Brooklyn Expo Centre from November 9-12. Book your tickets online now.