Meet The Others: Lisa Hunt
The Other Art Fair Brooklyn artist Lisa Hunt's work explores the spatial and meditative relationships found within repeat patterns. Inspired by Art Deco and comprised of graphic shapes, symbols and re-imagined typographic elements, Lisa's works are expressed with a minimalist approach. 
How would you describe your artwork?
My work explores the rhythmic repetition of graphic, geometric symbols and forms. Using gold as a unifier for the series, background becomes foreground generating both dynamism and serenity.
What does making art mean to you?
Making art for me is an exploration of creative expression of ideas and beauty.
How did you get started making art?
With the influence from my mother who used to paint, draw and sew I have been exploring my creativity since I was a child. I attended Pratt Institute where I studied graphic design and the majority of my professional career was spent as an art director in publishing. A few years ago I decided to continue that creative exploration, which I now do full time, through printmaking.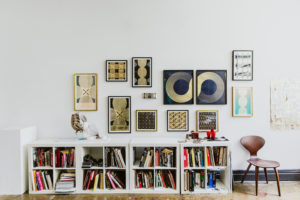 What is it like to be a part of The Other Art Fair?
Participating in The Other Art Fair's first ever show in the US was exciting. I wasn't sure what to expect as it was my first time showing at an art fair but the experience allowed me to show new works, meet other artists and talk about my work with prospective collectors.
What is your favourite piece for sale on your Saatchi Art profile and why?
My favorite prints for sale on Saatchi Art are Abstract Various and Rounds Negative and Rounds Positive. They are from a new series of prints that I began earlier this year. The new work explores the re-use and reproduction of my archive of gold leaf sheets used in my previous prints. Working the abstracted shapes into repeat, the new series has allowed me to find a new expression of the materials and the print making process.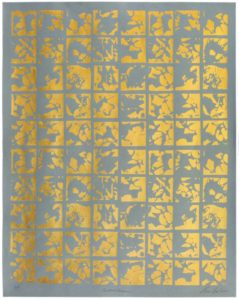 Find out more and apply online for your chance to take part in a global edition of The Other Art Fair.
Feature Image Credit: David Land