Meet the Others: Lily Gloria
The Game Changers. The Rule Breakers. The Innovators. Discover some of the fantastic emerging talent showcasing their work at The Other Art Fair.
"My name is Lily Gloria and I do hand poked tattoos in Melbourne, Australia. I studied Graphic Design in Melbourne and later spent many years traveling and living overseas."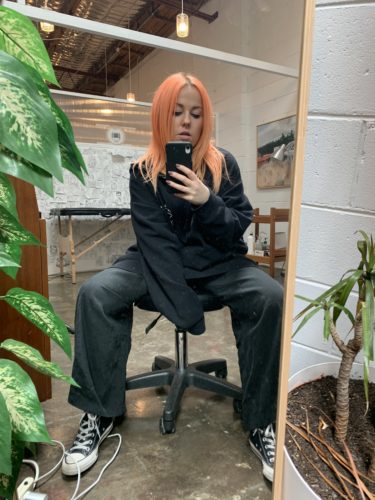 "I've worked in lots of different fields but tattooing has been the only thing I've been able to stay interested in for the last 8 years, so I decided to pursue it full time."
---
Q&A with the Artist
What are the major themes you pursue in your work?
There are no themes that I consciously choose. I tend to see something, read something or hear something that I think would make a cool tattoo and then I try to draw it. I think it's easier for me to spot things that I don't like to be honest. I tend to enjoy work that doesn't take itself too seriously or simply an adornment that sits well on the skin. It's hard to pinpoint my style, in my mind anyway. There's just too many things that I enjoy tattooing so I try hard not to pigeon hole myself because I get bored very easily.
How did you first get interested in tattooing and what draws you to it specifically?
I've been interested in tattoos since I was about 7. My mum had a boyfriend who had a heart with a banner on his arm and I loved it, I had never seen anyone with a tattoo before. We would walk past shops and look at the flash and he would get me to pick out the piece that I would get. After studying Graphic Design and realising I had no interest in being in that industry it forced me to explore my creativity and look outside the box. I was living in New York and messing around with a bunch of different mediums when hand poking came to mind. I was lucky enough to have a lot of friends who were artists and were incredibly supportive and even pushy about me pursuing tattooing. It's been a long journey with this art form and what draws me to it changes all the time. Right now it's really about connection for me. Being able to help people through something, helping them to honour a time in their lives, a loved one or sometimes just themselves. The tattoos I have on my body act as amour, they help me be more comfortable in the world and to be a part of that for someone else is very special and I honour it greatly. 
How has your style changed over the years?
My style hasn't changed much at all. I've always tended to like the same kind of aesthetic which is simple and graphic. 
What project are you working on next?
Just before lockdown I bought a metal engraver. I've been playing around with it and have really enjoyed it. I'd love to work with jewelry potentially in the future as it ties in well with what I do already, art for the body. 
What is the best advice given to you as an artist?
After I did my second tattoo at a friends house (who is a tattoo artist) I told him how I really wanted to work towards doing it seriously and he simply told me to "keep doing it". There have been so very many moments over the last 8 years when I've wanted to just give up because I didn't think I was good enough and I thought I was going nowhere with it that this piece of advice popped into my mind and pushed me through. Doing tattoos takes a lot of mental strength to push past those feelings of inadequacy but the key is to just keep going. Simple I know, but it worked for me. 
Shop artwork by Lily Gloria and other trailblazing artists at The Other Art Fair's Online Studios.
Introducing The Other Art Fair Online Studios, a new online platform offering art lovers around the world access to over 800 Fair artists. The Online Studios will keep our community feeling inspired, engaged, and continue to spread joy through art.