Meet the Others: Lene Bladbjerg
The Game Changers. The Rule Breakers. The Innovators. Discover some of the fantastic emerging talent showcasing their work at The Other Art Fair.
Lene Bladbjerg's work is influenced by her background as a graphic designer. Paying great attention to the smaller scale details of everyday life, her work can be very thought-provoking. In her work she attempts to capture the hidden beauty or interesting aspect of even the most ordinary of events or objects, often incorporating unusual, re-cycled materials.
Tell us about who you are and what you do. What is your background?
I'm originally from Denmark, but spent most of my childhood in Belgium. I came to England in 1995 to study Graphic design at London College of Printing (now London College of Communication) and ended up staying here.
I describe my work as 'graphic art' and use a lot of typography, patterns and found objects. I mainly work in my studio in Crystal Palace, London, where I paint and create my big collage pictures with blades. I started using blades as a recycling project. I got a big bucket full of blades from my landlord in my studio (he's a bookbinder) and I started playing around with them, making different grids and patterns. I like the shapes and the shine of the blades as well as the element of surprise. People often don't realise they are real blades, because they become something else.
Once a week, I go to a printing studio, where I handprint my typo/graphic screenprints.
If you could describe your work in 3 words, what would they be?
Graphic. Witty. Surprising

Can you walk us through your process? How do you know when an artwork finished?
I used to mainly paint and it would be much harder to know when a piece was finished. Since having kids, my work process has changed a lot and in a way I work more as a designer. Time is now more limited, so I normally design a piece first and have a clearer idea of what the end result will look like. The creative process is done before in sketchbooks, on the computer and in my head.
I always use a sketchbook, where I write or draw ideas that come to me as well as taking lots of photos. I find inspiration everywhere. Little things I see and hear. I often go back to my sketchbook and find inspiration for new pictures.
I have also taken part in the Brooklyn Art Library's sketchbook project (who The Other Art Fair work with) for 11 years now.
Has being in isolation affected your artwork practice in any way?
Being in isolation has been challenging. My husband is a keyworker, so I was at home with my 2 boys trying to homeschool and keep them entertained. So not much headspace to create! And I think that has been the hardest…
Out of this came a couple of new screenprints. The 'Homeschooling is not for everyone' screenprint resonated with a lot of people and has been very popular.
I took a lot of photos on my 'daily exercise' walks in the spring and created a bigger photographic piece called 'Daily walk'.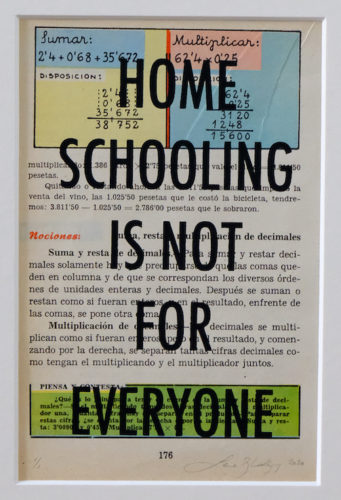 What is the best advice given to you as an artist?
My tutor in college always said 'If you can make them smile, you're half way there' and that has really stuck with me. I use a lot of humour and my work often has a surprising twist – I love watching people looking at my work and seeing them smile.
Can you tell us something about you that people would be surprised to hear?
I was only 4 weeks old, when I moved to China with my family. Since then, I have lived in Denmark, Belgium, The Philippines and England.
Shop artwork by Lene and other trailblazing artists at The Other Art Fair's Online Studios.
Introducing The Other Art Fair Online Studios, a new online platform offering art lovers around the world access to over 800 Fair artists. The Online Studios will keep our community feeling inspired, engaged, and continue to spread joy through art.